About Design Festa
Tokyo is preparing to host the fall edition of the International Art Event, Design Festa (Vol. 58). The event will be held at Tokyo Big Sight, one of Odaiba's largest structures, often likened to an alien landing craft. Design Festa began in 1994 as a small artist gathering, expanding into a stage where artists from all backgrounds can express their creativity without restrictions.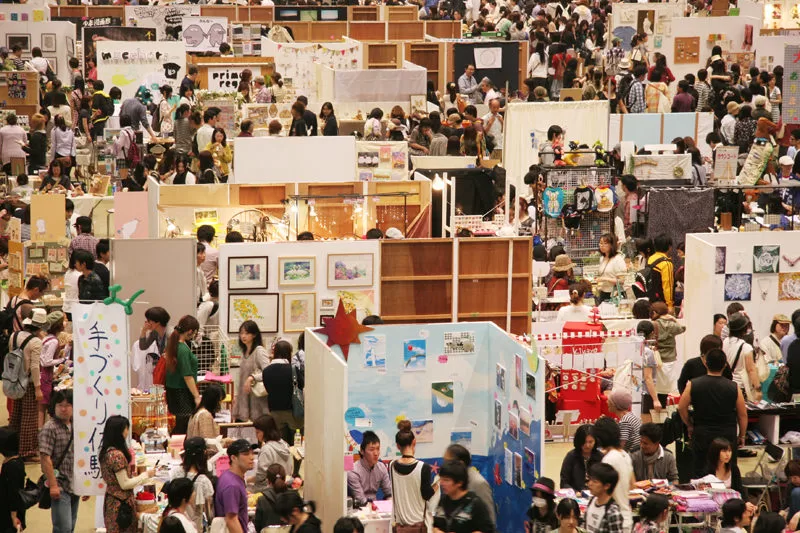 Design Festa has consistently drawn over 15,000 participating artists over its two-day period spanning different genres, professions, ages, genders, and nationalities, embodying its unique philosophy of free expression.
Experience the vibrant creativity and artistic innovation at Design Festa, one of the most anticipated Tokyo events in November, where the city's talented designers, artists, and creators converge to showcase their awe-inspiring works, turning the event into a kaleidoscope of imagination, inspiration, and boundless possibilities that epitomizes the dynamic spirit of Tokyo's creative scene.
What to Expect at Design Fasta Fall Edition
The upcoming installment promises a riveting experience featuring live painting artists who will work on enormous 8m x 3.5m canvases over two days. Attendees can also explore the expanded Workshop Area to create unique artwork and interact with the art community.
Adding to the vivid ambiance, visitors can refresh themselves at food trucks or cafes in the Food Area. The Performance Area and Show Stage will host various shows, from live dance performances to fashion shows.
The open hours for Design Festa are from 11 a.m. to 7 p.m. on both days of the weekend. Attendees can reach Tokyo Big Sight using Kokusai Tenjijo station on the Yurikamome Line or Tokyo Teleport on the JR Rinkai Line.
The History and Legacy of Design Festa
Founded by former fashion designer and stylist Kunie Usuki, the first event was held on September 11th, 1994, with 830 booths displaying various art forms from performance and installations to painting.
By 2011, more than 8,500 artists worldwide started participating in Design Festa, attracting more than 60,000 visitors. In May 2018 (vol.47), it marked record attendance with 59,921 visitors and 15,000 artists, solidifying its place as one of Asia's longest-running and largest original art festivals.
Festival Highlights: From Music To Arts & More
Design Festa blends various forms of art: music, painting, photography, toys, and crafts, including performance genres. It introduced Mini Live Paint Areas and Kids Areas in its 30th festival edition.
The Main Performance Space features different exhibitions, including music performances and fashion walks, while offering separate spaces for food services like restaurants, cafes, and bars, adding another layer to attendees' overall experience.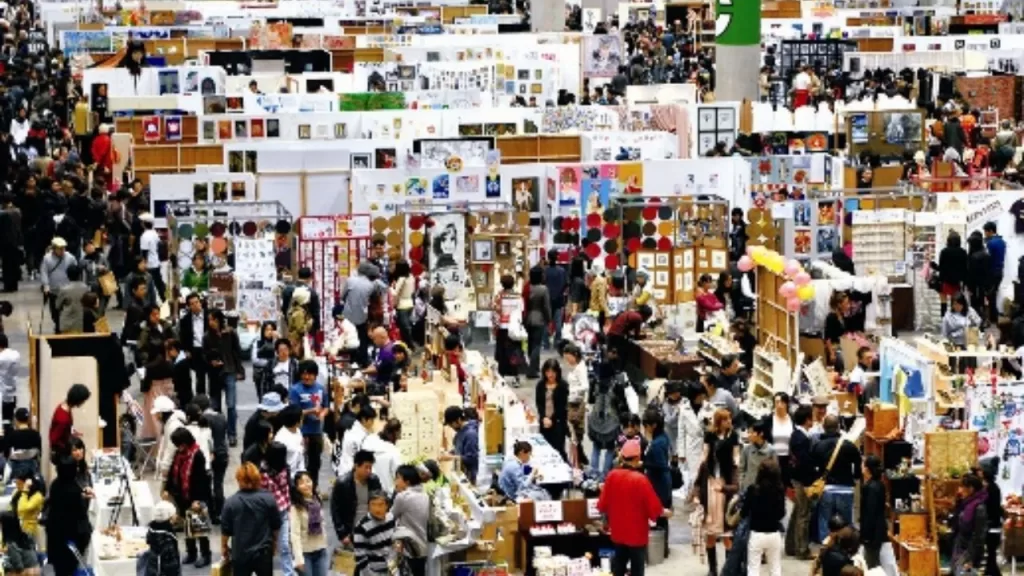 Keeping Alive The Philosophy of Freedom: Design Festa Gallery
Expressing solidarity with the founding philosophy of unrestricted self-expression through art,
Design Festa Gallery was established in 1998 in Harajuku—Tokyo's kawaii capital—as a hotspot for professional and amateur artists.
Within its premises featuring 21 rooms across 27 exhibition spaces, artists transform any included surface into display locations for their creations, whether walls or restrooms! Offering one of Japan's lowest-cost exhibition opportunities, each space rents out for an accessible price tag of just 540 yen per day.
With no censorship or restrictions placed upon exhibited work at Design Festa Gallery, originality is encouraged, endowing professionals and amateurs with an unmatched platform alongside boundless possibilities for visual artistic expression.
Beyond Art: Dining Experience at Sakura Tei
Between the East and West Buildings of Design Festa Gallery lies Sakura Tei Restaurant—a top okonomiyaki restaurant offering unforgettable dining comfort amidst an artistic ambiance crafted by different domestic and overseas artists associated with Design Festa Gallery.
Featuring cooking instructions available in English & Chinese besides Japanese, along with lively menu offerings, Sakura Tei promises both a meal and an engaging experience striking a resonating cord with individuals and groups alike!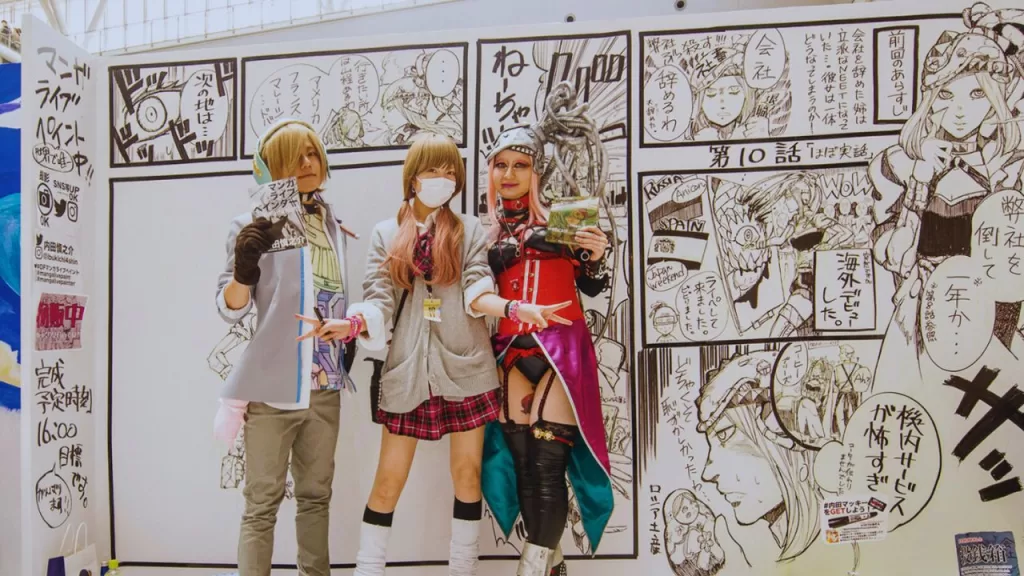 A Peaceful Retreat Amidst Artistic Chaos – Design Festa Gallery Café & Bar
A serene oasis perfectly contrasting Harajuku's hustle lies between Sakura Tei Restaurant and the West Building of Design Festa Gallery —the Design Festa Gallery Café & Bar. Bearing a striking similarity to Sakura Tei Restaurant—each surface is adorned by creative illustrations crafted by many artists affiliated with Design Fesa gallery providing an authentic yet relaxed aesthetic backdrop aptly complementing Harajuku's intense life pulse!
Step into a world of artistic wonders and boundless imagination at Design Festa, where Tokyo's creative community gathers to showcase their extraordinary talents across various mediums, from painting to sculpture, photography to fashion, turning the event into a captivating kaleidoscope of artistic expression that rivals the vibrant atmosphere of Torinoichi Fair, creating a mesmerizing fusion of tradition and contemporary art in the heart of the city.