There is nothing more delightful for sushi lovers than having an Omakase Sushi experience. Omakase is a Japanese term that means 'chef's choice,' giving the chef all the control over the meal. The concept of Omakase Sushi originated in Japan and is now a popular trend in many sushi restaurants globally.
If you want to learn more about Omakase Sushi experiences, this article offers a comprehensive guide to answer all your questions. We will explore the history of Omakase Sushi, how it works, and what makes it unique.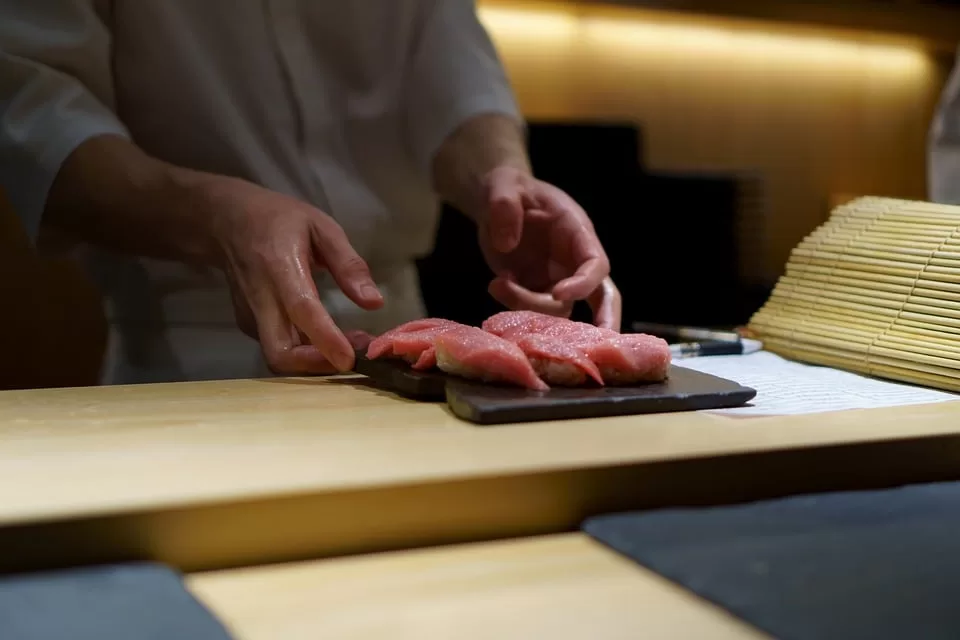 Difference Between Sushi vs. Omakase
While sushi is a Japanese dish that has been around for centuries, Omakase Sushi is a more recent style of dining that has gained popularity in recent years.
Sushi often involves ordering individual pieces of sushi off a menu or selecting pre-made sushi dishes from a display case. Sushi dishes are often priced individually, and customers can order as much or as little as they want.
In contrast, Omakase Sushi is a fixed-price dining experience where the customer leaves all the decision-making to the chef.
A sushi meal focuses on individual dishes featuring different types of fish or seafood.
On the other hand, Omakase Sushi is a multi-course experience where the chef creates a sequence of dishes that complement each other in terms of flavor, texture, and presentation.
While sushi is often an informal dining experience, Omakase Sushi is more formal and intimate. Customers sit at the counter, watching the chef create each dish skillfully and precisely. While sushi is a specific type of Japanese cuisine, Omakase Sushi is a style of dining that offers an elevated and personalized sushi experience.
History of Omakase Sushi
Omakase Sushi has its roots in Japan, where it was customary for customers to trust the chef to prepare their sushi. It was born from the Japanese cultural values of trust, respect, and etiquette. Over the years, the concept of Omakase has evolved, and chefs have used their creativity to offer unique and personalized dining experiences.
What to Expect in an Omakase Sushi Experience
An Omakase Sushi experience is a complete trust exercise in the chef's abilities. The meal starts with a greeting from the chef, who explains the menu and asks about dietary restrictions or allergies before preparing the food. The chef curates the entire meal, selecting the freshest and most unique ingredients to balance flavors and textures.
The meal often starts with lighter dishes and progresses towards heavier ones like grilled fish or meat. The sushi is served in individual pieces, and each is handcrafted with precision and a beautiful presentation. This presentation and attention to detail enhance the dining experience, making every bite a unique and memorable experience.
What Makes Omakase Sushi Unique?
The unique aspects of Omakase Sushi include its level of customization, the use of seasonal ingredients, and the exceptional sushi-making skills of the chef. An Omakase Sushi meal is highly customized, and the chef considers individual preferences to create a unique dining experience. Seasonal ingredients are incorporated into the dishes, resulting in fresh and flavorful sushi.
What sets Omakase Sushi apart is the expertise and artistry of the chef. Sushi chefs undergo years of rigorous training to perfect their skills, becoming masters of their craft. This dedication and attention to detail are evident in the presentation and taste of each sushi piece.
How to Prepare for an Omakase Sushi Experience
When preparing for an Omakase Sushi experience, it is essential to make a reservation. Most sushi restaurants that offer Omakase meals require a booking to ensure the chef will have the ingredients and time to prepare the meal correctly.
It is also essential to have an open mind and a willingness to try new flavors and textures. Omakase Sushi menus can be quite varied and may incorporate elements of Japanese cuisine that you may not be familiar with. An open mind and respecting the chef's expertise will enhance your dining experience.
Best Omakase Restaurant in Tokyo
Sukiyabashi Jiro is one of the most famous sushi restaurants in the world and was run by its famed sushi master Jiro Ono. It gained worldwide attention when featured in a Netflix film called Jiro Dreams of Sushi.
Barack Obama and Shinzo Abe Sushi Dinner
Former US President Obama ate at Sukiyabashi Jiro sushi restaurant in Tokyo's Ginza district on April 23, 2014. The dinner was hosted by the Japanese Prime Minister Shinzo Abe.
The visit Obama put Sukiyabashi Jiro in the spotlight. Obama called the sushi at Sukiyabashi Jiro 'the best sushi I've ever had,' and the media covered the story extensively. However, in 2019, the restaurant was dropped from the Michelin gourmet guide, which caused quite a stir in Japan.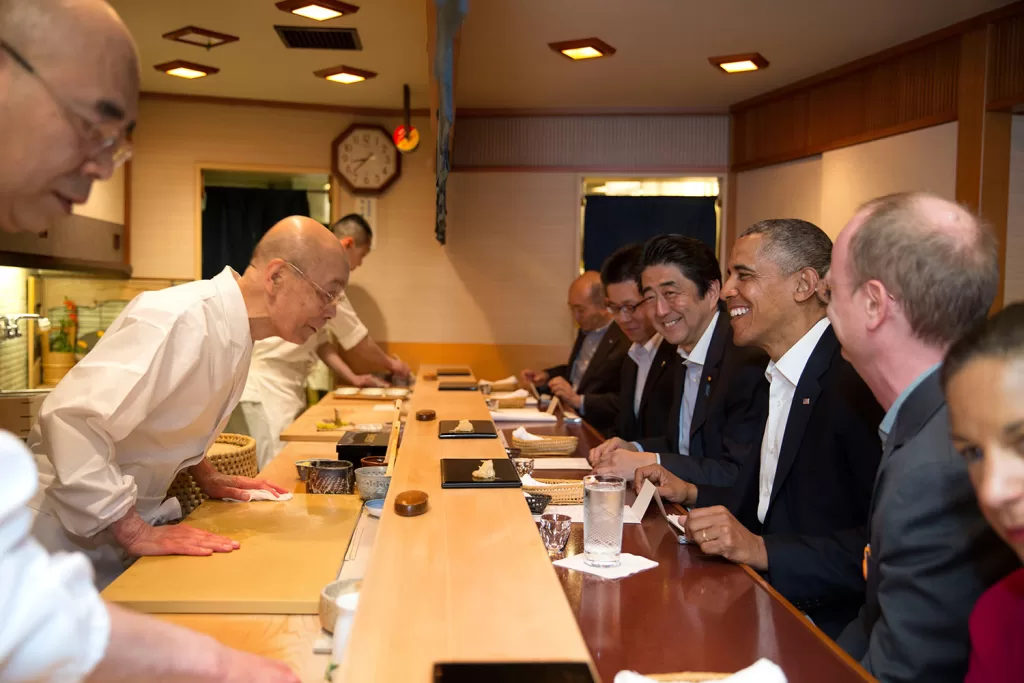 Sukiyabashi Jiro Roppongiten, located in Tokyo, is a two-star Michelin Guide restaurant that offers an extraordinary sushi experience. The talented chef, Takashi Ono, ensures that each dish is crafted precisely and the utmost attention is paid to the flavors. The attention to detail is palpable in every mouth-watering bite.
Sukiyabashi Jiro Roppongiten Menu
The menu at Sukiyabashi Jiro Roppongiten is expertly tailored to provide a unique dining experience, emphasizing sushi. The meal starts with the delicate flavor of white fish, followed by redfish, chu-toro, and gizzard shad for the sourness. The dishes then progress to richer flavors, such as horse mackerel or shrimp, and end with mackerel marinated in vinegar to cleanse the palate. Uni and anago follow, all perfectly curated to maximize the flavors and leave an unforgettable aftertaste that lingers after the meal.
Sukiyabashi Jiro Roppongiten Atmosphere
The atmosphere at Sukiyabashi Jiro Roppongiten is a bit more conservative than other modern restaurants, which may be expected from a traditional sushi restaurant. The interior design is simple yet elegant, with counter seating for guests to watch how the unique sushi dishes are created. The restaurant has air conditioning, and the staff is friendly and attentive.
Sukiyabashi Jiro Roppongiten Pricing
The pricing at Sukiyabashi Jiro Roppongiten is high, a minimum of roughly ¥30,000 or $225, but the experience is worth every penny. The restaurant does not provide a menu – diners get what the chef serves, which can vary from season to season. Therefore, the final bill will depend on the number of courses, the time of year, and the availability of certain types of fish.
Sukiyabashi Jiro Roppongiten is a must-visit restaurant for sushi lovers craving a unique dining experience. The exceptional sushi, expertly crafted by the skilled Chef Takashi Ono, and the friendly and attentive service provided by the staff will leave the diners thoroughly satisfied. However, the high pricing and the lack of a menu may be a consideration for some guests before booking a table at this establishment. Nonetheless, Sukiyabashi Jiro Roppongiten is an excellent restaurant and well-deserving of its two stars in the Michelin Guide.
Final Thoughts
An Omakase Sushi experience is a quintessential culinary adventure that sushi lovers must try at least once. It offers an opportunity to indulge in fresh and unique sushi made by master sushi chefs who put their heart and soul into every dish. Remember to make a reservation, have an open mind, and prepare to be wowed by the presentation, taste, and overall Omakase Sushi experience.
Difference Bewteen Sushi and Omakase FAQs
What is the main difference between sushi and omakase?

Sushi is a traditional Japanese dish made of vinegared rice combined with various ingredients, such as fish, seafood, and vegetables, while omakase is a personalized, multi-course dining experience where the chef curates a unique selection of dishes for each guest based on their preferences, seasonal ingredients, and the chef's expertise.

Is omakase always about sushi?

No, omakase is not limited to sushi. It can include a variety of dishes like sashimi, appetizers, cooked dishes, and dessert, depending on the chef's vision and the diner's preferences. However, sushi may be one of the courses in an omakase meal.

Is omakase more expensive than ordering sushi à la carte?

Omakase is generally more expensive than ordering sushi à la carte, as it offers a personalized and carefully curated multi-course dining experience. However, the price can vary depending on the restaurant, the chef's expertise, and the quality and rarity of the ingredients used.

Can I have a say in what dishes are served during an omakase meal?

In an omakase experience, the chef selects the dishes based on their expertise and the available ingredients. While you can typically inform the chef of any dietary restrictions or preferences, the idea behind omakase is to trust the chef's judgment and enjoy the culinary journey they have designed for you.

Do I need to make a reservation for an omakase experience?

Making a reservation for an omakase experience is generally recommended, as it allows the chef to prepare and source the necessary ingredients. Additionally, omakase restaurants often have limited seating to ensure a more intimate and personalized dining experience, so reserving a spot ahead of time is advised.