Hanazono Shrine Antique Market
The lively Hanazono Shrine Antique Market, held on the first Sunday of November at the Hanazono Shrine in Shinjuku, is a highlight of the Tokyo events in November, with over 200 vendors selling a fascinating array of vintage kimonos, ceramics, scrolls, furniture, and other traditional Japanese antique treasures.
Every week, 25 to 30 flea market booths find their place in the compound of Hanazono Shrine. This shrine stands as the largest in Shinjuku district, playing the role of protector and guardian of Shinjuku since the Edo period. Despite its location near Kabukicho's red light district, Hanazono Shrine provides a tranquil reprieve for visitors who find comfort and escape in its quiet sanctuary.
The evening adds charm to the premises with the weekly Antique Fair — a flea market known for an assortment of antiques, from miniature furniture items to vintage coin collections.
The Unique Charm of Hanazono Shrine Antique Market
Antique lovers and casual shoppers admire the Hanazono-Jinja shrine flea market. Those with a sharp eye for vintage items can often uncover rare treasures amidst an eclectic mix of antiques. The cozy aura of this smaller-scaled market makes it a spot where one can easily spend hours exploring and relaxingly perusing through unique finds.
Accessibility and Convenience to Reach Hanazono Shrine
The convenience factor is another point that adds value to the experience at Hanazono Shrine. It is strategically located just a 3-minute stroll away from the Shinjuku-sanchome Station on the Marunouchi and Toei Shinjuku Subway lines and only 7 minutes from the East Exit of Shinjuku Station on the JR Yamanote and Chuo Lines.
This easy access means antique enthusiasts can reach this weekly oasis of vintage collectibles, providing yet another reason why this quaint market has grown in popularity among locals and tourists.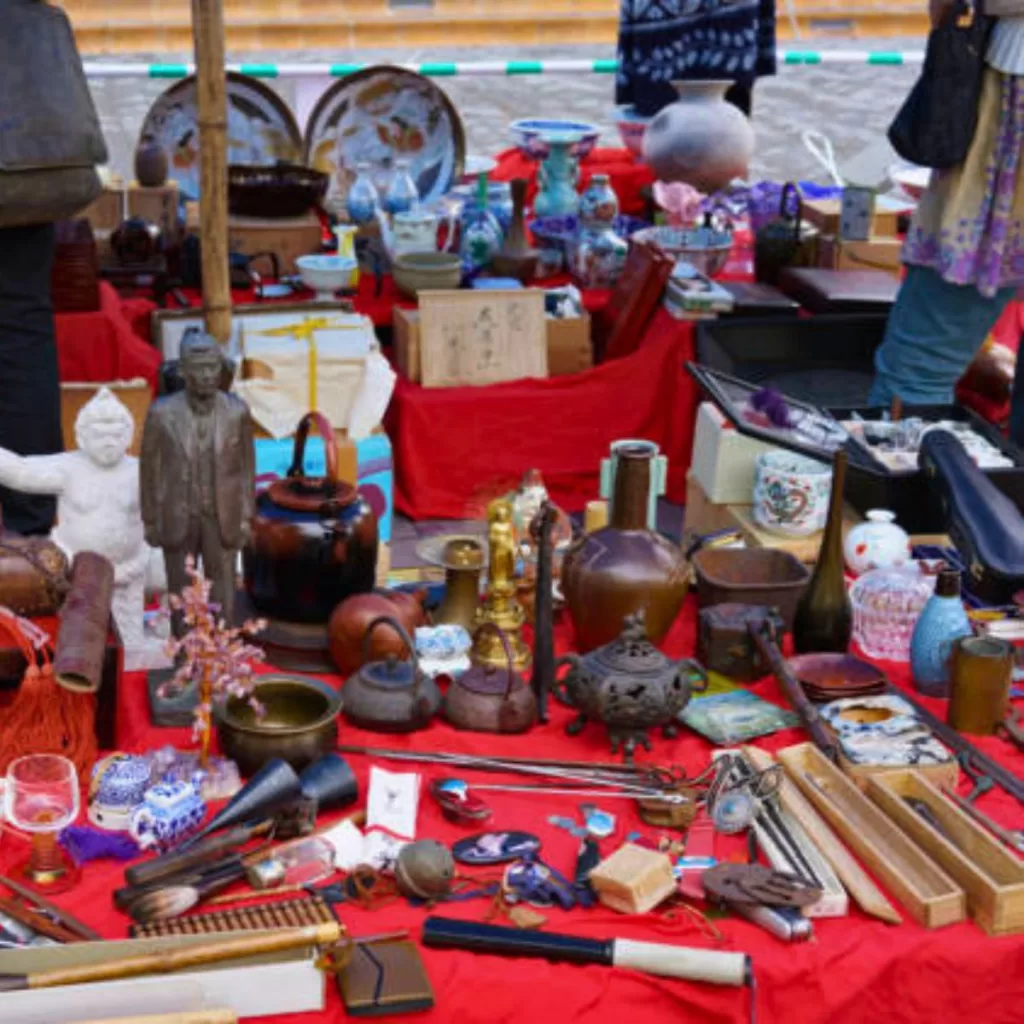 The Experience at Hanazono Shrine Antique Fair
Regulars at this market appreciate the vast assortment of antiques and the comforting calmness within which they are displayed. Even though it is within reach of Kabukicho's frenzied nightlife scene, entering the shrine compound transports people into a realm detached from its bustling surroundings. It offers a serene atmosphere that does not fail to comfort visitors, making their antique hunting journey even more satisfying.
Hanazono Shrine's Antique Fair has successfully merged spiritual tranquility with antique allure – making it a must-visit destination for lovers of history, culture, and beautiful elements from years gone by.