Kagurazaka Street Stage O-edo Tour
Kagurazaka Street Stage O-edo Tour is one of the many Tokyo Events in May that celebrates the city's traditional culture. The tour takes you through the streets of Kagurazaka, a historic district in Tokyo, and you will see performances of traditional music, dance, and storytelling.
Mid to late May 2024 marks the return of the O-edo Tour, transforming Kagurazaka's streets into a lively stage for Japan's traditional art forms. Artists from various generations and genres join this colorful spectacle, representing the artistic culture that once thrived in the neighborhood.
Highlights Among An Array of Performances
Expect highlights such as the captivating live performances of Shamisen and Koto — providing music lovers with an authentic taste of traditional Japanese music. Other enriching activities will focus on _Japanese narrative singing_, _storytelling_, and _geisha banquet games_. These experiences aim to immerse participants deeply into traditional Japanese culture, set against the backdrop of the pre-modern Edo period in Kagurazaka. In this enchanting place, tradition blends with novelty.
A uniquely captivating part of the event is Shinnai Nagashi, featuring a pair of shamisen artists performing while skillfully navigating through bustling streets. The lively parlor games with geishas or 'zashiki asobi' and interactive live concerts are also among the attractions that bring an unmatched buzz to the neighborhoods.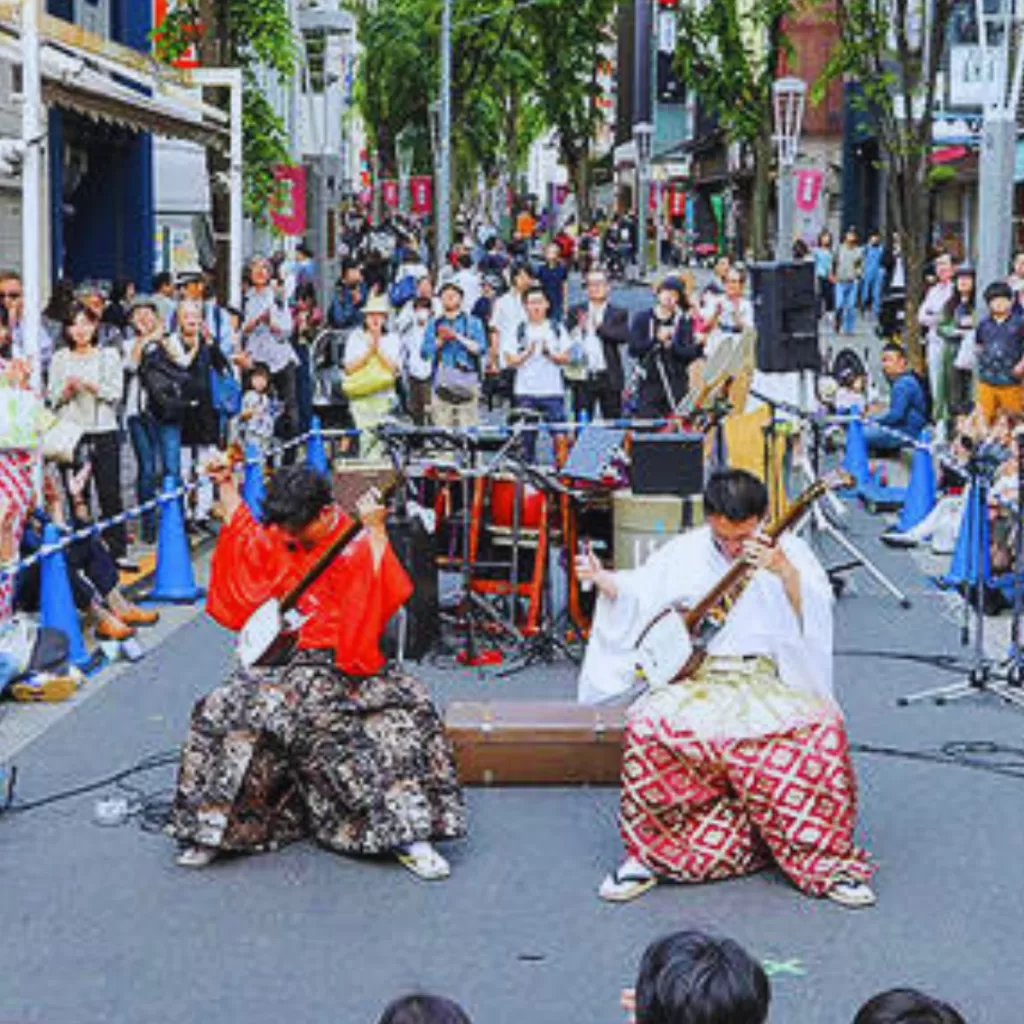 A Two-day Cultural Bonanza across Kagurazaka
The two-day celebration transforms Kagurazaka into a hub of joyous revelry, resonating with sounds from traditional Japanese drums and flutes. The festivities revolve around stages installed within Zenkokuji Temple and Akagi Shrine. However, informational entertainment would spread far wider across the area: expect performances like kodan (a spoken-story performance), biwa storytelling, and Noh theatre shows commissioned especially for this yearly celebration.
Timings for Shinnai Nagashi and Edo Hauta
Shinnai nagashi artists, traditionally composed of two singers and a shamisen player, will wander through the neighborhood at 4 pm and 7 pm on Saturday and at 1 pm and 3 pm on Sunday. They will offer their performances along with Edo Hauta – renowned performers who sing Japanese traditional ballads – at 5.30 pm on Saturday, then again at noon and 2 pm on Sunday.
Family-Friendly Entertainment
Recognizing that cultural appreciation should be a shared experience across generations, there will also be areas dedicated to family-friendly events: Children can have fun with puppet shows or try their luck with kendama games. Informational booths about Kagurazaka's rich history will be available for those curious about this vibrant locale.
For further historical exploration into Kagurazaka's past, join the walking tour—participate in an intriguing stamp rally offered exclusively on Saturday.
It's More than Just Culture – It's a Community
This festival exemplifies how tradition becomes even more enriching when embraced enthusiastically by communities. O-edo Tour promotes traditional arts and provides an opportunity for intergenerational bonding, community engagement, and personal enrichment.
If you want a cultural experience in Tokyo in May, check out the Kagurazaka Street Stage O-edo Tour or the Tokyo Lift-Off Film Festival 2024. The Kagurazaka Street Stage O-edo Tour is a great way to experience traditional Japanese culture. At the same time, the Tokyo Lift-Off Film Festival 2024 is a great way to discover new and exciting independent films from around the world.