Overview of the Festival
Discover the magic of the Koganei Cherry Blossom Festival, a cherished highlight among the vibrant Tokyo Events in March, where nature's exquisite display of pink petals captivates visitors from near and far.
The Koganei Cherry Blossom Festival is a much-anticipated event that happens annually, from late March to early April, at the Edo-Tokyo Open Air Architectural Museum in Koganei Park. The park is popular with over 1,700 cherry trees showcasing more than 50 varieties creating a fascinating spectacle. The Somei-Yoshino cherry blossoms are a must-see in the square by the museum.
The festival caters to people of all ages, featuring various activities, including stage performances of Japanese and Western music, dance, and exhilarating Japanese taiko drums. Alongside these entertainments, there are also food and drink stalls where local and regional specialties can be tasted.
Special Attractions: Tea Ceremony and Ikebana display
One unique attraction that adds to the cultural richness of this festival is the tea ceremony accompanied by ikebana displays. Providing an insight into deep-rooted Japanese traditions, these elements make for a tranquil experience amidst the lively atmosphere of the festival.
Musical Performances Feature Heavily In The Celebrations
Known for highlighting talented musical artists during their festivals, Koganei continues this tradition during the Sakura season. A wide range of singers will perform on a special stage crafted within the park, creating an enchanting environment.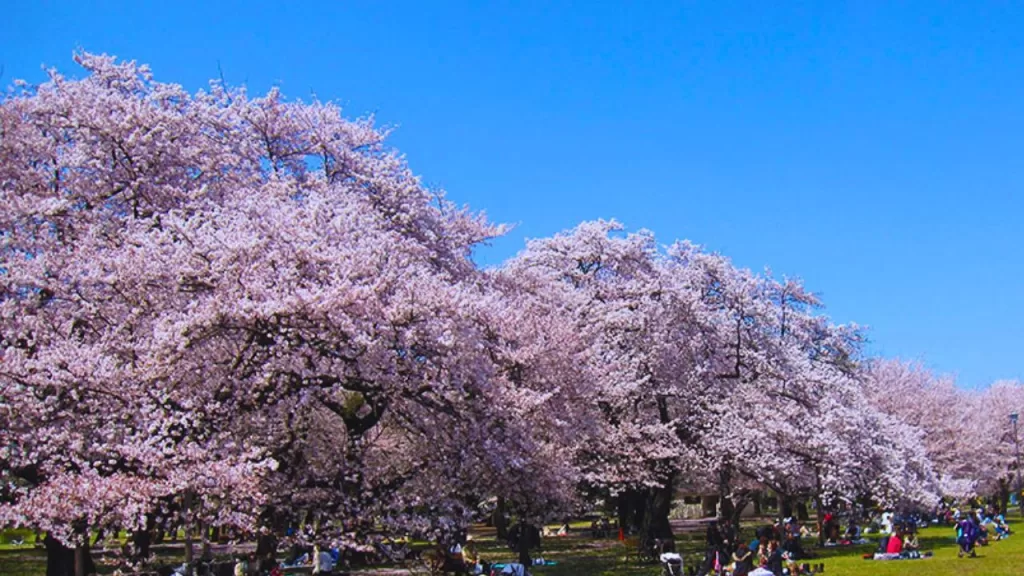 Ideal Spot for Hanami Experience
For a more serene hanami (flower-viewing) experience away from Tokyo's bustling city center, Koganei Park serves as an ideal location, given its ample space and serene environment. Visitors can view the blooming cherry blossoms anytime during their season despite being only two days long.
Directions To Reach Koganei Park
Higashi-Koganei Station (JR Chūō Line) is the closest station to reach Koganei Park via bus or walk, followed by Hana-Koganei Station (Seibu-Shinjuku Line), which is just a 10-minute walk north of the park.
First-hand Experience Of The Festive Surroundings
On March 26th, past visitors showcased their experiences visiting Koganei Park throughout cherry blossom seasons, even in rainy conditions when tranquility can be fully appreciated due to lesser crowd numbers. Also, during the last festival weekend on the 25th and 26th of March, several food stalls and a stage were organized though weather conditions held some proceedings at bay.
Accessibility and nearby attractions
Musashi Koganei station remains an accessible option to reach Koganei Park via a bus that stops at Koganei Koen Nishiguchi. Parking spaces are available near the park, although it could be challenging to find a spot on crowded days. For those using disability passes, parking is free; otherwise, it costs ¥300 for the first hour and ¥100 afterward every 20 minutes.
Further enhancing your visit would be Edo-Tokyo Open Air Architectural Museum situated within park premises that provide enlightening insights into Tokyo buildings from the early Edo period through the postwar phase, open from 9:30 AM till 4:30 PM in March, costing ¥400 for admission.
Experience the captivating charm of the Koganei Cherry Blossom Festival, set amidst the serene beauty of nature, while anticipating the grandeur of the renowned Ark Hills Cherry Blossom Festival in Tokyo Events of March.
Size And Recognition Of The Park
Covering about 79 hectares, making it the largest metropolitan park in Koganei City, it's recognized as one of Japan's top hundred spots for viewing cherry blossoms. With about 430 cherry trees spread across The Cherry Blossom Garden on the west side, it is among Tokyo's best nineteen spots for hanami parties within its scenic beautiful surroundings ideal for families due to engaging children facilities available under the Flowers and Greenery theme.