The Nihombashi Ebisu-ko Bettara-ichi
Every October, the city of Tokyo comes alive with a unique spectacle—the Nihombashi Ebisu-ko Bettara-ichi Pickle Fair. This traditional autumn festival is held around the Takarada Ebisu Shrine in the Odenma-cho area (3 Honcho and Odenma-cho, Nihonbashi) and Horidome-cho.
Delight in the vibrant traditions and lively atmosphere of the Nihombashi Ebisu-ko Bettara-ichi, one of the beloved Tokyo events in October, where the streets come alive with the sights, sounds, and delectable flavors of this traditional pickle market, offering a fascinating glimpse into Japanese culture and culinary heritage in the heart of Tokyo.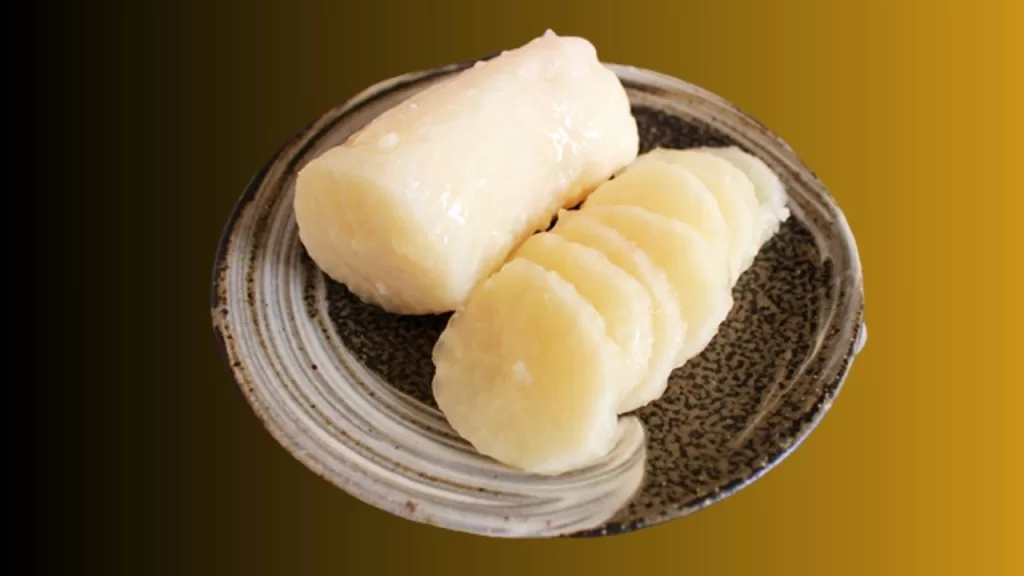 Key Elements of the Festival
The festival is best known for its range of food stalls selling not just the local specialty bettara-zuke (sweet and salty daikon radish pickles) but also other delicious Japanese treats. The Fair has roots dating back to the Edo period, making it a significant local tradition.
This fascinating event takes place on October 19 and 20, transforming streets into bustling hubs of activity from day until late into the evening. During these two days, 400 and 500 stalls set up shop, attracting everyone from nearby office workers to tourists eager to soak in Japanese culture.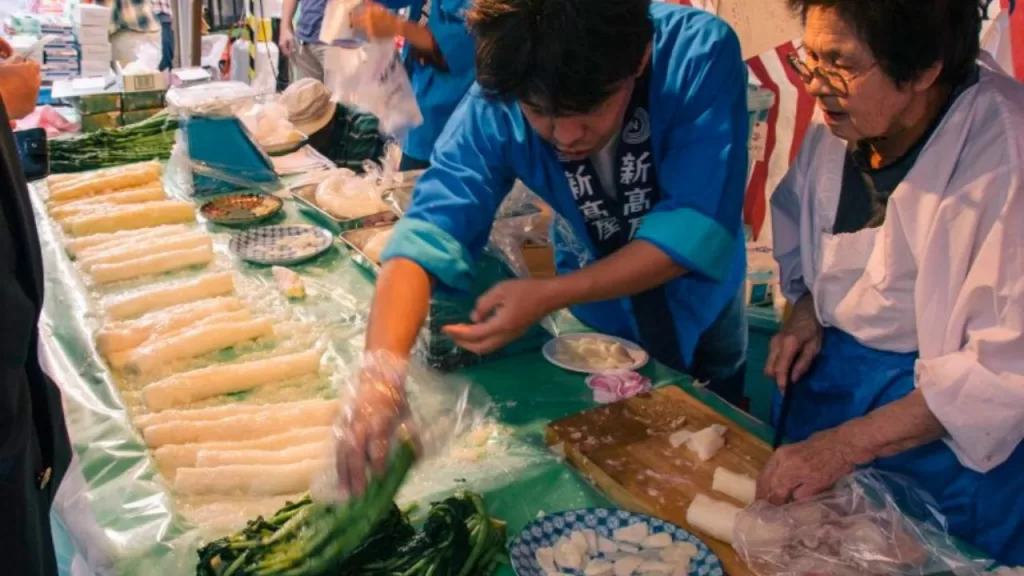 History and Importance
Underlying this fun-filled pickle fair is a long history that reaches back to when villagers from Takarada-mura moved to Odenma-cho in 1606 due to an expansion of the Edo Castle. General Tokugawa Ieyasu generously gifted these villagers an Ebisu statue—an act that sparked off a yearly festival in honor of Ebisu held by the Odenma-cho community.
Every October 19 served as market day, where merchants sold fish, vegetables, and family altars, among others, ahead of the Ebisu-Ko ceremony scheduled for the next day. Over time, bettarazuke—pickled radish—became quite popular on market day. That popularity eventually earned this celebration's name, "better ichi," or pickle fair.
During this festival, merchants would invite friends and relatives to celebrate their achievements while praying for prosperity in their business ventures—a practice associated with honoring Ebisu—the Buddhist god of wealth, trade, and business fortune.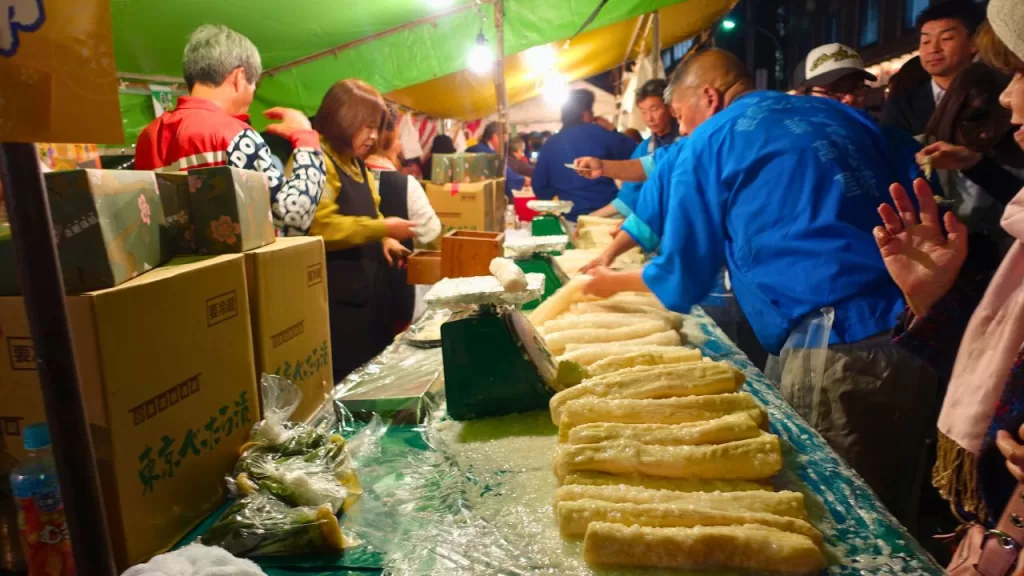 What Happens at the Fair?
Today's pickle fair is vibrant, with lanterns lighting up narrow streets where nearly 500 stalls offer more than pickled radish. Visitors can savor popular foods like okonomiyaki, yakisoba, and more—all against a carnival-like atmosphere.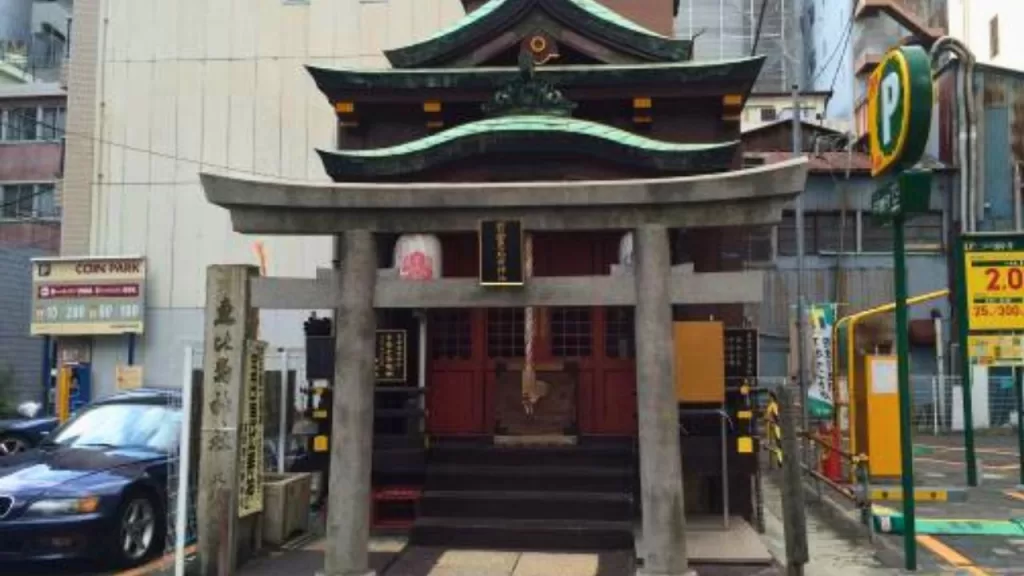 Festive Goods at Takarada Ebisu Shrine
The centerpiece of this Fair is certainly the Takarada Ebisu Shrine, expertly squeezed between two car parks. However, festival activities aren't confined within this sacred space alone—they extend along the eastern side of Nihonbashi-Honcho 3-chome too!
In addition to bettarazuke stalls that invariably draw large crowds each year, other inviting options tend to emerge for glad visitors, such as well-known confection makers hailing from Nihombashi plus eel restaurants and sukiyaki eateries offering beckoning varieties.
Even as you navigate through throngs interspersed with tourists and locals heading home after work along these festive streets every October evening, you'll simultaneously sample wonderful foods characteristic of long-established local cuisine that are free samples provided by vendors.
An estimated 1,500 lanterns artistically illuminating narrow backstreets add a surreal ambiance to your outing. It's recommended that you visit here at night for those returning from work or out-of-town guests looking forward to immersing themselves in an authentically festive Japanese atmosphere.
Taking a stroll through these vibrantly lit paths adorned with numerous food stalls serving both traditional delicacies and innovative treats can be an abiding takeaway from your Japan travel story.
Indulge in a unique cultural experience that blends the flavors of Nihombashi Ebisu-ko Bettara-ichi, a traditional pickle market, with the refreshing ambiance of the Mt. Takao Beer Mount where you can savor the finest brews while immersing yourself in the lively atmosphere and vibrant traditions of this renowned Tokyo event in October.