Annual Toro Nagashi Festival Returns to Sumida Park
The annual Toro Nagashi festival, held at Sumida Park near Azaumabashi Bridge, is set to take place on Saturday, August 12th, 2023. This long-standing Japanese tradition sees thousands of candle-lit lanterns released into the Sumida River, guiding the spirits of ancestors back to the other world during the Obon season.
Immerse Yourself in the Serenity of Tokyo Events in August with the Enchanting Asakusa Toro Nagashi.
Join the Illuminated Celebration at the Asakusa Toro Nagashi, an Unforgettable Prelude to the Spectacular Kōtō Fireworks Festival.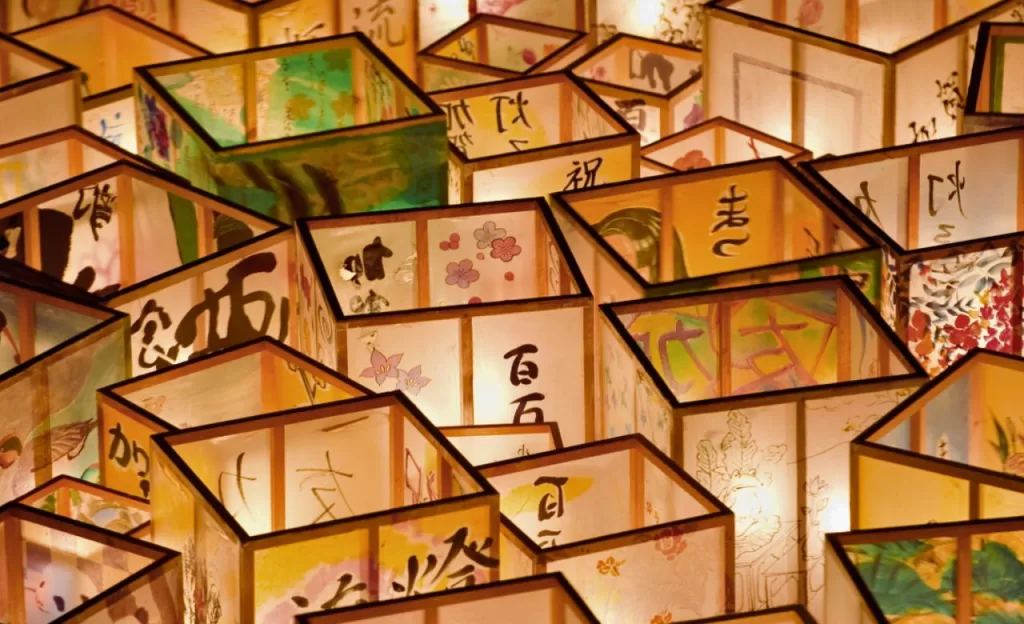 Origins and History of Toro Nagashi in Japan
Toro Nagashi is a centuries-old practice originally held to pray for the souls of the deceased. 1946 the festival was first held as a 'Festival of Recovery,' when much of Tokyo was still in ruins after World War II. The hauntingly beautiful event attracted hundreds of thousands of people each year, including tourists worldwide.
Despite its popularity, the event ceased to be held in 1965 due to flood wall construction on both sides of the Sumida River. In 2005, however, with the completion of a new terrace and walking path along the riverbanks, the festival was revived and has continued to take place annually between Azumabashi and Kototoibashi in Sumida Park.
Festival Highlights: 2,500 Handwritten Lanterns Set Afloat
As darkness falls during the Asakusa Toro Nagashi festival, participants gather at Azumabashi Shinsui Terrace with their candles and paper lanterns – many featuring handwritten messages. From 18:45 until 20:00, these uniquely decorated lanterns are glided down a slope into the waters on the east side of the Sumida River.
With 2,500 lanterns illuminating and gently floating along the river's currents between Azuma-bashi and Kototoi-bashi bridges, those in attendance are treated to a mesmerizing and calming spectacle, presenting a very different atmosphere compared to the high-energy firework shows held during summertime in Japan.
Participating in the Toro Nagashi Festival
The Toro Nagashi festival is a sight to behold and an experience to partake in, offering the opportunity for attendees to send off their lanterns carrying messages for their loved ones who have passed away. For 1,500 JPY per lantern, participants can commemorate their ancestors, family members, friends, or even past pets.
Please note that due to high attendance during the festival along the Sumida River, it is recommended that visitors secure their spots early in the day. The event will still be held in the case of light rain.
Getting There
To reach the Toro Nagashi festival location at Sumida Park, take the Ginza Subway Line or Tobu Skytree Line to Asakusa Station. It's just a 3-minute walk to Azumabashi Shinsui Terrace near Azaumabashi Bridge.
Reflecting on Life and Death through Toro Nagashi Tradition
The Asakusa Toro Nagashi festival allows locals and tourists alike to engage with ancient Japanese customs while reflecting on life and death amidst the glow of thousands of paper lanterns. This communal event has grown in popularity since its revival in 2005, uniting people from diverse backgrounds through shared appreciation and contemplation of this serene ceremony.