With over 3 million people passing through daily, Shinjuku Station in Tokyo is the busiest railway station in the world. The surrounding Shinjuku district is one of Tokyo's most iconic areas. However, few travelers today realize that just a few decades ago, Shinjuku was mainly known for its gritty, chaotic and somewhat dangerous red-light district areas.
Since the 1990s, extensive clean-up campaigns, redevelopment projects and massive investment have transformed Shinjuku into an ultramodern business and commercial hub.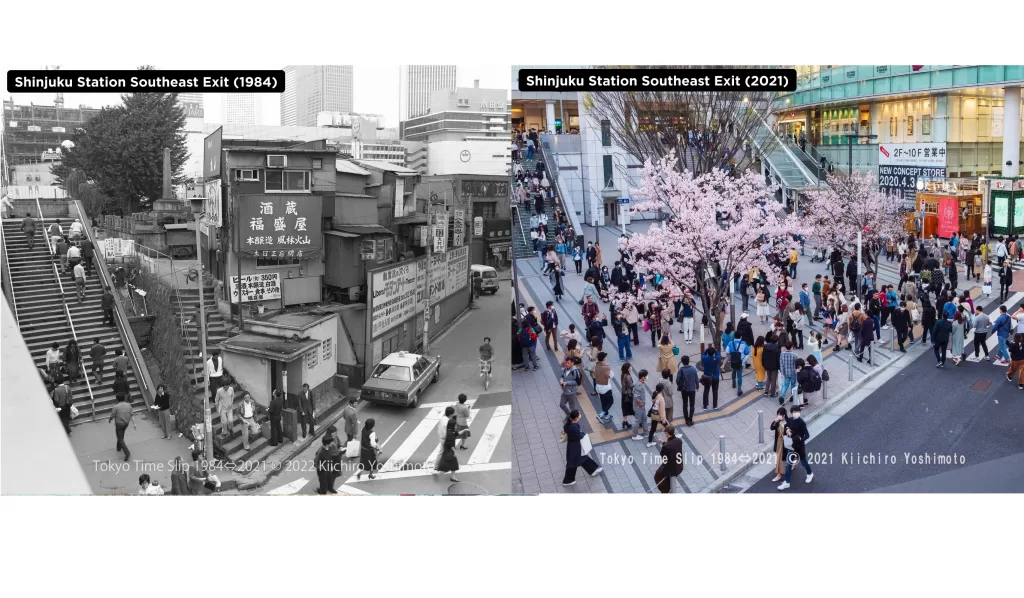 Shinjuku in the 1980s: Tokyo's Infamous Red-Light District
Up until the late 1980s, Shinjuku was dominated by the area called Kabukicho. Established shortly after World War II, Kabukicho was Tokyo's biggest red-light and entertainment district, known for its riotous mix of bars, nightclubs, adult shops, brothels operated by the Yakuza criminal gangs, and various illegal enterprises.
Much of Shinjuku had a rough, seedy reputation at the time, filled with sex workers, strip clubs, all-night drinking spots and dodgy characters. For tourists and locals seeking thrills and debauchery, Kabukicho was the place to go. But for most Tokyo residents, especially families, Shinjuku was an area to avoid at night.
Beyond Kabukicho, Shinjuku was also known for its above-ground electrical wiring and neglected back alleyways with garbage pileups. The streets were crowded with vendors selling food, used goods and other wares without permits.
Homeless people camped out in public spaces like the Shinjuku Chuo Park. Petty crime was common, with gangs of young delinquents looking to make trouble. It was a chaotic, lawless atmosphere, likened by some to "postwar pandemonium" with businesses and activity spilling out onto the streets.
The Start of Redevelopment in Shinjuku
By the late 1980s, Tokyo authorities recognized the need to clean up Shinjuku's image and reputation. In preparation for Japan hosting the 1991 Rugby World Cup, the Tokyo governor launched an initiative to tackle Kabukicho, targeting illegal prostitution and drug trafficking.
Red-light establishments in residential buildings were shut down and stricter zoning laws restricted adult businesses to designated areas. Police cracked down on Yakuza activities. While Kabukicho maintained its edgy character, the chaotic open solicitation was curtailed.
In the 1990s, further redevelopment plans were aimed at transforming Shinjuku into a modernized business and commercial zone. Transportation infrastructure upgrades focused on improving access to Shinjuku Station, including expanding metro routes and building new highways.
The Tokyo Metropolitan Government established a new urban center in western Shinjuku, with the 47-floor Tokyo Metropolitan Government Building becoming a prominent new landmark. Major corporations such as Keio Corporation and Odakyu Group constructed high-rise headquarters and luxury hotels near the station.
Shinjuku's Dramatic Transformation in the 2000s
The most dramatic changes came after 2001 when building height restrictions were eased in Shinjuku. This spurred a massive wave of new skyscraper construction and redevelopment centered around Shinjuku Station.
Despite the bursting of Japan's economic bubble in the 1990s, developers saw opportunities in Shinjuku's prime location and existing concentration of transport links.
The Redeveloped Shinjuku Station Area
Shinjuku Station itself underwent extensive renovation and expansion to improve connectivity and serve growing passenger numbers. New department stores, office towers and underground shopping malls were built around the station, including the huge new Shinjuku Southern Terrace complex.
Pedestrian plazas and walkways were added to manage the over 3 million people passing through the station daily.
Dozens of sleek new skyscrapers were constructed on former parking lots and old commercial buildings, dramatically changing Shinjuku's skyline. Several mammoth complexes were built near Shinjuku Station's west exit, including the Shinjuku Center Building, Shinjuku Sumitomo Building and Shinjuku Mitsui Building, which all soar over 200 meters high. On the east side, the Tokyo Hilton Hotel gave way to the 52-story Shinjuku Kuyakusho Building.
Business and Commerce in Modern Shinjuku
These new state-of-the-art office towers house the Japanese headquarters of major global firms like Goldman Sachs, as well as electronics, publishing and media companies.
Luxury hotels including the Park Hyatt Tokyo and Hilton Shinjuku draw international business travelers. Upscale condominiums cater to professionals working in Shinjuku.
The Tokyo Metropolitan Government moved into its new headquarters in Shinjuku in 1991. By physically relocating the government center from the Marunouchi district, it signaled Shinjuku's status as the city's new political and economic hub.
Culture and Shopping in Shinjuku
Amidst the soaring skyscrapers, Shinjuku also cultivated arts and culture to enhance its cosmopolitan character. In 1997, the 54-story Tokyo Opera City complex opened, featuring concert halls, an art gallery and the NTT InterCommunication Center.
In 2002, the Shinjuku FACE performing arts center was inaugurated, hosting various theatrical and musical productions.
Shopping options improved dramatically with shiny new malls like Lumine Shinjuku attached directly to department stores like Isetan and Marui. Luxury brand boutiques, electronics stores and fast fashion chains cater to shoppers with money to burn.
For middle-class families, Shinjuku offers affordable chain eateries found nowhere else in Tokyo, ranging from family restaurants like Gusto to popular noodle and rice bowl chains. Teen fashion trends percolate out from youth hangouts like Studio Alta and the iconic Shochiku-za Theater building.
Kabukicho Today – Still Edgy, But Safer and Sanitized
Kabukicho remains Japan's largest red-light district today, with over 3,000 adult establishments operating despite legal grey zones. However, regular police patrols and clampdowns on organized crime elements have reduced illicit activities. Clearly-marked "love hotel" towers provide couples with discreet rooms to rent, replacing many of the former back-alley brothels.
Bars and nightclubs catering to the LGBTQ+ community have helped Kabukicho become a more vibrant, inclusive neighborhood compared to its seedy past reputation. The Robot Restaurant provides garish, sensory-overload entertainment with its flashing neon lights and dancing robots.
Yet a walk through Kabukicho today also reveals upscale izakaya pubs and Michelin-starred ramen shops, showing its blend into the new Shinjuku. It continues upholding the area's tradition of escapist nightlife, only now with modern features like face scanners on building entryways for security.
Shinjuku Today – An Ultramodern Metropolis
In just a few decades, Shinjuku has been remarkably transformed from a neglected backwater district on the fringe of Tokyo into one of the city's shiniest ultra-modern hubs blending corporate commerce with consumerist pop culture. It represents Japan's economic ascent and successful makeover of its urban environments in the late 20th century.
Yet, Shinjuku also retains aspects of its countercultural spirit and eccentricities. It continues to refresh Tokyo's vibrant cityscape with new architectural statements like Kengo Kuma's Shinjuku Chuo Park Green Tower. The district stands as a symbol of Tokyo's indefatigable energy and its dual nature as both a forward-thrusting global megacity and proudly idiosyncratic Japanese cultural capital.