Jingu Gaien Ginkgo Festival
Join the celebration of nature's golden spectacle at the Jingu Gaien Ginkgo Festival, one of the remarkable Tokyo events in December.
The Jingu Gaien Ginkgo Festival is an annual event celebrated annually since 1997. This festival often deemed one of the best spots to enjoy autumn in Japan, rushes into full swing from mid-November to early December in Meiji Jingu Gaien. However, the exact dates for 2023 are yet to be confirmed.
The festival is not just revered for its marvelous display of ginkgo trees but also its cultural showcases, including street performances and a plethora of food stalls.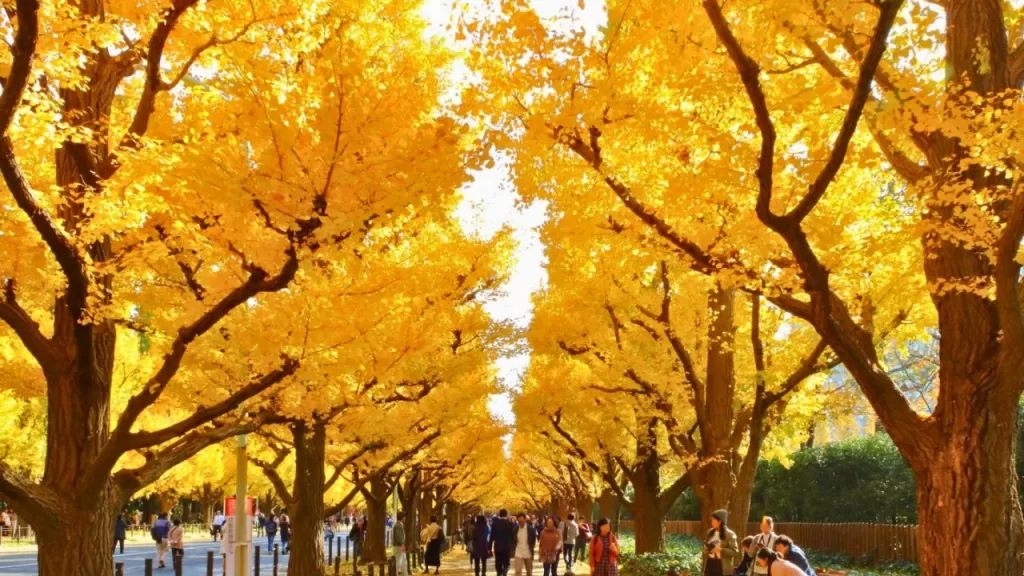 Exhilarating Display of Gracious Ginkgo Trees
Meiji Jingu Gaien's 300-meter-long avenue is graced by beautiful ginkgo trees that turn into a stunning golden color come autumn. With over 146 trees forming an enchanting tunnel, the festival attracts families and individuals who stroll under this majestic yellow canopy to experience Tokyo's quintessential autumn scenery.
For those looking to capture this captivating scene, the best time to visit is between November 26 and December 4, when the leaves have turned fully yellow. The sight becomes even more mesmerizing from 4:30 pm to 7:30 pm as the trees are lit up, offering a picturesque view that has graced countless Instagram accounts.
Gastronomic Delights and Street Performances
Apart from feasting your eyes on nature's golden marvels, prepare your taste buds for a gastronomic journey at over thirty food booths serving some delicious fare. Please note that these vendors mostly accept cash, so remember to bring yen.
Visitors will also appreciate some well-curated street performances running concurrently during the festival hours. These are usually scheduled between 10 am and 8 pm and are an absolute delight for art lovers.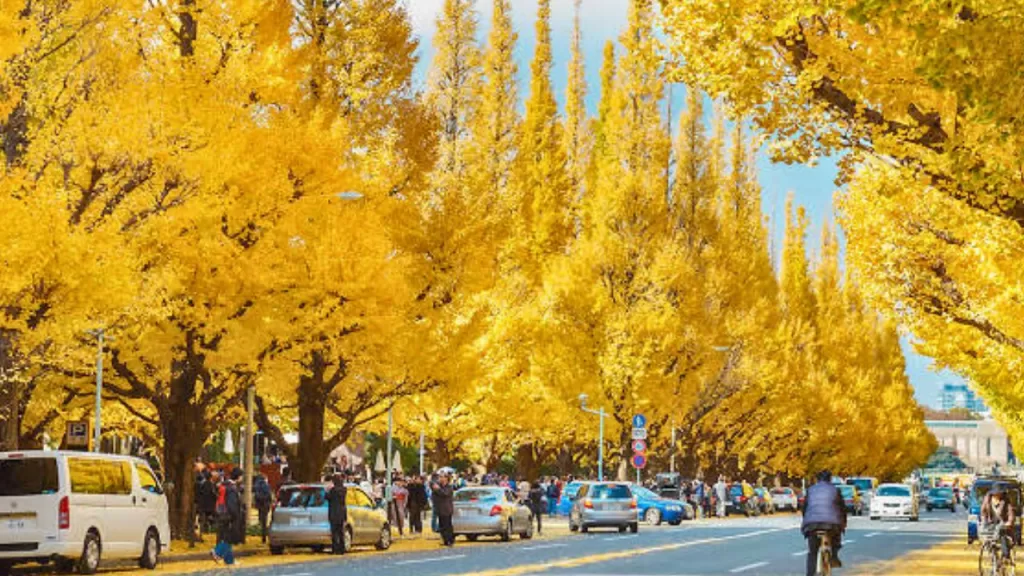 Accessibility Informal
Meiji Jingu Gaien is conveniently accessible as it's just a short stroll from several stations in Tokyo:
Gaienmae Station (Tokyo Metro Ginza Line) – 4 minutes on foot
Aoyama Itchome Station (Tokyo Metro Hanzomon Line/Toei Oedo Subway Line) – 6 minutes on foot
Shinanomachi Station (JR Chuo/Sobu Line)- 5 minutes on foot
Sendagaya Station (JR Chuo/Sobu Line) – 4 minutes on foot
Small parking lots can be found in the area for those planning to drive down, but they tend to fill up quickly. For more parking information, check out the Meiji Jingu Gaien website.
Immerse yourself in the beautiful fall foliage at Jingu Gaien Ginkgo Festival, a delightful counterpart to Mt. Takao Autumn Leaves Festival.