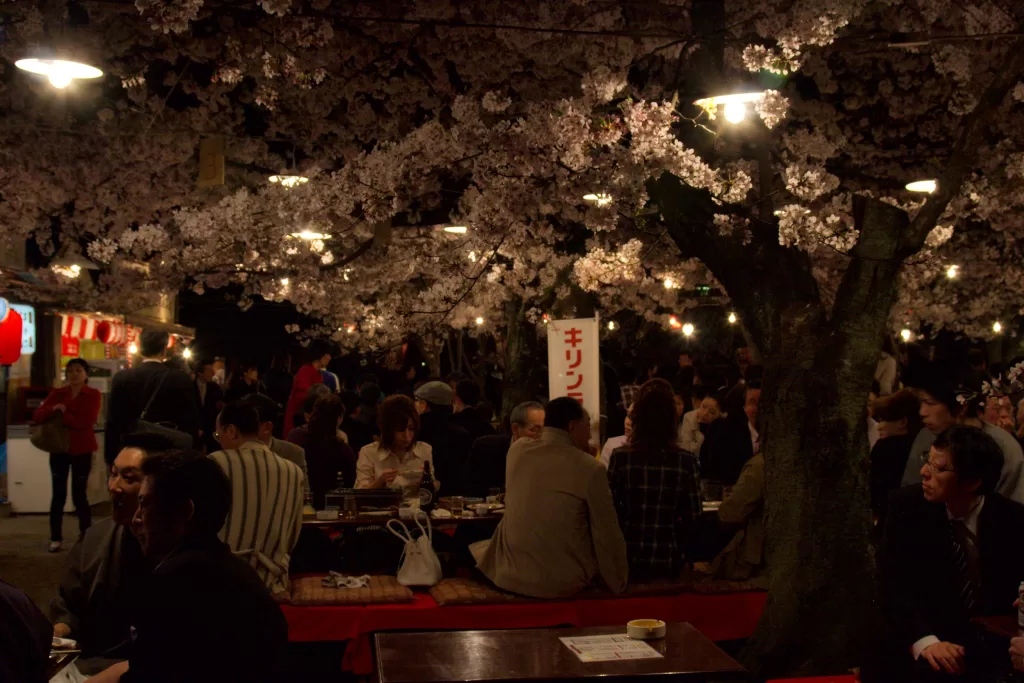 The Spectacle of Maruyama Park
Undoubtedly, among the most enchanting hanami (cherry blossom viewing) spots in Kyoto, Maruyama Park stands out with its esteemed Shidarezakura (weeping cherry tree). The Shidarezakura, illuminated every evening during sakura blossom season, provides an otherworldly ambience that draws locals and tourists alike to witness the spectacle.
The Iconic Weeping Cherry Tree at Maruyama Park
The star of the light-up event at these 'hanami matsuri' (flower viewing festival) is the towering weeping cherry tree located in the middle of the park. This monolithic tree, over 80 years old, stems from a lineage that dates back to a predecessor aged 220 years. The best time to catch a glimpse of its full glory is during late March until early April. During this peak cherry blossom viewing season, the park bustles with spectators who come to marvel at the ethereal visual treat of these impressive cherry trees bathed in nocturnal illumination.
A Walk through Seasonal Splendour
Maruyama Park is not just Kyoto's oldest park but also an exemplar of a Kaiyushiki-style garden. Each vista offers a different bloom according to its season in this promenade-style landscape. Walking through this tasteful space during the hanami season promises spectacular sights as bonfires across the park cast a magical glow on blooming cherry trees, enhancing their beauty manifold and creating an atmosphere replete with Kyoto's traditional charm. It's definitely one of the most fascinating Kyoto events in March.
Delicious Diversions during Hanami Flower Viewing Season
No cultural festival is complete without local cuisine. During the annual Hanami flower viewing period, numerous food stalls spring up across the park featuring delicacies that cater to a wide range of palates. Furthermore, three exclusive tea parlors operate throughout this festive period offering visitors with delectable edibles along with an access to sit in special seating areas under resplendent cherry trees.
Accessibility and Inclusivity at Maruyama Park
Maruyama Park is an inviting space for all — from first-time travelers looking for iconic cherry blossom views to locals seeking refuge from urban hustle-bustle. Visitors can easily reach Maruyama Park via a comfortable walk from Gion-Shijō Station (Keihan Main Line), Kawaramachi Station (Hankyu Line), or Higashiyama Station (Subway Tōzai Line).
During weekend evenings when full bloom commences, Maruyama Park beams with festive spirit where seekers of tranquility can head towards higher parts of the park area that overlook crowdy madness below. It also encourages park-goers to hold their own informal hanami parties; securing a spot is simple – purchase drinks or snacks from nearby vendors and grab a seat at any table around!
In conclusion, Maruyama Park's night time illumination during sakura blossom season presents an unforgettable immersive experience enriched by stunning floral displays under twilight mirrors Kyoto's unmatched cultural heritage.
Another fascinating event in Kyoto during March is the Kiyomizu-dera Spring Illuminations. Discover the enchanting beauty of Kyoto during spring with the Kiyomizu-dera Spring Illuminations. Be captivated by the mystical blue light that emanates from the temple, symbolizing the compassion of Kannon, the deity of mercy. Don't miss this opportunity to witness the breathtaking sight of Kiyomizu-dera Temple adorned with lights, an experience that will leave you with lasting memories of Japan's rich cultural heritage.