Every year during spring, the Ninnaji Temple in Kyoto turns into a visual spectacle as numerous cherry trees bloom, dotting the landscape with a burst of colours. Most notable among the cherry trees in bloom at this temple are the Omurozakura, also known as late-blooming cherry trees.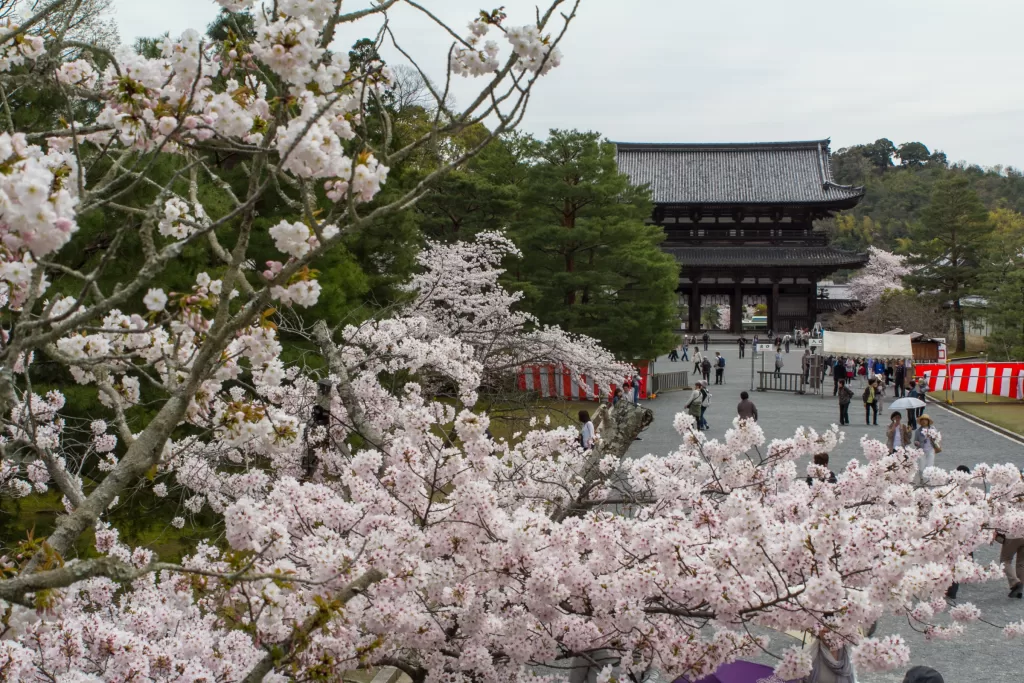 The Late-Blooming Omurozakura Cherry Trees
Approximately 500 of these late-blooming variants can be found within the temple grounds. These trees reach their full bloom typically around mid-March, transforming Ninnaji Temple into an ideal location for appreciating the beauty of cherry blossoms.
Located in Ukyō-ku, Kyoto, Ninnaji is the head temple of the Omuro school of Buddhism's Shingon sect. Founded back in 888 by Emperor Uda upon the request of his predecessor, Emperor Kōkō, this temple also bears historical significance.
For those who wish to see these unique Omurozakura, or late-blooming cherry trees, passing through the Chūmon gate is recommended. Characterized by having short trunks and being late bloomers, these trees appeal to crowds with their exotic charm presented at eye level. It's definitely one of the most fascinating Kyoto events in March.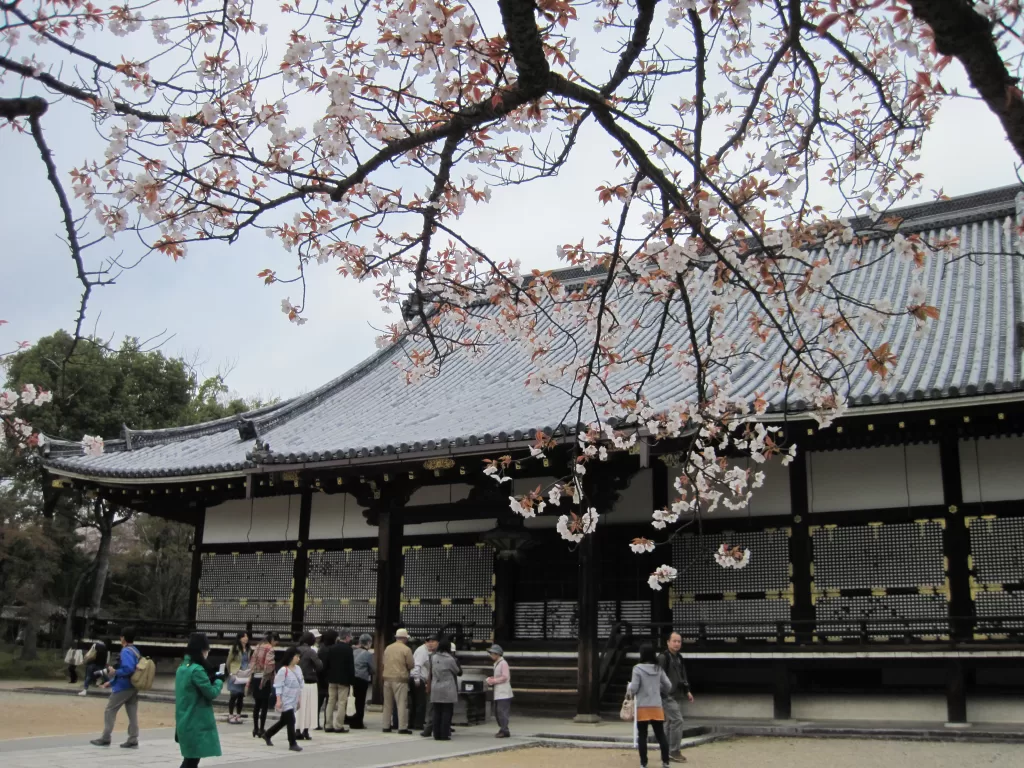 How to Reach Ninnaji Temple
Visitors can reach Kyoto's Ninna-ji Temple via a 40-minute drive from the Kyoto Minami Interchange on the Meishin Expressway. Up to 100 vehicles can be accommodated on-site for parking at approximately 500 yen.
For those opting public transport, it's convenient to note that the Keifuku Randen Tram Line serves the Omuro Ninnaji Station, which is only a three-minute walk from the temple entrance.
From Kyoto Station, direct JR bus service is available which takes around 30 minutes and costs 230 yen. The religious site is also covered by different rail and bus passes including Japan Rail Pass and Kyoto's one-day bus pass.
A Peek into History: Ninnaji's Historical Buildings
The physical infrastructure at Ninnaji additionally accentuates its appeal for tourists. Unfortunately, due to fires and wars that ravaged Kyoto over history's course none of the original buildings from its foundation in 9th century survived till today. However, some structures like The Kannon Hall, Niomon front gate, Chumon inner gate etc. dating back to the early Edo Period circa early 1600s still stand as evidence of historical grandeur.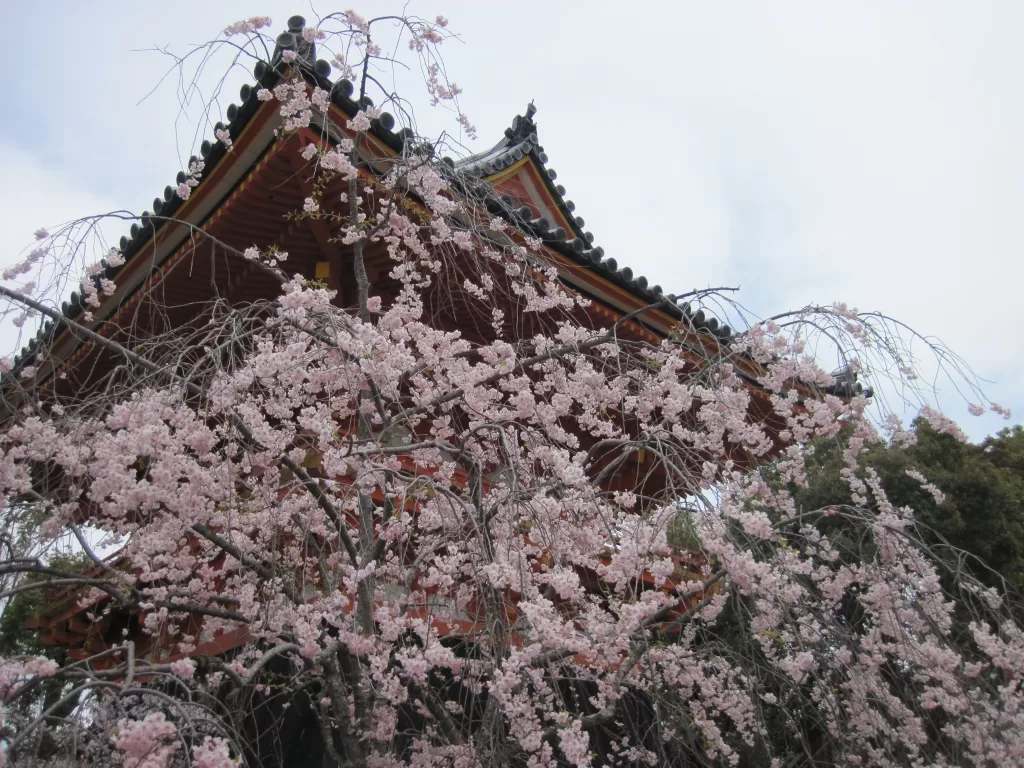 Highlights of Ninnaji Flower Festival
The annual Ninnaji Flower Festival held here annually displays diversity in flora with full bloom ranging from mid-March to early May. This festival specifically celebrates Omuro Sakura blossoms that they've cultivated throughout centuries.
This family of cherry blossoms is known for their large blossoms lined with a sweet scent and comes in several varieties like Omuro Ariake that produce white cloud-like blooms visible towards mid-April when they usually hit full blossom.
During this period azaleas add shades of pink and light purple creating multihued landscapes breathtakingly beautiful contrasting with maple greens prevailing towards festival's end.
Besides regular exhibits here during spring there are also exhibitions organized presenting artworks by contemporary artists from Kyoto displayed across palace garden besides a peek into their Reihokan (Treasure Hall) where reside national treasures.
Ninnaji Temple offers not just a spiritual experience but also cultural and natural beauty underlines Kyoto's heritage drawing scores of visitors each year across globe.
Some other rare breeds of cherry blossom trees growing within temple compound include Ōsawa-zakura and Ariake besides common types like Somei Yoshino—a captivating prospect for nature enthusiasts interested in distinctive flora varieties.
Check out the Nijo Castle Sakura Festival if you love watching cherry blossoms. Experience the enchanting beauty of Kyoto's ephemeral cherry blossoms at the Nijo Castle Sakura Festival. With over 500 cherry trees adorning the grounds, this World Heritage site becomes a captivating spectacle during the evening illuminations, where clusters of trees transform into illuminated wonders, casting enchanting hues over the crowd.