Shibuya Blue Cave Illumination
Immerse yourself in the mesmerizing Shibuya Blue Cave Illumination, one of the must-see Tokyo events in December.
Relaunch After Two-Year Hiatus
After a two-year break, the stunning Blue Cave illumination returns to light up Shibuya Park Street to Yoyogi Park Keyaki Namiki. The spectacle was originally hosted at Meguro River in 2014 but shifted to Shibuya, taking place again in late December 2023. Travelers from the bustling Shibuya crossing to Koen-dori get encapsulated into an ethereal blue world marked by a striking haze from 5 pm–10 pm, signifying the inception of the Ao no Dokutsu.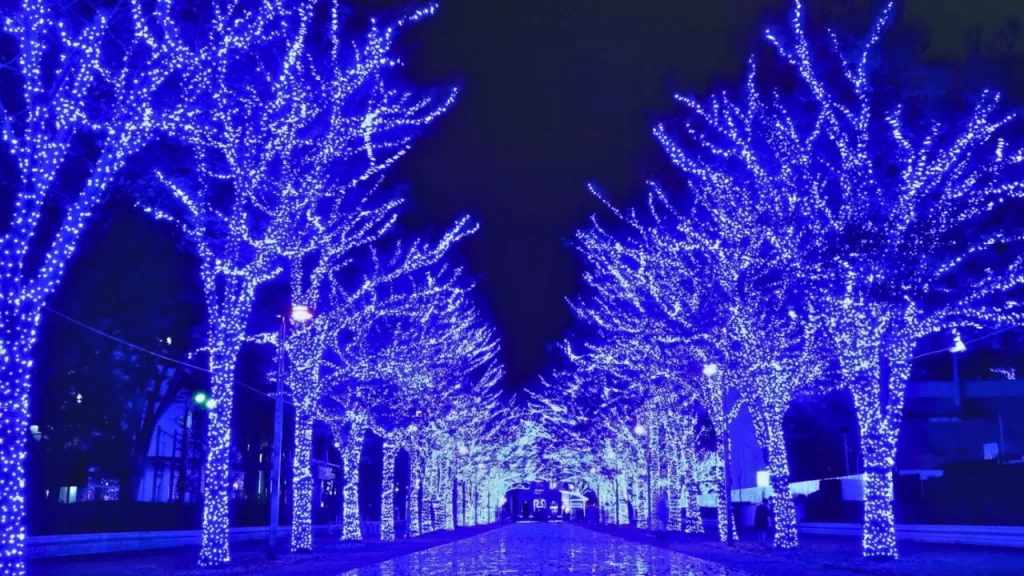 A Glistening Spectacle Packed with LEDs
The panorama is packed with approximately 600,000 LED lights along an 800-meter stretch from Shibuya Koen-dori Street through towering rows of zelkova trees within Yoyogi Park in Shibuya Ward. Once immersed, an illusion of a water-filled cave is created as sheets partly cover the ground mirroring the sea-colored bluish illumination.
On Christmas Eve and Christmas Day each year, visitors get engaged in inscribing heartfelt messages or sketches on dedicated devices, which get projected onto massive boards mimicking enormous Christmas cards.
The sparkling spectacle had been put on hold for two frustrating years to stem the spread of the novel coronavirus pandemic.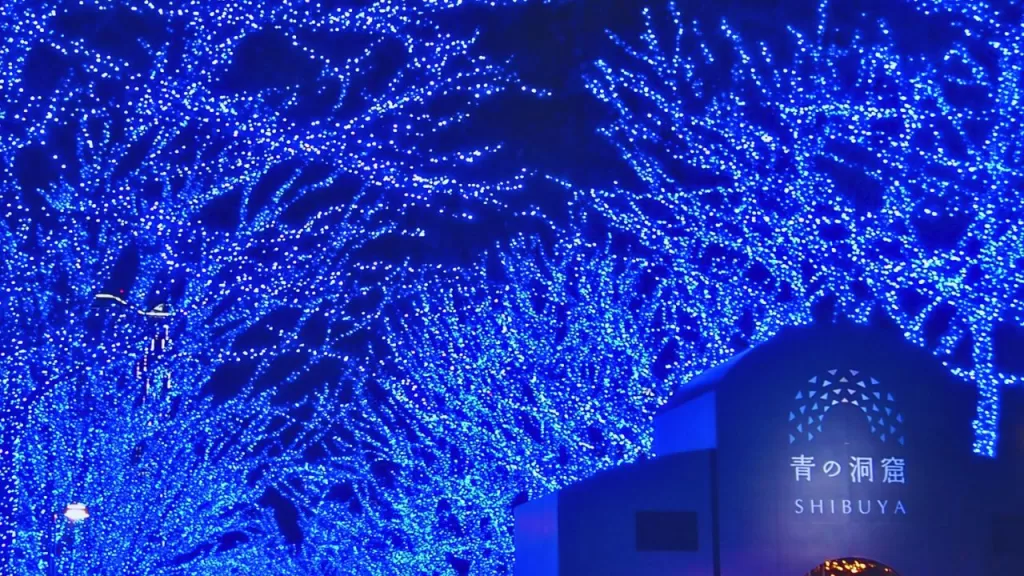 Engagements Around Koen-Dori to Yoyogi Park
Once the LED lights go on at Koen-Doriand onto Yoyogi Park, evoking murmurings of amazement from enchanted crowds. Photographs captured under these trees leave an indelible surreal blue hue. Mobile phones proved popular photography gear during this event compared to the few DSLRs occasionally seen around.
Seamlessly, Shibuya Blue Cave paints Tokyo's holiday season with a desirable blue brush, becoming more popular over other similar city events, evidenced by the magnificent stills captured during these events.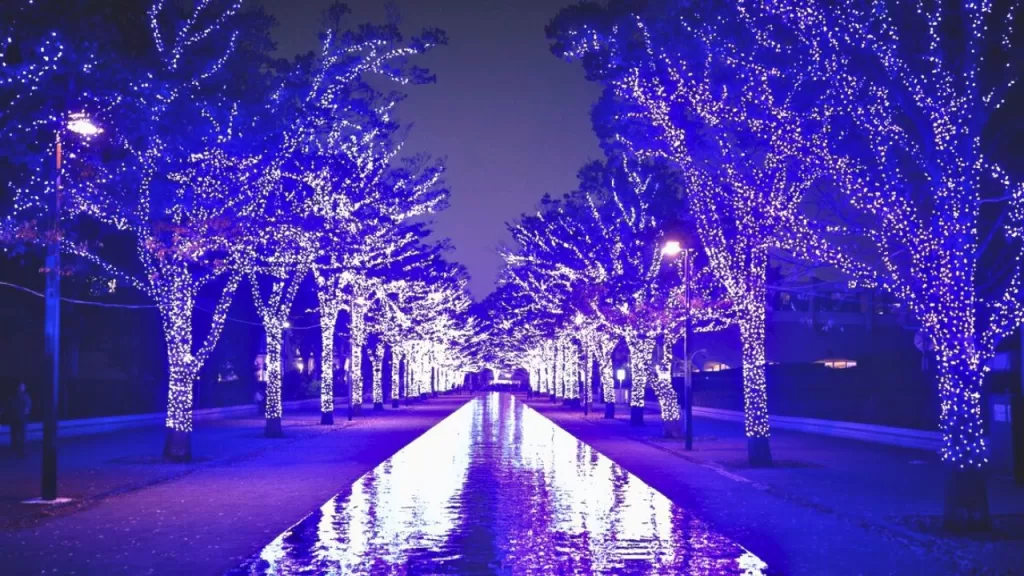 Blue Cave Shibuya – An Unforgettable Winter Experience
"Blue Cave Shibuya's winter lighting event transforms the entire Shibuya into dazzling twinkling scenes that leave beholders agog. An overwhelming attendance of 280,000 visitors paints a clear picture of just how captivating this experience can be when touring Tokyo's many illumination events.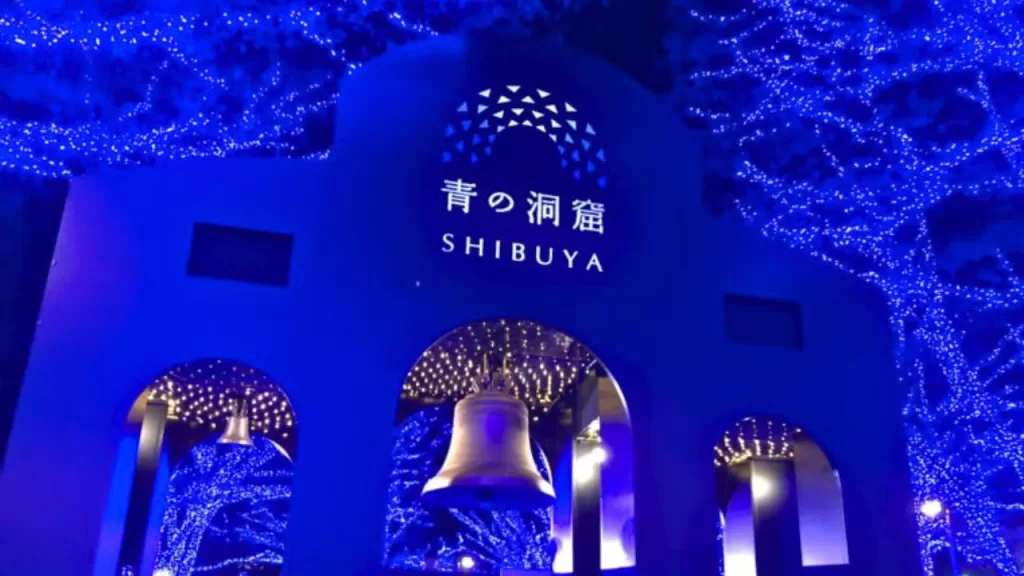 More Than Just Lights: Shopping and Fortune Bells
While submerged in what seems like a parallel universe at Blue Cave Shibuya, you not only behold vivid beauty but can also delight your gastronomic senses. During limited times throughout the month-long event, the pop-up shop "Blue Cave Blue Parks" set up in Yoyogi Park, offers delicious edibles and refreshments such as bubble tea and sparkling wine.
Shibuya Blue Cave introduced its debut audible attraction in 2019, known as FORTUNE BELLS for anyone interested in fate dissimulation. On the stage, there are three symbolic bells representing "Luck," "Knowledge," and "Love." By pulling a rope attached to one of them, guests are bestowed upon fortunes relevant to respective themes.
Crowds Management Tips
Given its soaring popularity, it's unsurprising that large crowds gather on whichever day of the week. To escape this maddening frenzy, you might want to consider visiting during late hours on Sundays or any other quiet weekdays or pick quieter stations such as Shinjuku Station or Meiji-jingle (Harajuku) Station instead of busy Shibunya station for your journey.
The illumination event spans from the end of November until year-end at different venues, with varying periods for each. The phenomenal Zelkova Trees welcome zealots till December end. You can marvel at Shibuya Koen Dori until mid-January every day from 17:00 until 22:00, except New Year's Eve, when illuminations last till dawn at 5:00 am.
Since times and dates may oscillate yearly, it is advisable to check its official site beforehand.
There is no entry fee required at Blue Cave Shibuya events.
| Event Name | Venue | Timing |
| --- | --- | --- |
| Blue Cave Shibuya | Yoyogi Park | End Nov – Dec 31st |
| | Shibuya Koen Dori (@night) | End Nov – Mid Jan |
Discover the captivating blend of lights at Shibuya Blue Cave Illumination, contrasting the enchantment of Hibiya Magic Time Illumination.