Discover the Best Things to Do in Matsumoto, Japan, a captivating city in the Nagano Prefecture. Matsumoto is considered the second largest city in Nagano prefecture in Japan's north-central island of Honshu. As the largest city in central Nagano, Matsumoto is a famous tourist destination known for its beautiful scenery, architecture, and cultural attractions. This guide covers the 26 best things to see and do in Matsumoto to help you get the most out of your visit to this charming Japanese city.
Explore Matsumoto Castle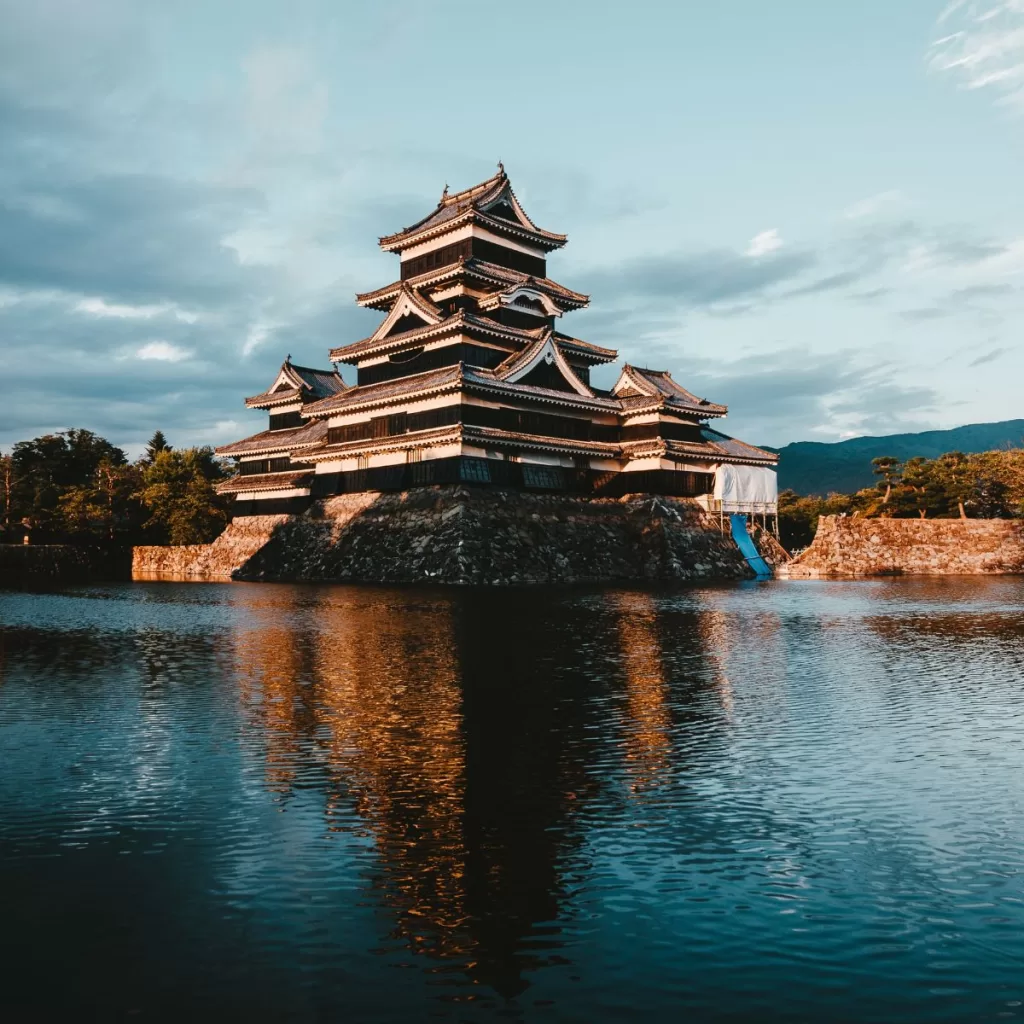 Topping most lists of things to do in Matsumoto is visiting Matsumoto Castle, also known as the Crow Castle due to its dramatic black exterior. Constructed in the late 16th century, Matsumoto Castle is one of Japan's oldest and best-preserved original castles.
Walk around the imposing castle walls and don't miss seeing the interiors of the wooden buildings within, decorated with spectacular murals and collections. As one of Japan's national treasures, Matsumoto Castle offers visitors insight into traditional Japanese architecture and history.
Plan to spend at least a couple of hours exploring this iconic landmark in the heart of Matsumoto. To get to Matsumoto from Tokyo, you can take a direct train, which takes approximately two and a half hours. Matsumoto is well-connected by the railway system, making it easily accessible from other major cities in Japan as well. Once you arrive, the castle is a short walk from Matsumoto Station, allowing for convenient exploration of this historical landmark and its surroundings.
The best time to visit Matsumoto Castle is during the spring or fall seasons. In spring, the castle is surrounded by cherry blossoms, creating a stunning and picturesque scene. The castle itself is often illuminated at night during the cherry blossom season, offering a magical and romantic atmosphere. In the fall, the surrounding park showcases vibrant foliage, providing a beautiful backdrop for the castle. However, regardless of the season, Matsumoto Castle stands as a symbol of the region's rich history and is a must-visit destination for anyone exploring the area.
---
Wander the Pedestrian Streets of Central Matsumoto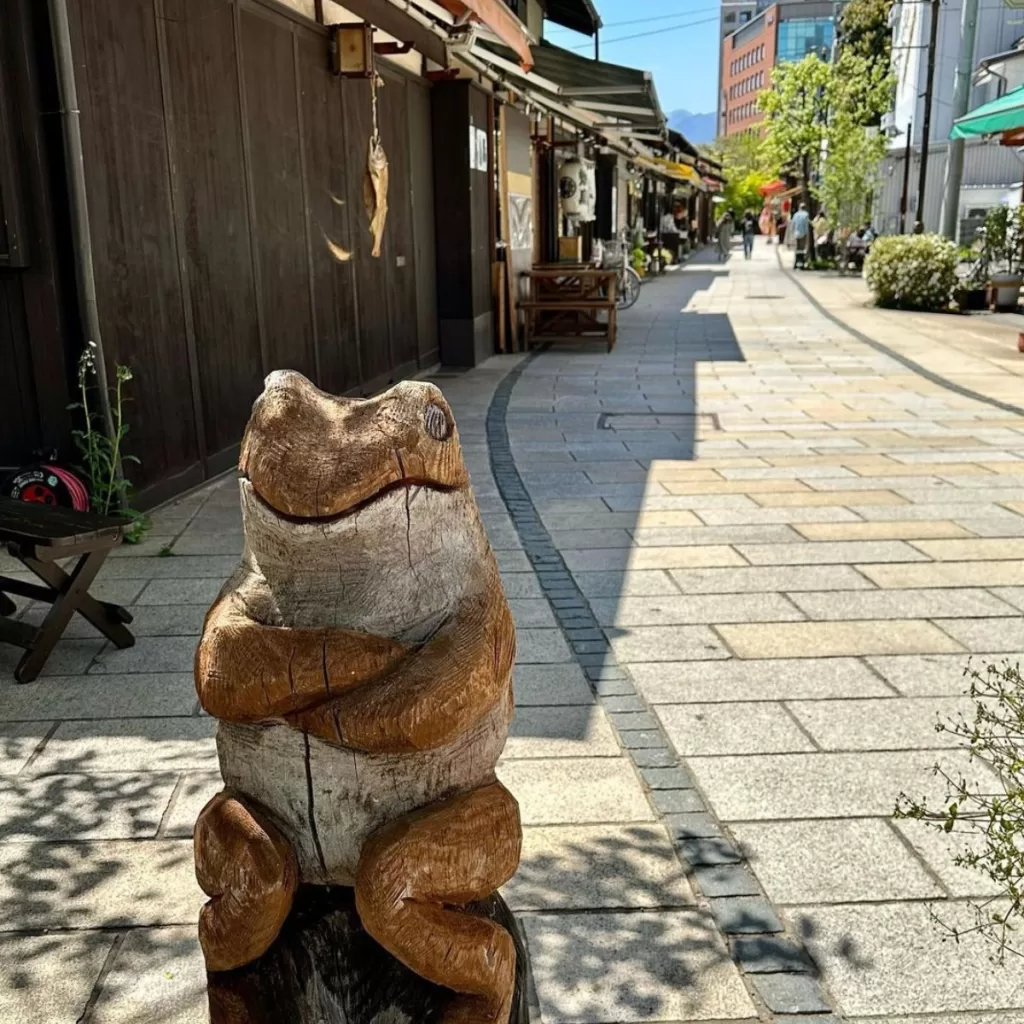 Central Matsumoto is quite compact and very walkable, making it enjoyable to wander along its pedestrian streets. Head to Ote-machi and Nakamachi downtown areas to see traditional Japanese buildings housing shops, restaurants, and cafes. Stop in museums, browse antique shops, or just people watch.
The streets are especially beautiful in spring when cherry blossoms are in bloom. Walking is the best way to discover Matsumoto's charm and get oriented in the city. Most attractions are within 10-15 minutes on foot from Matsumoto Castle at the city center.
Exploring the pedestrian streets of central Matsumoto is also an opportunity to indulge in the local culinary delights. Matsumoto boasts a vibrant food scene, offering a range of delicious options. From traditional Japanese dishes such as soba, sushi, and tempura, to savory street food like oyaki (stuffed dumplings) and soft-serve ice cream, there is something to satisfy every palate. Don't miss the chance to savor the local specialty, Shinshu beef, known for its tenderness and exquisite flavor.
For those looking to extend their stay in Matsumoto, there are various accommodation options available in the city. From cozy guesthouses to comfortable hotels, there is something to suit different preferences and budgets.
---
Visit Matsumoto City Museum of Art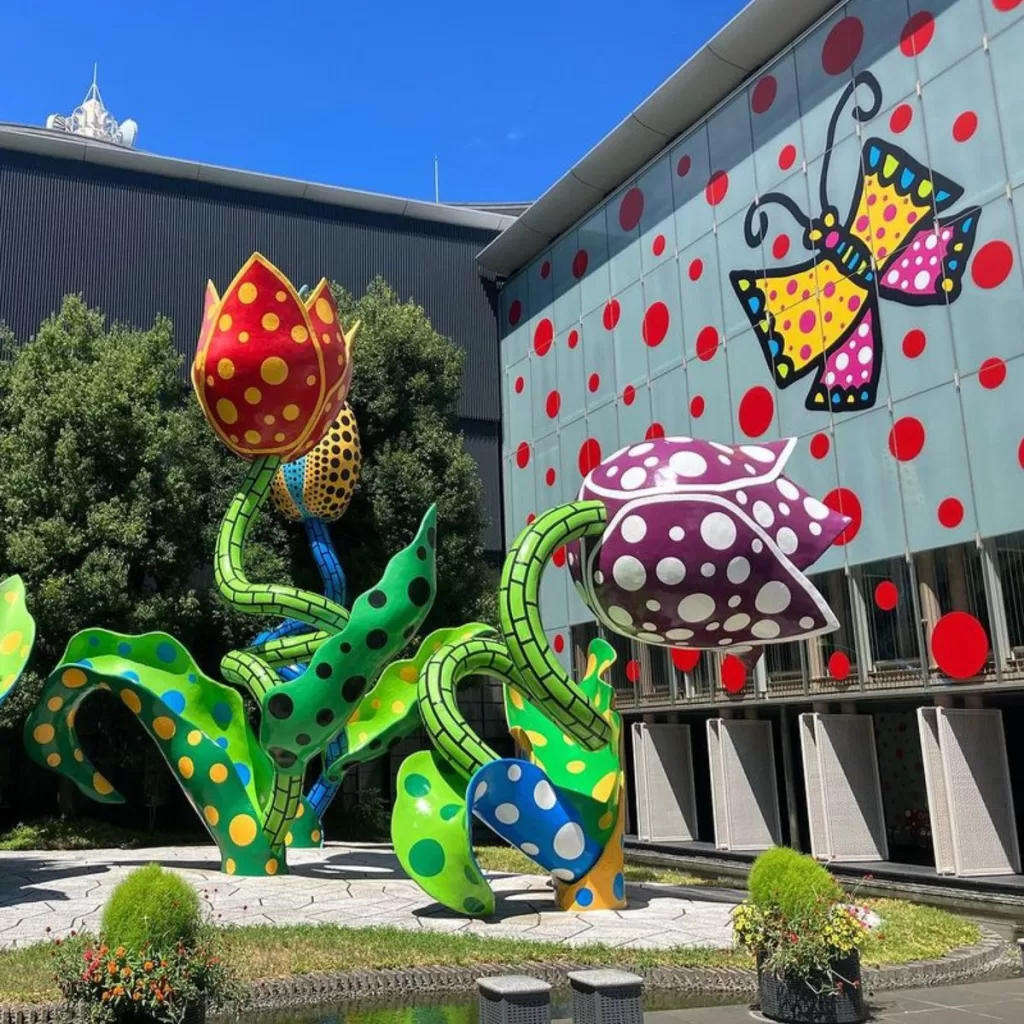 Located in Matsumoto city, this museum is one of the best places to explore the world of contemporary and traditional Japanese art. The museum boasts a diverse collection of artwork, including paintings, sculptures, ceramics, and prints, showcasing the creativity and talent of both local and renowned artists.
Matsumoto City Museum of Art houses a collection of Japanese and Western artworks, including many by native artist Yayoi Kusama who was born in Matsumoto.
The museum is renowned for its collection of crockery and tea utensils from the Edo period as well as ukiyo-e woodblock prints. Temporary exhibits spotlight both Japanese and international artists. Art lovers can easily spend a couple of hours here appreciating Matsumoto's cultural contributions. The museum is about a 10-minute walk from JR Matsumoto Station.
---
Go Souvenir Shopping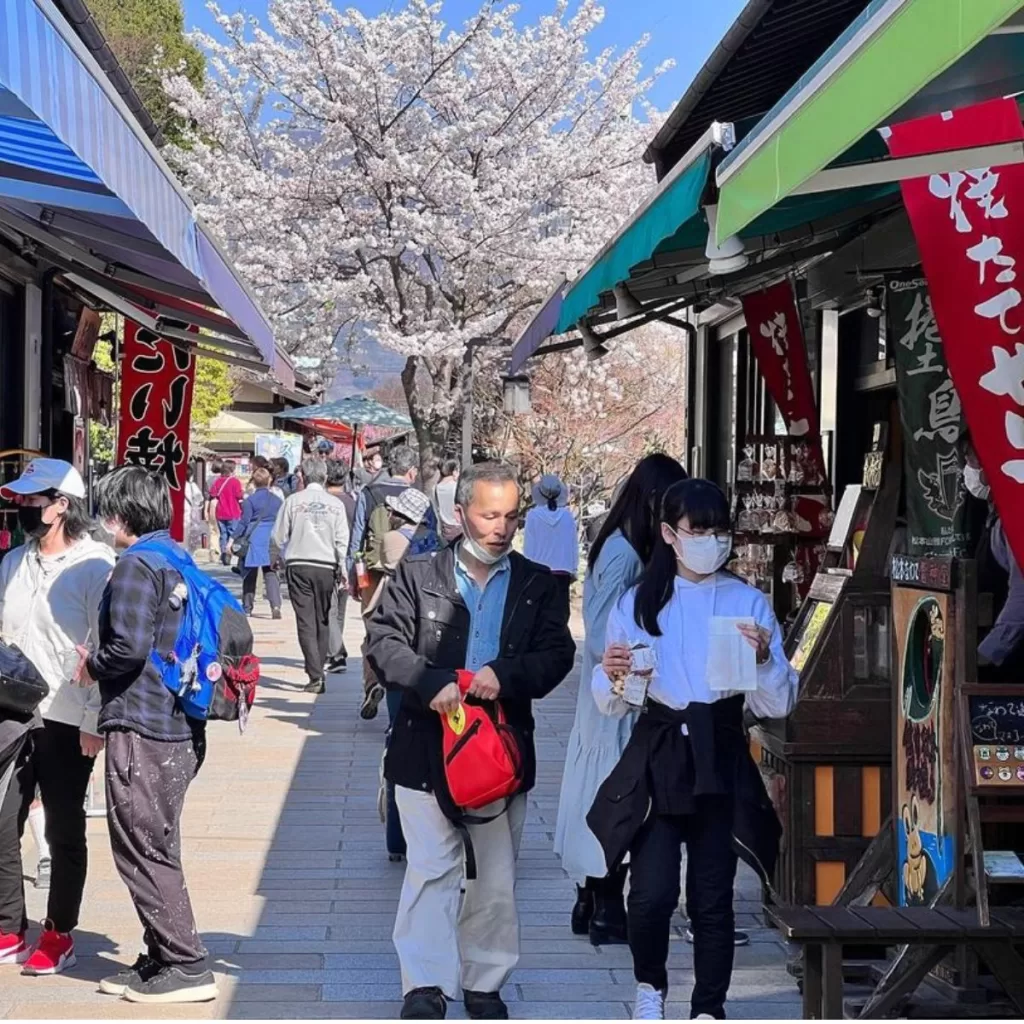 Known for its rich cultural heritage, Matsumoto offers a range of specialty products and handicrafts that make for perfect souvenirs. From traditional Japanese crafts to modern designs, there is something to suit every taste.
Matsumoto is famous for locally made crafts that make excellent souvenirs. Top items to look for include woodcrafts, daruma good luck figures, and kiriko cut glass. One of the best places to explore for souvenirs is Nakamachi Street, a charming historic district lined with traditional merchant houses. Here, you'll find an array of shops offering a wide range of local products, including lacquerware, handcrafted pottery, handmade textiles, and intricately designed wood and metalwork.
Near Matsumoto Castle, visit traditional shops selling seasonal gifts and snacks such as kuromame black soybeans and shikki sticks of colored rice. For cherry wood crafts, browse the stores in Ote-machi along Mel River. Don't miss Ichi no Hashi, a charming covered bridge housing multiple souvenir shops. Pick up unique gifts to remember your trip to Matsumoto.
---
Travel to Kamikochi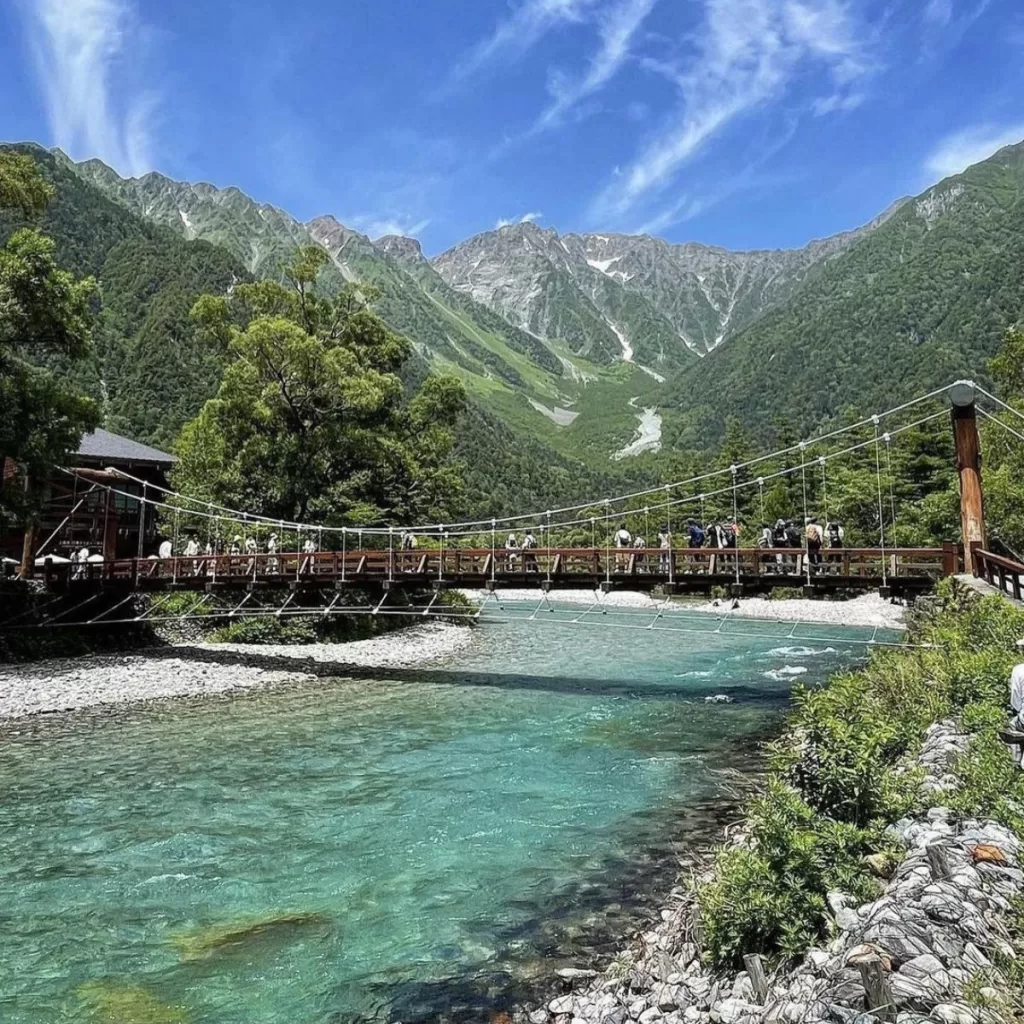 A popular day trip from Matsumoto is to Kamikochi, a pristine mountain valley located within Chubu Sangaku National Park of the Japanese Alps.
Kamikochi offers stunning natural scenery including verdant forests and the Kamanashi, Yakedake, and Azusa rivers. Hike trails ranging from easy riverside walks to strenuous climbing routes up surrounding peaks.
In spring, admire hydrangeas and azaleas in bloom. Kamikochi can be reached via limited express train from Matsumoto to Takehara Station, then a 25-minute bus ride. Remember to check seasonal visitation times.
---
Visit Jorinji Temple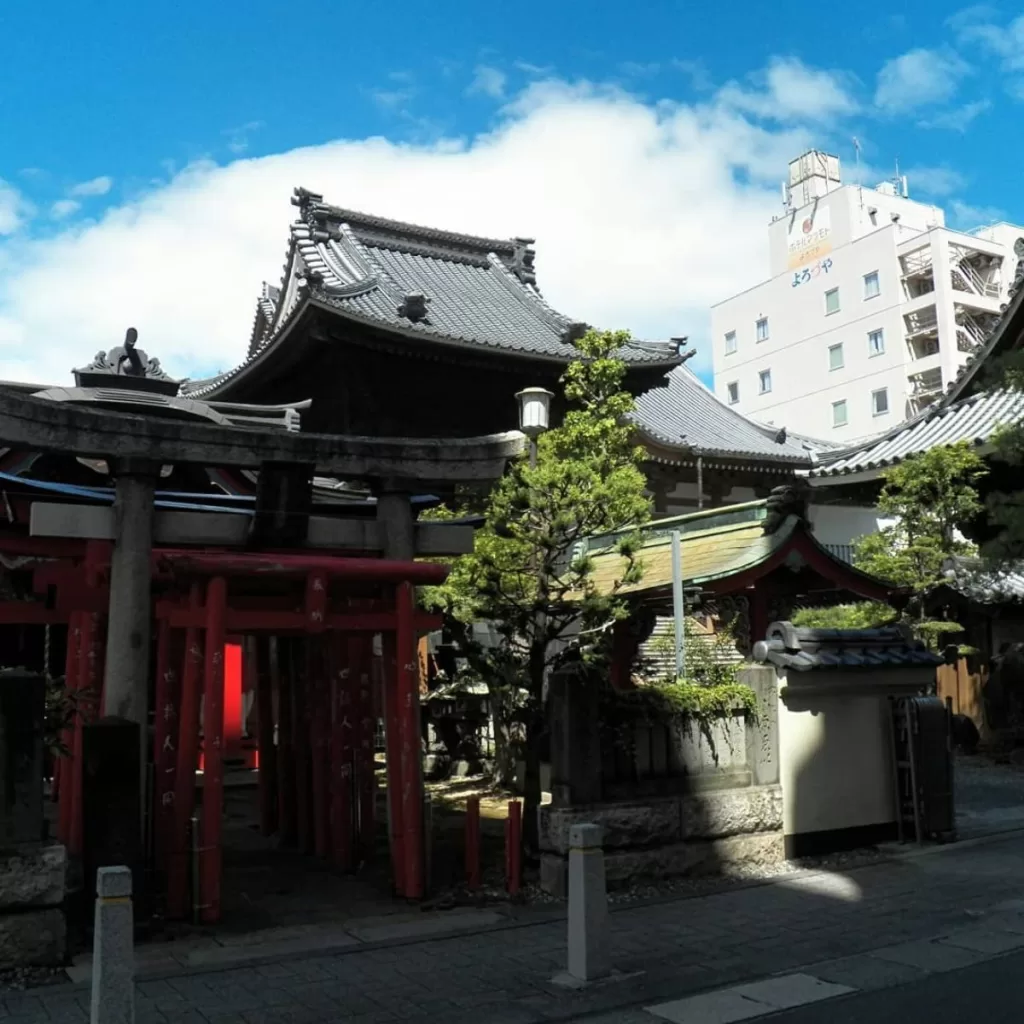 The temple, known for its serene atmosphere and beautiful architecture, offers glimpses into the spiritual heritage of the region.
Jorinji Temple houses a collection of valuable Buddhist artifacts and cultural treasures. The temple's interior boasts exquisite Buddhist statues, paintings, and calligraphy, many of which hold deep spiritual and historical significance. Exploring the temple's interiors provides a chance to appreciate the artistry and craftsmanship of these ancient artifacts while gaining insights into Buddhist traditions and beliefs.
Jorinji Temple offers visitors the opportunity to participate in traditional Buddhist rituals and ceremonies. Daily prayers and chanting sessions are held at the temple, providing a glimpse into the devotional practices of Buddhism.
---
Visit Yohashira Shrine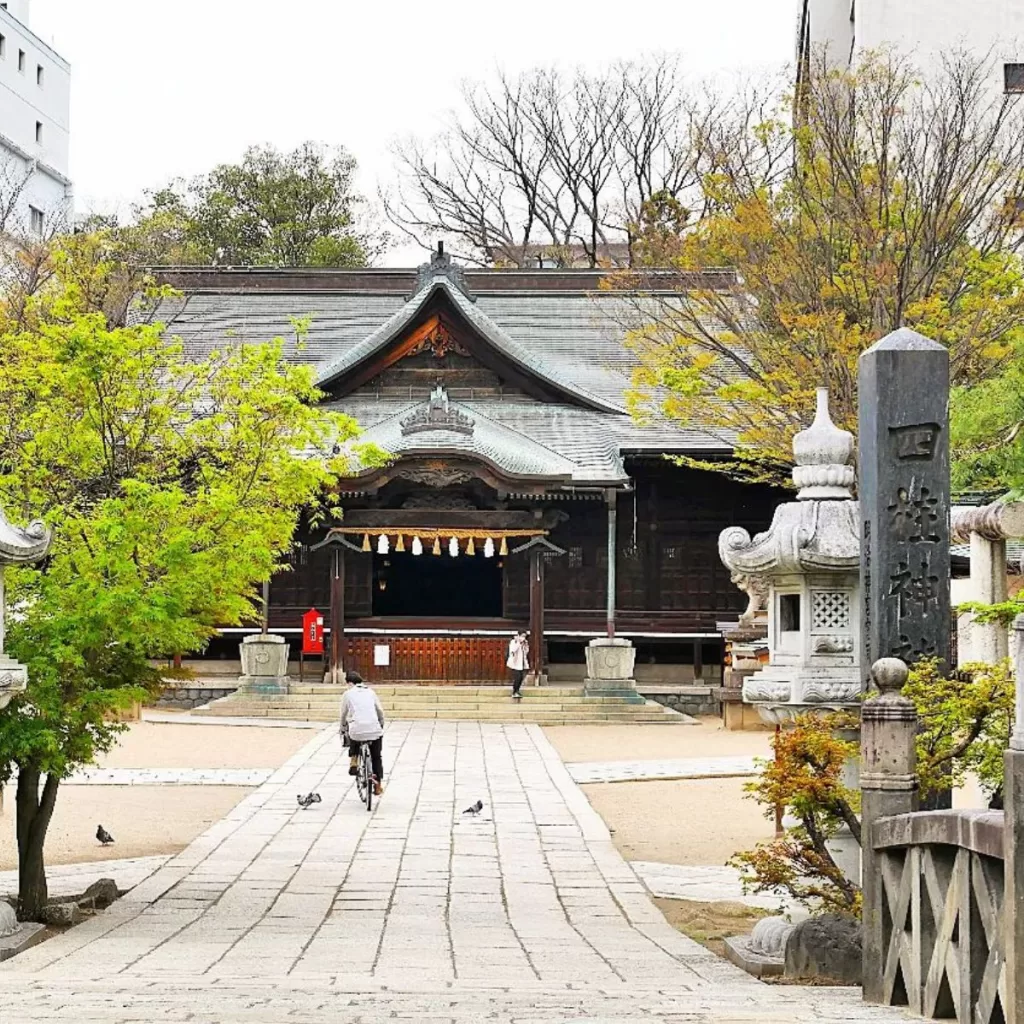 Nestled in the enchanting city of Matsumoto, Yohashira Shrine is a significant cultural and historical site that offers a glimpse into Japan's spiritual traditions.
Matsumoto is a great place to experience the essence of traditional Japan, and Yohashira Shrine is a testament to that. As you approach the shrine, you'll be greeted by a majestic torii gate, marking the entrance to this sacred space. The shrine's tranquil ambiance and beautiful architecture provide a serene atmosphere that invites visitors to immerse themselves in the Japanese spiritual culture.
Exploring the grounds of Yohashira Shrine allows you to discover elements of the local folklore and mythology. The main hall of the shrine features intricate wood carvings and vibrant paintings, showcasing the traditional architectural style.
---
Go Brewery Hopping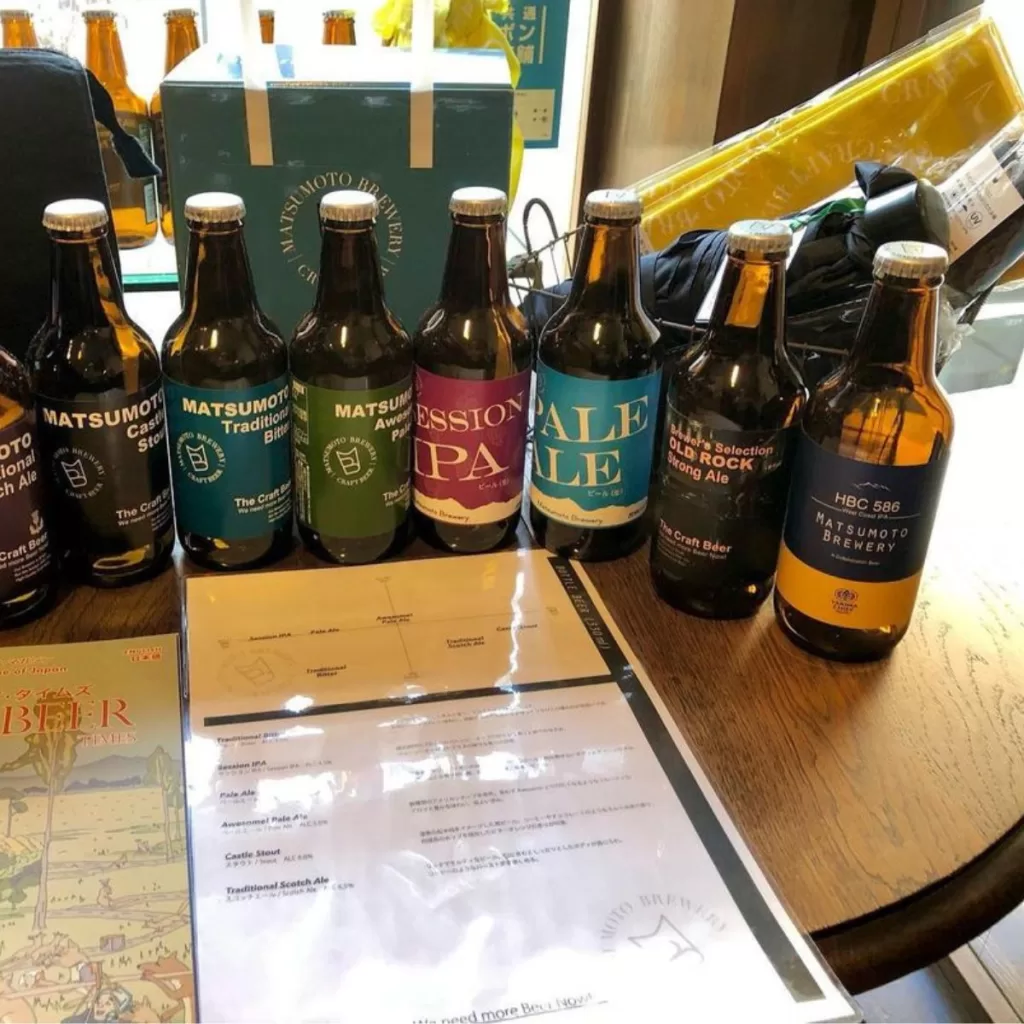 When you travel to Matsumoto, Japan, one of the best experiences for beer enthusiasts is going brewery hopping. Matsumoto is home to several breweries that offer a unique opportunity to sample a variety of craft beers and immerse yourself in the local beer culture.
Matsumoto is renowned for locally brewed craft beers, making brewery hopping a popular activity. Two of the best and easiest to visit include Matsumoto Brewery located in the city center, and Matsumoto Brewery Tap Room a 15-minute drive northeast of the castle.
Both offer tours explaining brewing techniques followed by tastings of beers like their signature pale ale. Sample seasonal offerings and limited edition brews alongside tasty pub food like pizza. Buy beers to take home too as memorable souvenirs.
---
Check Out Matsumoto City Museum
Matsumoto City Museum provides insights into the history and culture of Matsumoto. Learn about the development of the city through its industries like paper making, crafts, and sake brewing.
Adorable dioramas depict traditional festivals and occupations. Temporary exhibits cover diverse topics. Children can enjoy the hands-on discovery zone. Allow an hour to browse through the museum, then stroll in nearby Taiga-no-Sato park with walking paths and playground.
In addition to the exhibits, the Matsumoto City Museum features a modern and inviting building, designed with architectural elegance. Its location in the heart of Matsumoto allows for easy access and also provides an opportunity to explore the surrounding area, including nearby attractions like Matsumoto Castle and Nakamachi Street.
---
Dine on Local Dishes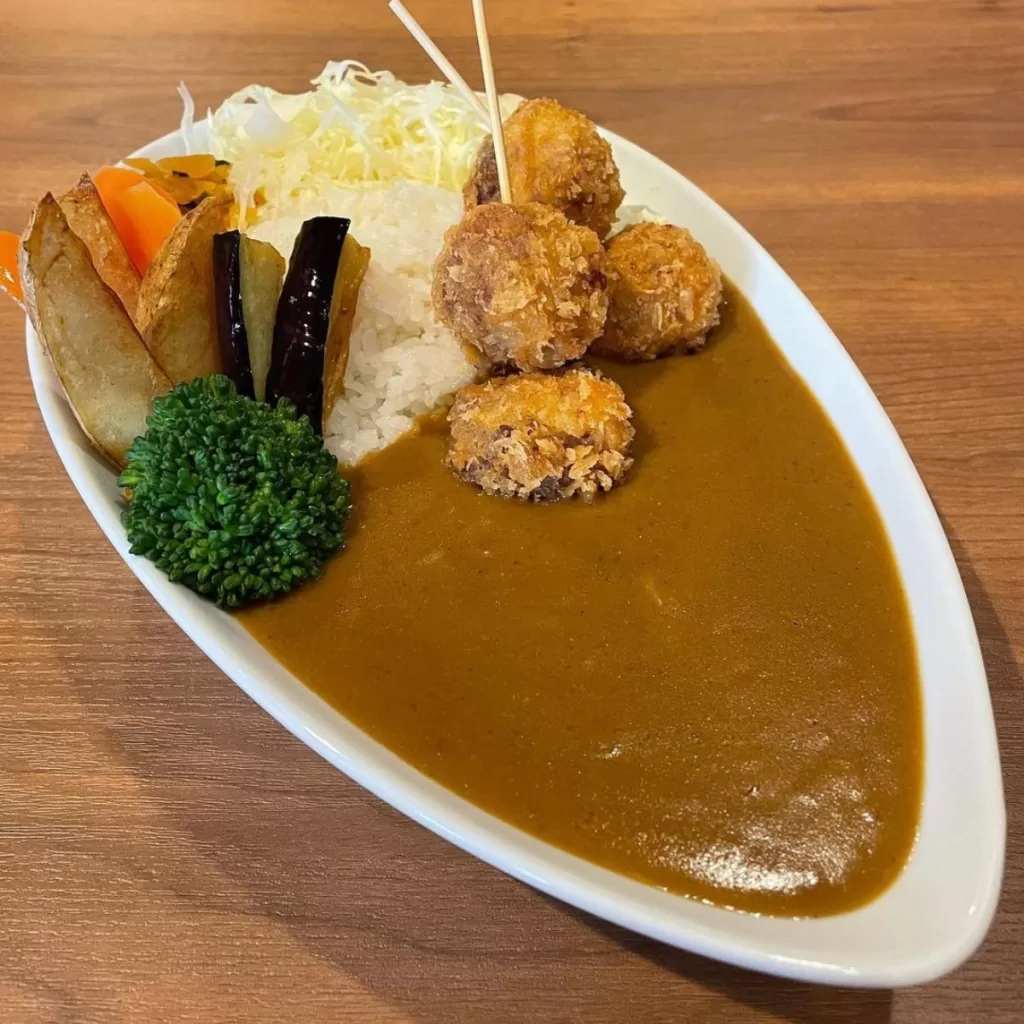 When exploring Matsumoto, one of the important things to do is to indulge in the local cuisine and dining experiences. Matsumoto is known for its delicious and diverse food offerings that reflect the region's culinary traditions and local ingredients.
Matsumoto is famous for dishes using superb locally sourced ingredients. Must-try foods include beef from Tajima cattle, freshwater fish from Azusa River, and matsukawa shiitake mushrooms.
Popular restaurants serve tempura, soba noodles, and kaiseki multi-course meals featuring seasonal delicacies. Drop by an izakaya Japanese pub for drinks and appetizers, or sample Japan's best black soybeans and rice crackers sold at souvenir shops near Matsumoto Castle. Be sure to leave room to sample Matsumoto's renowned craft beers too.
---
Marvel at the Scenery En Route to Kusatsu Onsen
A worthwhile day trip from Matsumoto is to historic Kusatsu Onsen hot spring town located 1.5 hours west. The drive itself offers breathtaking mountain scenery as the road winds through Central Japan Alps National Park.
The journey from Matsumoto to Kusatsu Onsen takes you through picturesque mountainous terrain, offering panoramic views of lush greenery, cascading waterfalls, and serene rivers. The changing seasons add another layer of beauty to the scenery, with vibrant cherry blossoms in spring, colorful foliage in autumn, and snow-covered landscapes during the winter months.
Look out for Jamnagareru rock carvings, called the "Frogs of Happiness". In Kusatsu Onsen, stroll its quaint alleyways and sample naturally carbonated hot springs said to relieve body and soul. Return to Matsumoto by evening to enjoy the city's nightlife too.
---
Relax in Parks Around the Castle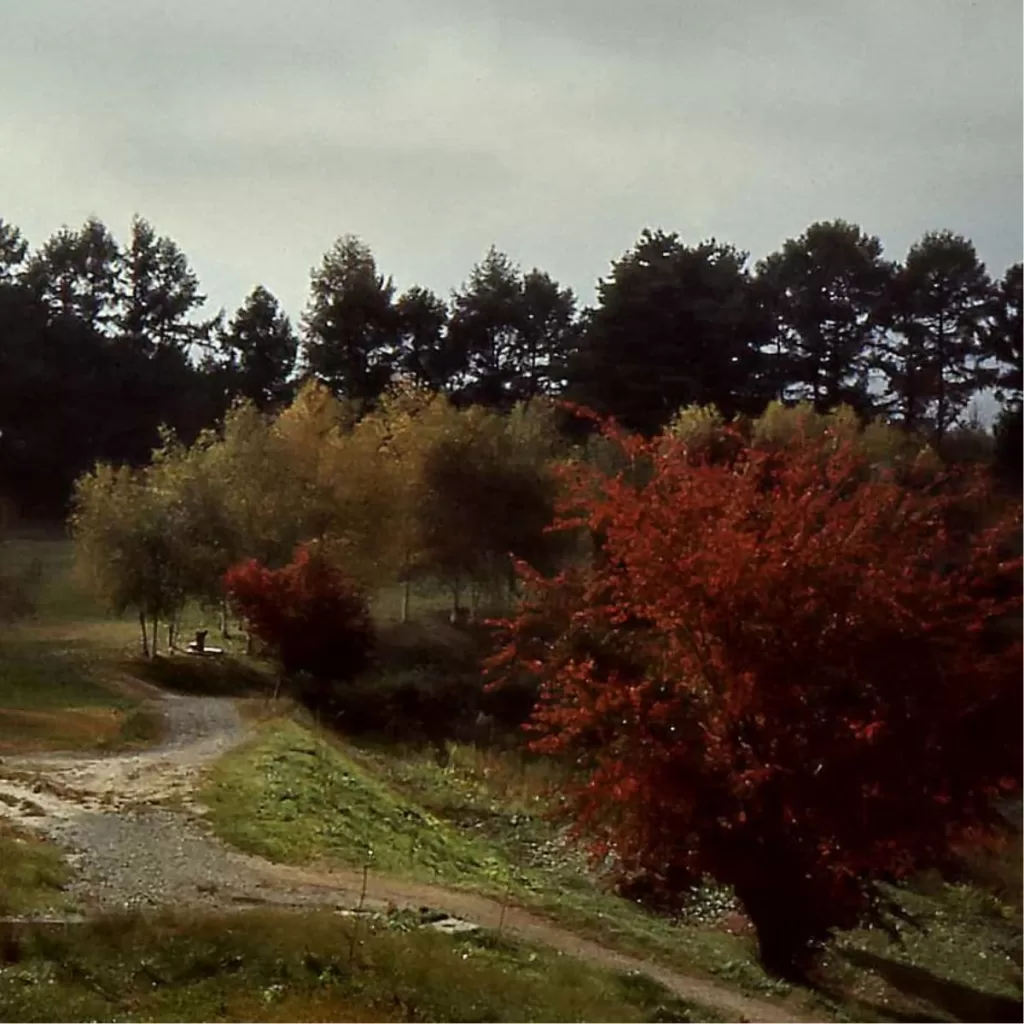 When you need a break from sightseeing, head to the parks surrounding Matsumoto Castle for relaxation and views of the landmark.
One of the important things about these parks is the opportunity to appreciate the picturesque views of Matsumoto Castle. The lush green lawns, neatly trimmed hedges, and carefully maintained gardens create a harmonious backdrop for the striking castle.
The parks offer ample space for strolls, picnics, and admire the castle's majestic presence. The tranquil atmosphere and stunning visuals of the castle make the surrounding parks an ideal place to unwind and soak in the beauty of Matsumoto's historical landmarks.
---
Explore the Former Kaichi School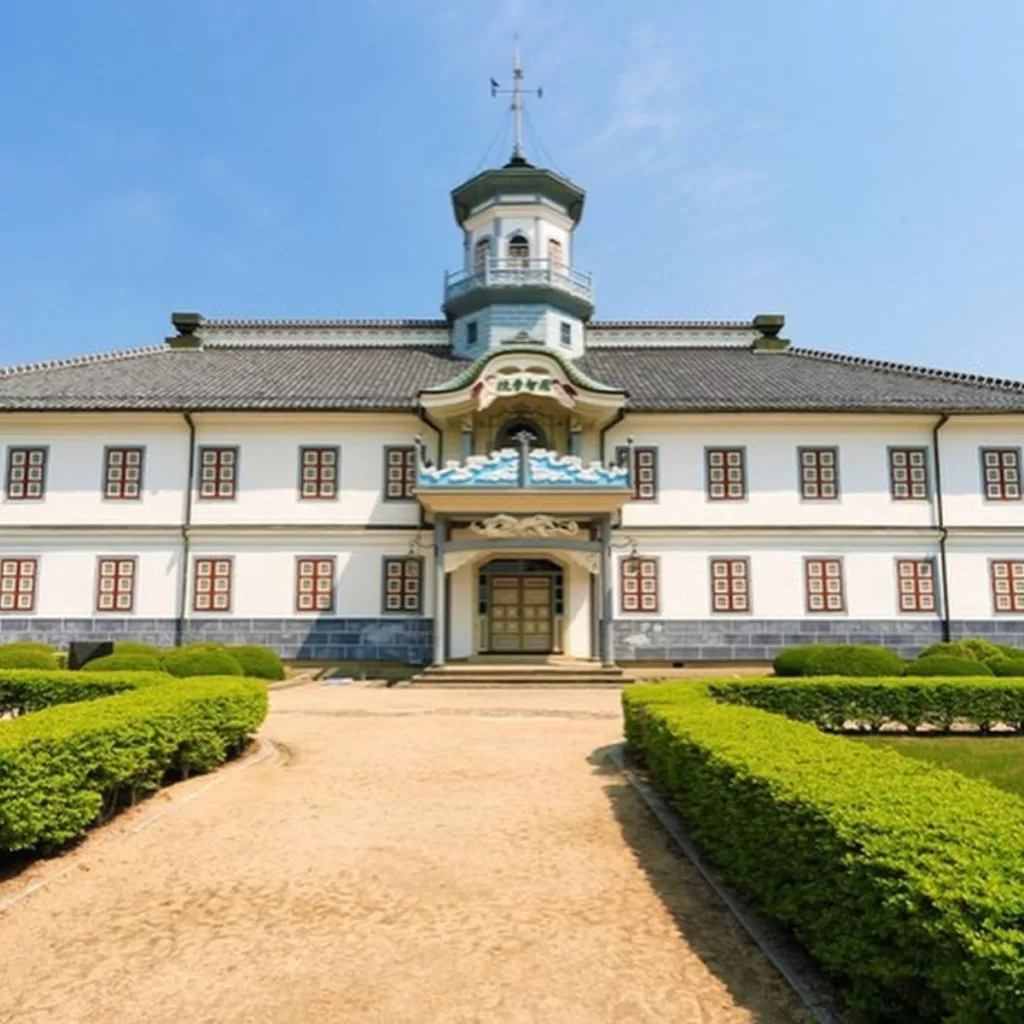 This historic building, established in 1876, is renowned as one of the oldest remaining Western-style schools in the country. A visit to the Former Kaichi School offers a captivating insight into the early days of modern education in Japan and the cultural exchange during that era.
The building showcases a unique blend of Western and Japanese architectural styles, with its brick exterior and traditional Japanese elements. The well-preserved classrooms, corridors, and administrative areas retain their original charm, transporting visitors back in time to experience the educational environment of the late 19th century.
The meticulous craftsmanship and attention to detail highlight the significance of this cultural landmark.
---
Go to Shinmai Media Garden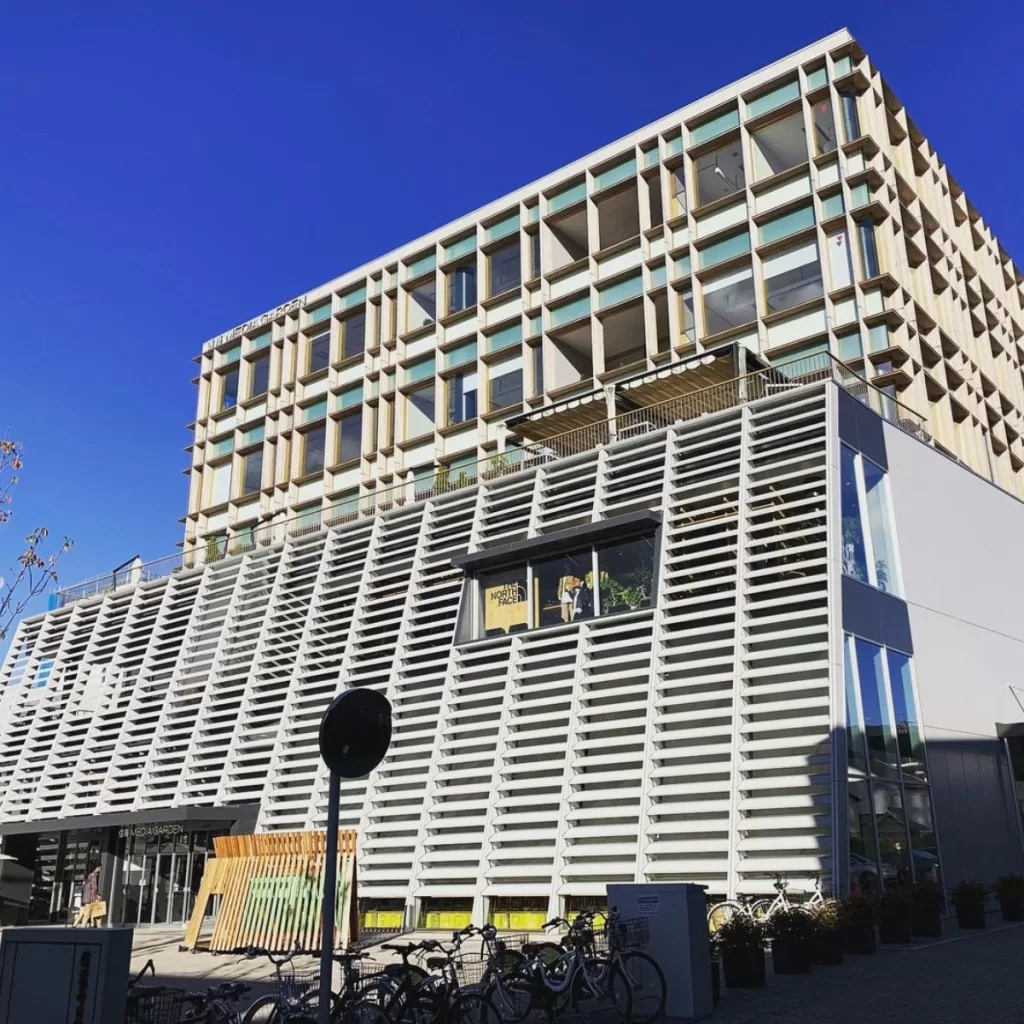 Shinmai Media Garden in Matsumoto is a captivating experience that combines the worlds of media, technology, and art. This innovative facility showcases the latest advancements in media and offers a unique space for exploration, creativity, and entertainment.
One of the important things to look forward to at Shinmai Media Garden is the interactive exhibits. From virtual reality experiences to interactive touch screens, visitors can engage with cutting-edge technology and immerse themselves in a world of digital art. The exhibits are designed to be both visually stunning and thought-provoking, offering a truly unique and engaging experience for visitors of all ages.
Another highlight of Shinmai Media Garden is the opportunity to learn about the local culture and history of Matsumoto through multimedia presentations. The facility features multimedia displays and installations that highlight the city's rich heritage, showcasing its traditions, landmarks, and customs. It's a chance to deepen your understanding of Matsumoto and its vibrant community.
---
See Colorful Night Illuminations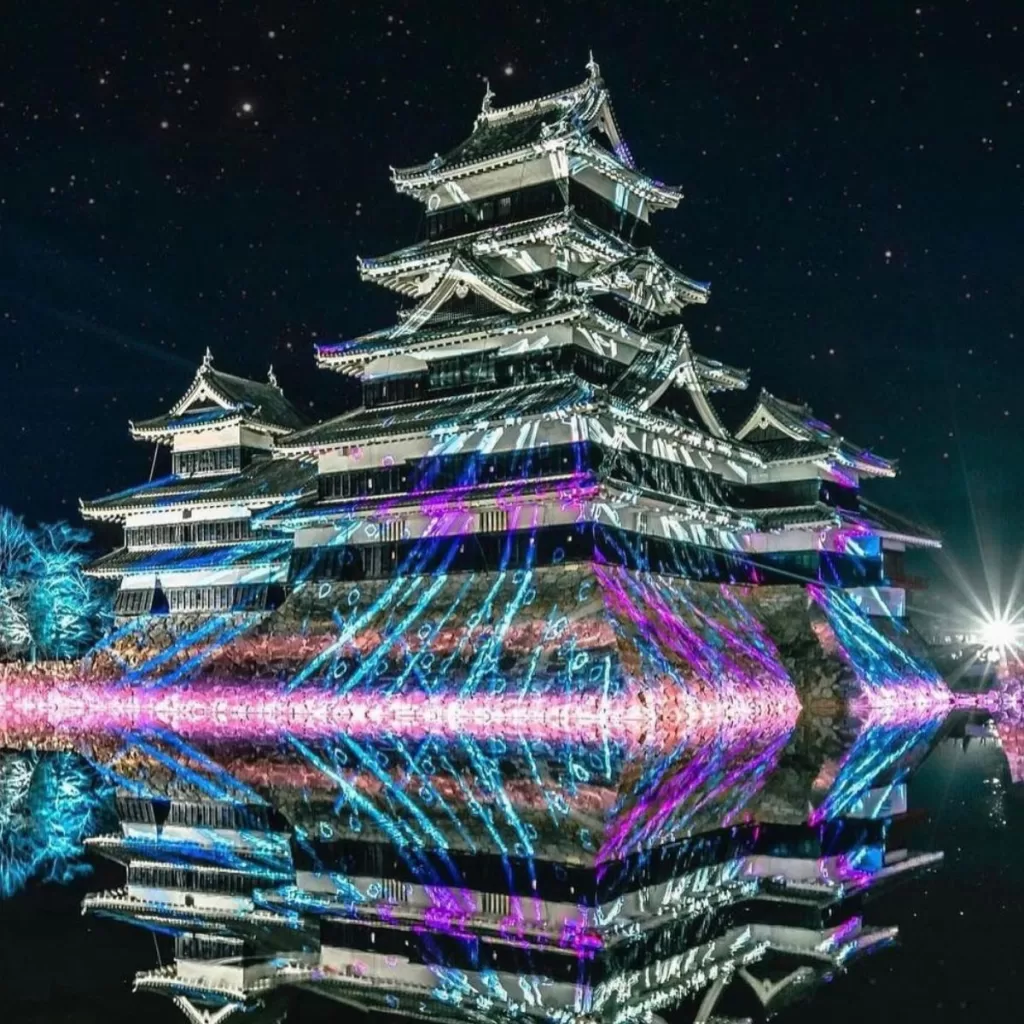 Twice a year in spring and fall, over 350,000 light bulbs illuminate Matsumoto after dark during their Night Illumination event. Stroll beneath arches and along bridges aglow with colorful bulbs reflecting on the river.
Matsumoto Castle takes center stage, vividly lighting up the night horizon. Crowds pack the pedestrian promenades for snacks and souvenirs during this lively festival.
Consider staying in one of the ryokans along the illuminated route for the best seats in the house.
---
Experience the Art of Taiko Drumming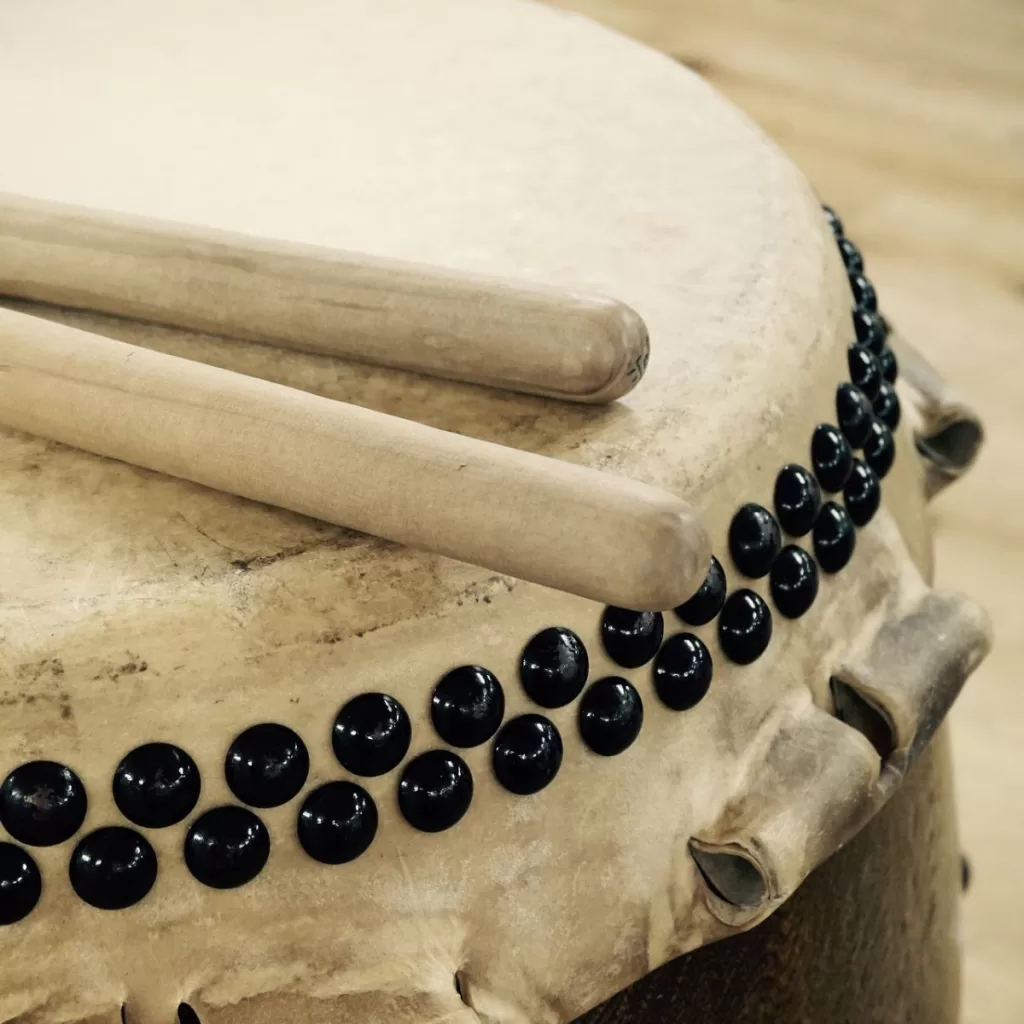 Experiencing the art of Taiko drumming in Matsumoto is an exhilarating and immersive activity that allows you to connect with Japan's vibrant rhythms and cultural heritage. Taiko drumming is a traditional Japanese musical form that combines powerful drum beats, choreographed movements, and spirited energy.
Taiko groups in the city showcase their artistry through dynamic performances that captivate audiences with their synchronized drumming, energetic movements, and mesmerizing beats. The drummers' skillful techniques and precise coordination create a powerful, awe-inspiring spectacle that leaves a lasting impression.
Participating in a Taiko drumming workshop offers a hands-on experience that allows you to feel the rhythm and power of the drums.
---
Attend Festivals in Matsumoto
Attending festivals in Matsumoto is a vibrant and exhilarating experience that allows you to immerse yourself in the local culture, traditions, and festivities. Known for its rich cultural heritage, Matsumoto hosts a variety of festivals throughout the year, each offering a unique celebration of traditions, music, dance, and food.
Held in July, the Taiko Festival is a lively event that showcases traditional Japanese drumming. Taiko drummers from various groups come together to perform powerful and synchronized rhythms, creating an exhilarating atmosphere. Other notable festivals of Matsumoto are Matsumoto Castle Festival, Fukashi Shrine Festival, and Matsumoto Bonbon Festival.
From mesmerizing taiko drum performances to captivating traditional dances, these festivals showcase the talents and artistry of local performers. The vibrant costumes, rhythmic music, and lively atmosphere create an electric ambiance that is both captivating and inspiring.
---
Wander Nawate Street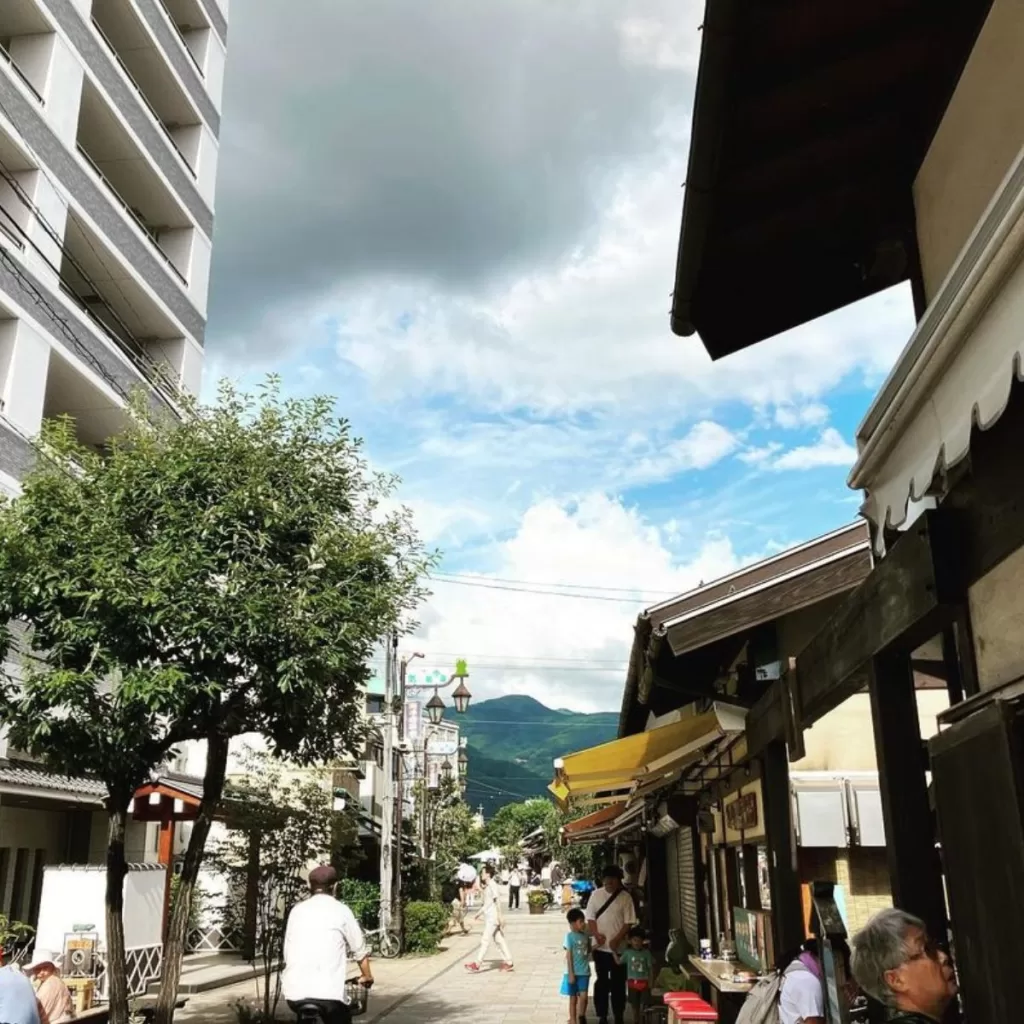 For a picturesque stroll, head to Nawate Street just east of Matsumoto Castle. Lined with zelkova trees, this atmospheric road passes restored samurai residences and shops in traditional Japanese wooden buildings. Snap photos of the arched bridge spanning Azusa River.
In autumn, the trees put on a fiery display of red and gold foliage. Souvenir stores sell local crafts and snacks along the way.
Whether you're seeking unique souvenirs, immersing yourself in historical charm, or simply enjoying the cozy atmosphere, Nawate Street offers a truly memorable experience that captures the essence of Matsumoto's cultural heritage.
---
Visit Asama Onsen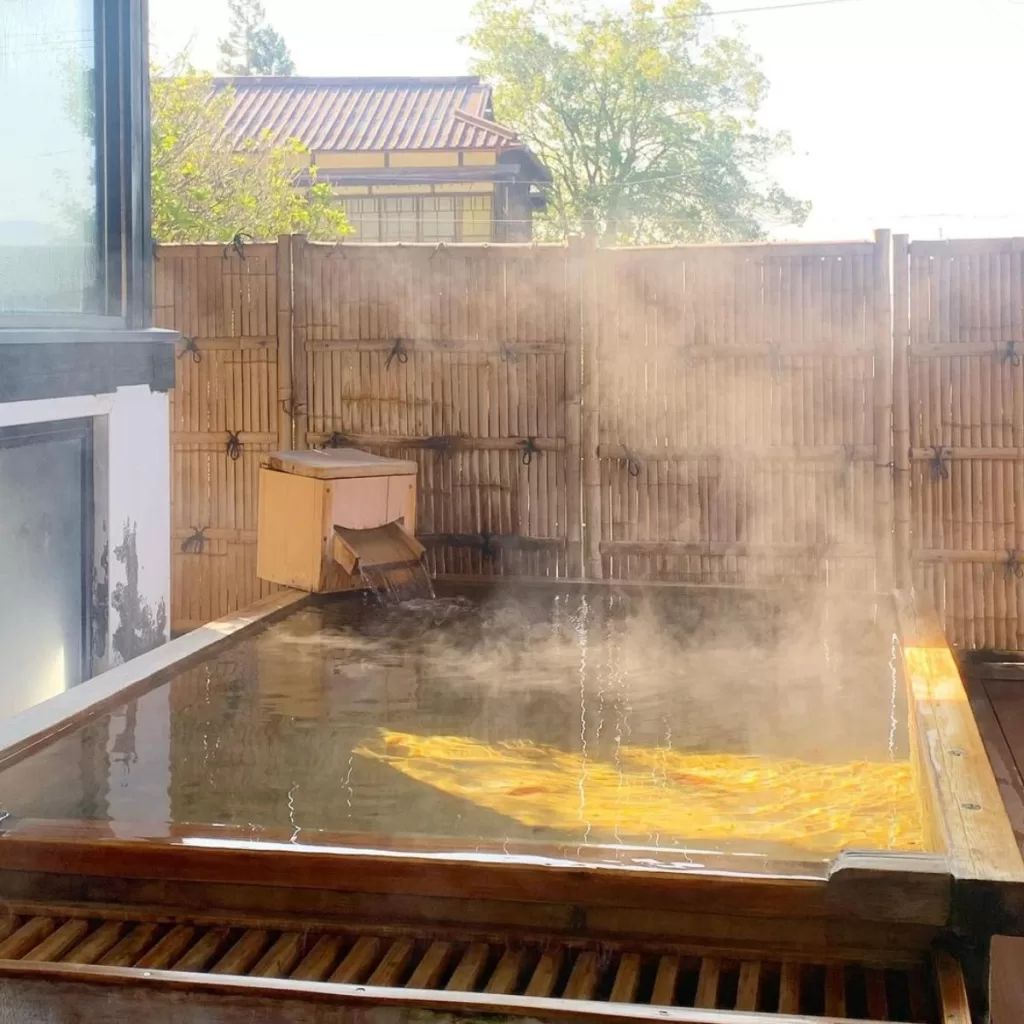 Nestled at the base of the stunning Japan Alps, Asama Onsen is known for its natural beauty and healing waters. One of the important things about visiting Asama Onsen is the chance to experience the restorative powers of the hot springs.
The town has multiple traditional ryokans and resorts that provide access to various hot spring baths. These baths, fed by mineral-rich thermal waters, are believed to have numerous health benefits, including relaxation, stress relief, and alleviating muscle aches and pains.
Immerse yourself in the soothing warmth of the waters as you soak in the serenity of the onsen experience.
---
Go on a Café Hopping Adventure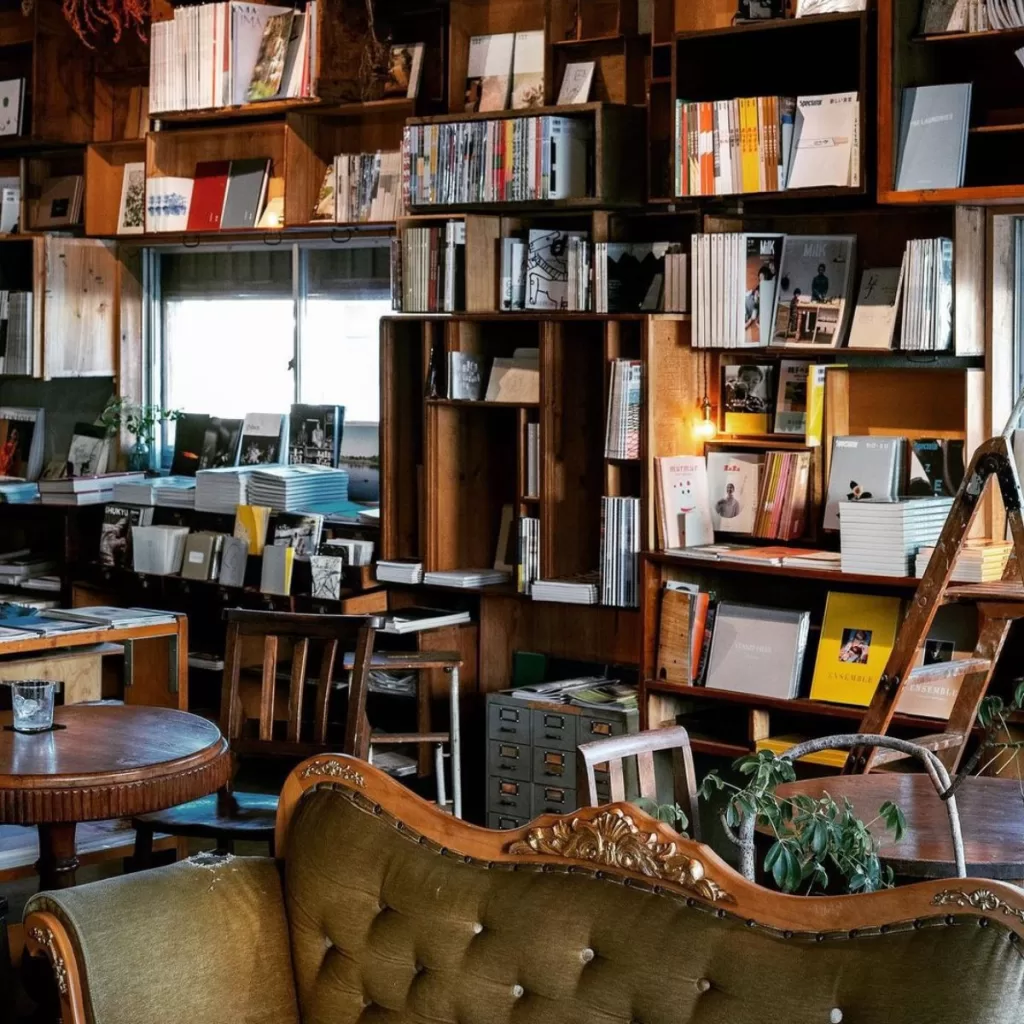 With its charming streets and bustling neighborhoods, Matsumoto offers a diverse range of cafes, each with its unique ambiance and offerings.
From cozy, traditional cafes with a nostalgic atmosphere to modern, trendy spots with contemporary designs, the city has something to suit every taste.
Each café has its own specialty, whether it's freshly brewed artisanal coffee, exquisite pastries, or traditional Japanese tea. Exploring different cafes allows you to savor a variety of flavors and culinary delights while immersing yourself in the local café scene.
---
Hike in Utsukushigahara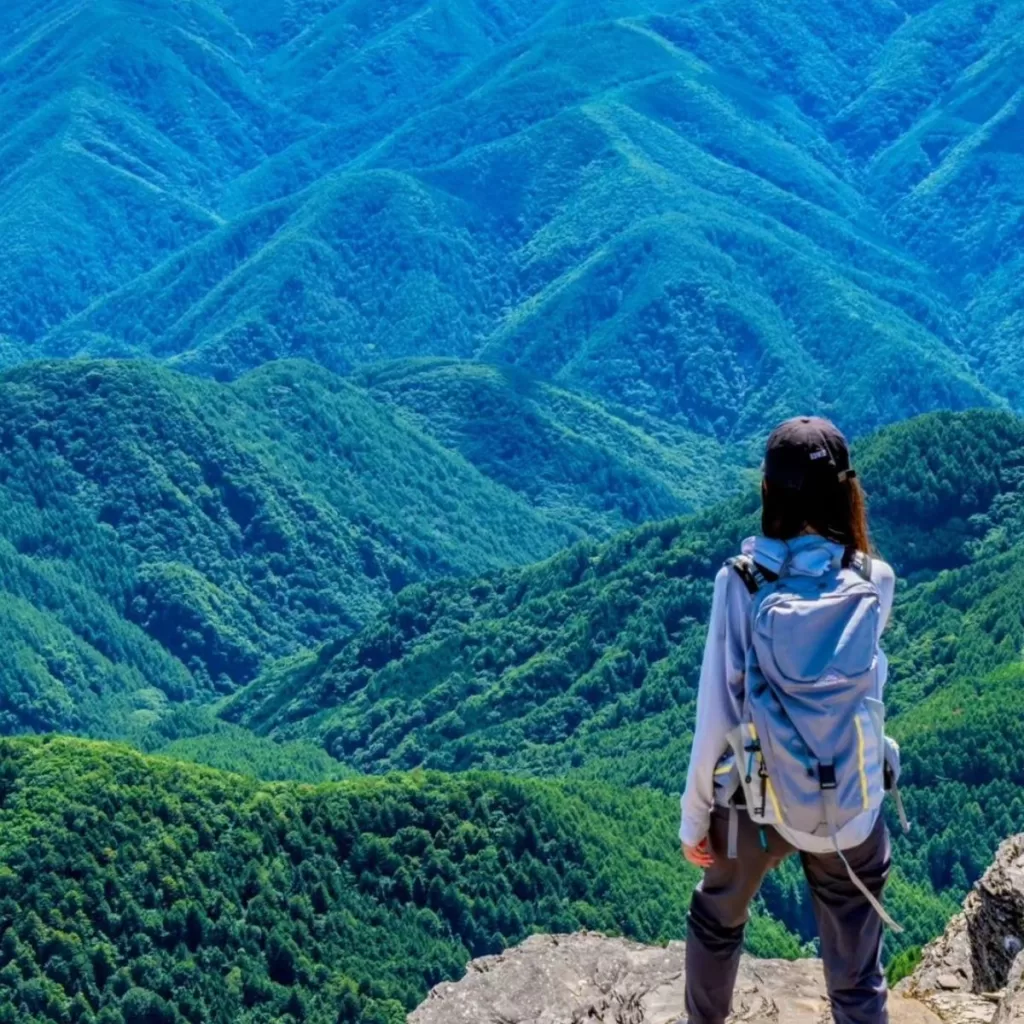 Hiking in Utsukushigahara in Matsumoto is a scenic and invigorating experience that allows you to immerse yourself in the natural beauty of the Japanese Alps.
One of the important things about hiking in Utsukushigahara is the opportunity to witness panoramic vistas of the surrounding mountains and valleys. As you ascend the trails, you'll be rewarded with stunning views that stretch as far as the eye can see.
The panoramic scenes of rolling hills, alpine flowers, and distant mountain peaks create a picturesque backdrop for your hiking adventure. The best time to go hiking in Utsukushigahara is during the summer months of June to September. This period offers pleasant weather, with moderate temperatures and lower chances of rain.
---
Stroll in Nakasendo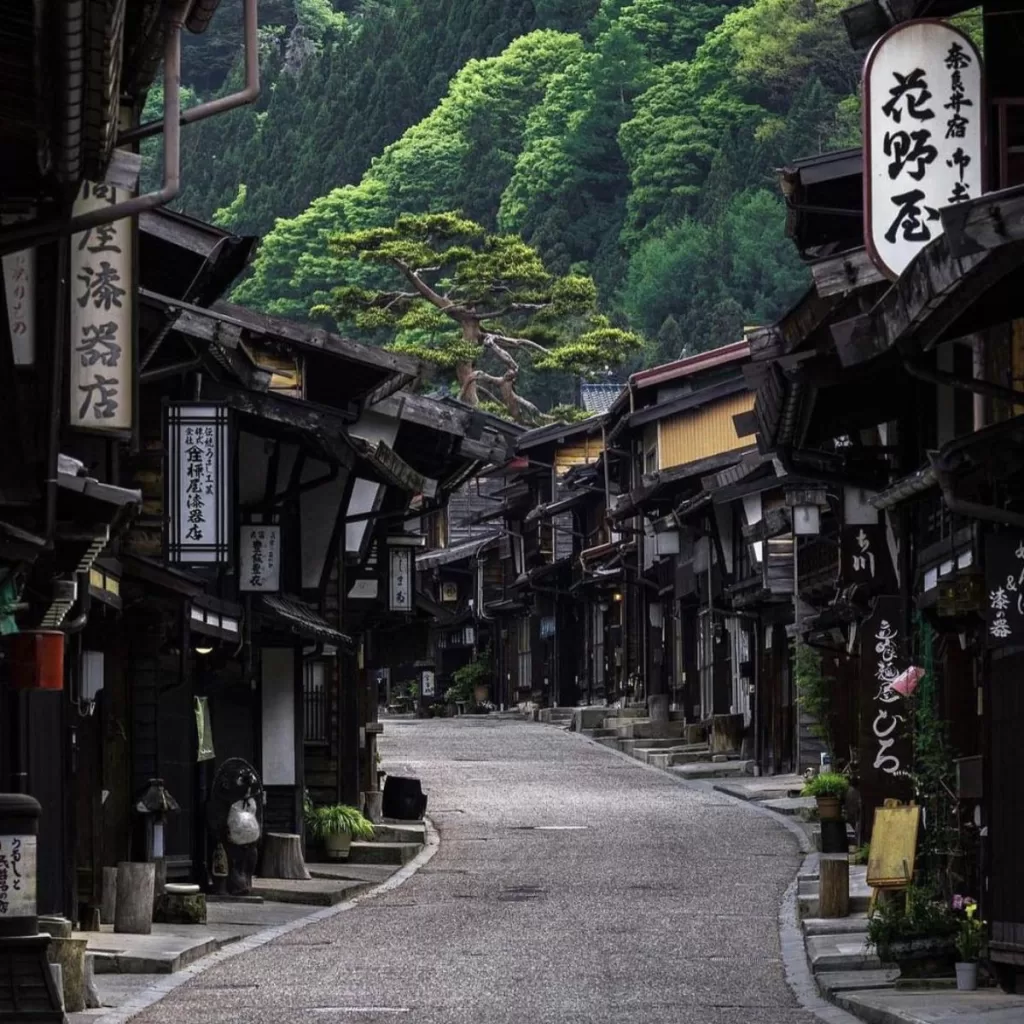 Embarking on a journey from Matsumoto to Nakasendo is a captivating experience that takes you back in time to the historic Edo period of Japan.
Including a stroll along Nakasendo in your Japan itinerary allows you to explore picturesque villages, admire traditional architecture, and soak in the rich history of the region.
One of the important things about strolling in Nakasendo is the opportunity to witness the well-preserved historical towns and post towns along the route. These towns, such as Magome, Tsumago, and Narai, offer a glimpse into Japan's feudal era.
The streets are lined with traditional wooden houses, quaint shops, and charming tea houses, creating a nostalgic atmosphere that transports you to a bygone era. Walking through these towns allows you to admire the architectural beauty and experience the traditional way of life, providing a unique cultural immersion.
---
Go to Daio Wasabi Farm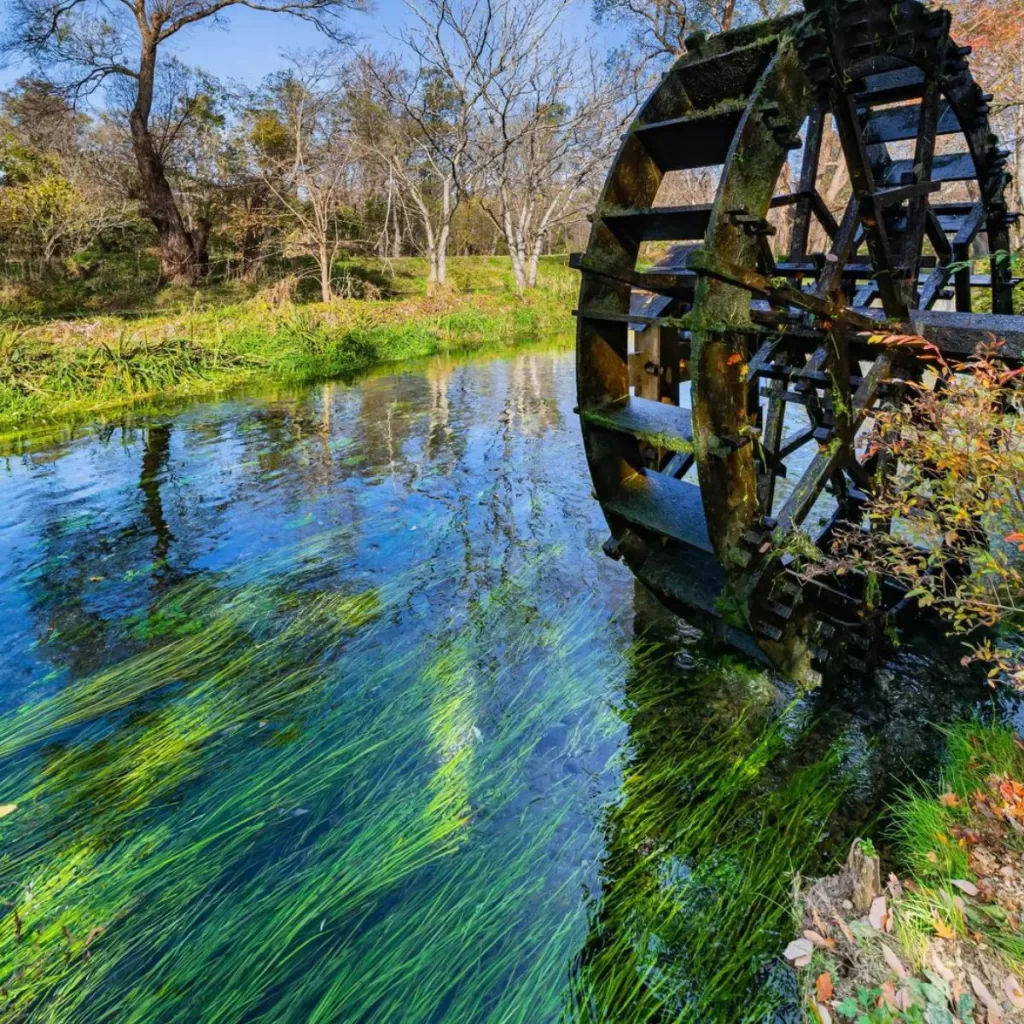 Going to Daio Wasabi Farm from Matsumoto is a unique and flavorful addition to your Japan itinerary. Known as one of the largest wasabi farms in Japan, Daio Wasabi Farm offers a fascinating glimpse into the cultivation of this prized Japanese ingredient.
As you stroll through the farm, you'll witness the meticulous process of growing wasabi, from the planting and nurturing of the plants to the harvesting of the delicate rhizomes.
The sight of the lush, symmetrical beds of wasabi, irrigated by crystal-clear water flowing from the nearby mountains, is truly remarkable.
---
Visit Japan Ukiyoe Museum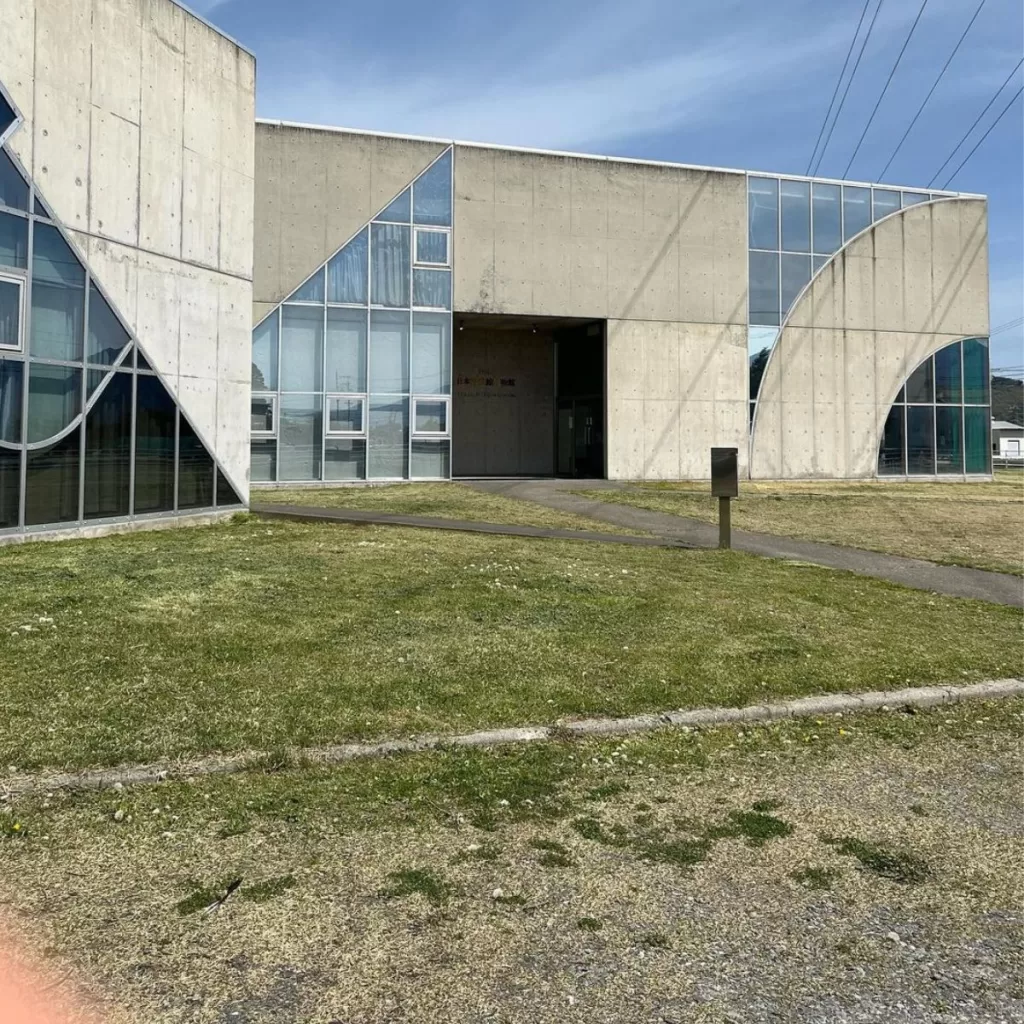 The museum is dedicated to showcasing a vast collection of ukiyo-e prints, woodblock prints created during the Edo period that depict scenes from the "floating world" of everyday life, nature, and history. The museum is outside Matsumoto but is conveniently reachable via train, bus, or taxi.
One of the important things about visiting the Japan Ukiyoe Museum is the opportunity to appreciate the intricate beauty and craftsmanship of ukiyo-e prints. The museum exhibits a wide range of prints by renowned ukiyo-e artists, such as Hokusai and Hiroshige, who are esteemed for their skillful compositions and attention to detail.
The prints depict various themes, including landscapes, portraits, kabuki actors, and the famous "Thirty-Six Views of Mount Fuji" series. Through the exhibits, visitors can gain insights into the life, culture, and aesthetics of Japan during the Edo period.
---
Admire Scenery North of City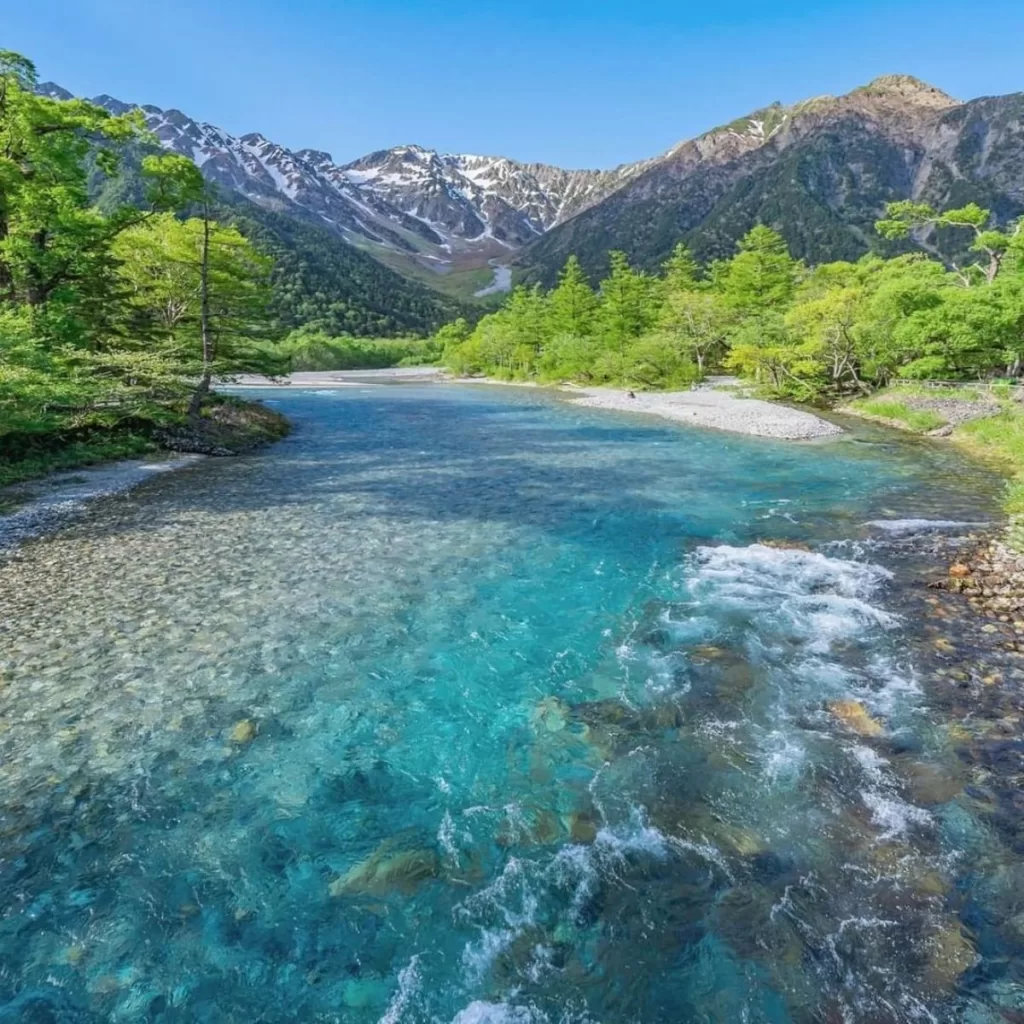 Travel by car 30-40 minutes north of Matsumoto for picture perfect mountain vistas. Favorite spots include Ichi no Hashi covered hanging bridge over Azusa River, Fujimi Gorge along a stream, and Usa Shrine renowned for autumn maple leaves.
Get close up views of Chubu Sangaku National Park's alpine scenery without huge crowds like Kamikochi experiences. Itineraries could pair these sights with lunches in countryside cafes.
---
Go to the Matsumoto Timepiece Museum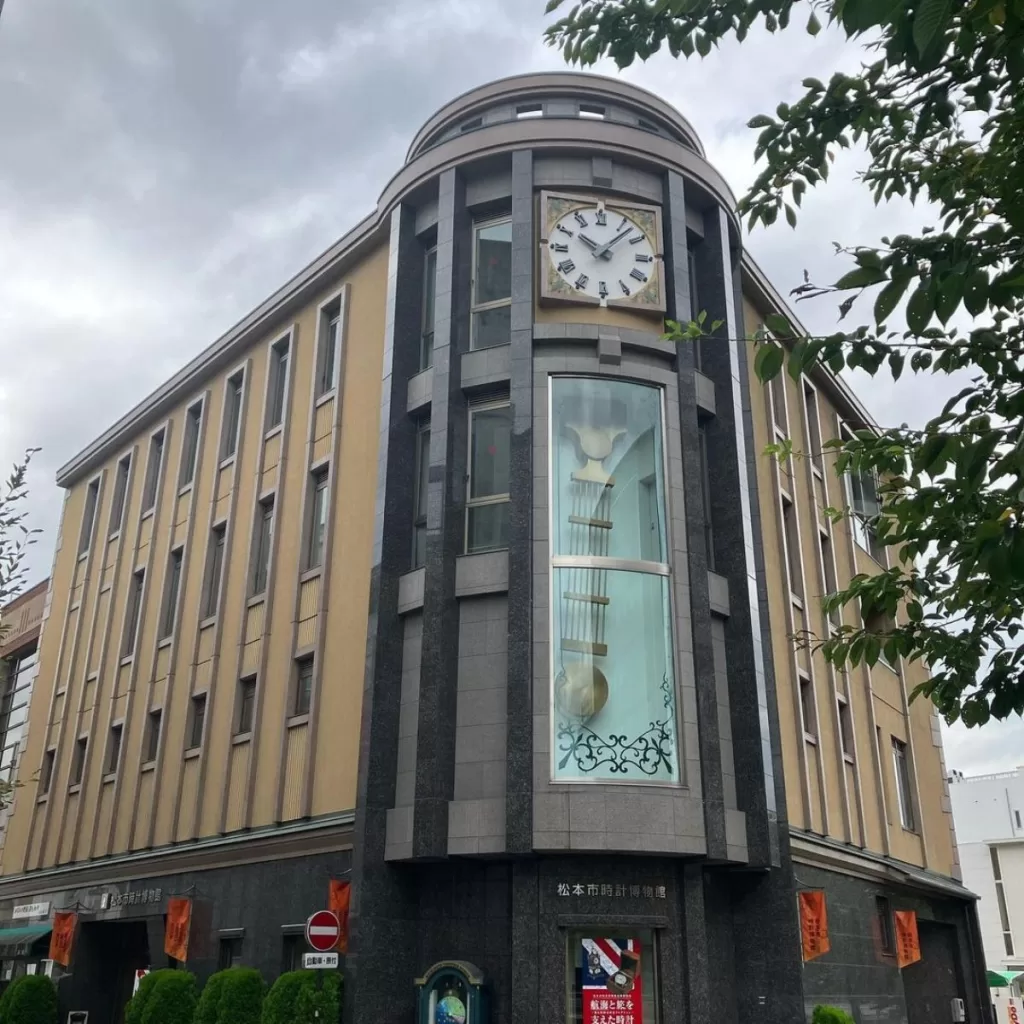 Visiting the Matsumoto Timepiece Museum is a fascinating journey into the world of clocks and timekeeping. Located in Matsumoto, this unique museum showcases a diverse collection of timepieces from different eras and cultures, offering visitors a captivating glimpse into the history and evolution of timekeeping.
The museum houses an extensive collection of clocks, watches, and other timekeeping devices, ranging from ancient sundials to modern mechanical and electronic timepieces. Each exhibit showcases the intricate craftsmanship, innovative designs, and technological advancements of its time. From elegant pocket watches to grand pendulum clocks, you can witness the evolution of timekeeping and gain a deeper knowledge of the significance of measuring time.
Moreover, the Matsumoto Timepiece Museum provides interactive and educational displays that engage visitors of all ages. You can participate in hands-on activities, such as assembling a clock or observing the inner workings of a timepiece, which further enhances the learning experience.