Caretta Shiodome Winter Illumination
The Caretta Shiodome mall, nestled among Shiodome's high-rises and luxury hotels, is renowned for its blend of dining, shopping, and art opportunities. Yet, one of its key highlights emerges during a particular time of year – The Caretta Shiodome Winter Illumination. This impressive spectacle has been frequently ranked as the best illumination event in Japan.
Immerse yourself in the mesmerizing beauty of the Caretta Shiodome Winter Illumination, one of the most spectacular Tokyo events in January, where dazzling lights create a magical winter wonderland.
Venue and Timing
Scheduled to take place from mid-November 2023 through to mid-February 2024, the Caretta illumination transforms this shopping and entertainment complex into a winter wonderland every evening from 5:00 PM. An enchanting 8-minute show recurs every 20 minutes featuring multi-colored lights blended with festive music.
Over Half a Million Visitors Annually
Distinguished for its sheer grandeur, the event manifests with over 250,000 LED lights. This includes eight light pillars that fluctuate as the central bell tolls. Approximately half a million visitors are attracted to this popular spot in Tokyo each winter. Considering the event's impressive scale and popularity, the Caretta Shiodome is undeniably one of the city's prime lighting displays.
Themed Displays
In recent years, Caretta Shiodome has partnered with popular Disney films to create themed illuminations. These features have showcased notable titles like "Beauty and the Beast," "Frozen," "Tangled," and "Aladdin." Displaying bespoke themes complemented by their respective film soundtracks creates a dramatic light show that elevates the experience considerably.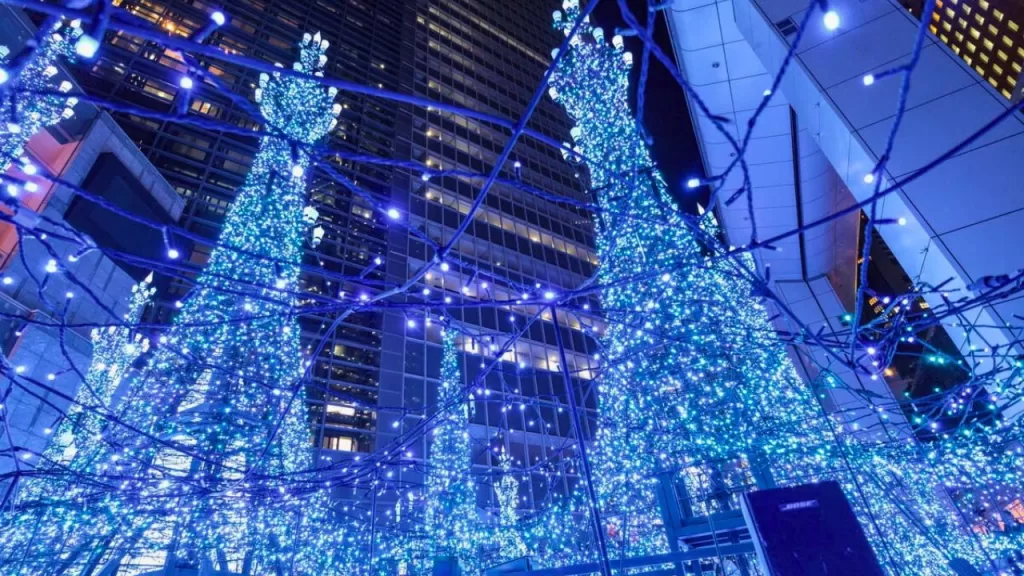 Unique Aspects of The Event
Unlike typical winter illuminations in Tokyo that wrap up their seasonal festivities around Christmas, the Caretta Shiodome Winter Illumination extends its cheerful glow into February. This substantial running period provides both locals and travelers ample opportunity to experience this romantic spectacle.
Attracting massive crowds each year, this illumination event converts the mall into a shimmering world of tower trees and walls of light. Every corner sparkles with an extraordinary charm that can best be described as a terrestrial representation of our Milky Way.
Discover a double dose of winter enchantment with the Caretta Shiodome Winter Illumination and the Kioi Winter Forest Illumination, two breathtaking Tokyo events in January that will leave you spellbound.
Don't miss out on a chance to nurture festive cheer while Christmas shopping at Caretta Shiodome this season! With twinkling lights adorning every corner and special exhibits displaying exclusive movie items, it promises to be an unforgettable experience for everyone.