Movie Lineup and Event Overview
Immerse yourself in a world of cinematic brilliance at the Hibiya Cinema Festival, one of the captivating Tokyo events in October, where movie enthusiasts gather to celebrate the art of film, indulge in a diverse range of screenings, and experience the magic of storytelling on the big screen, creating an unforgettable cinematic journey in the heart of Tokyo.
The Hibiya Cinema Festival, taking place at Tokyo Midtown Hibiya from mid to late October 2023, is returning for its 4th year. The festival presents a unique way to appreciate the magic of movies from different angles.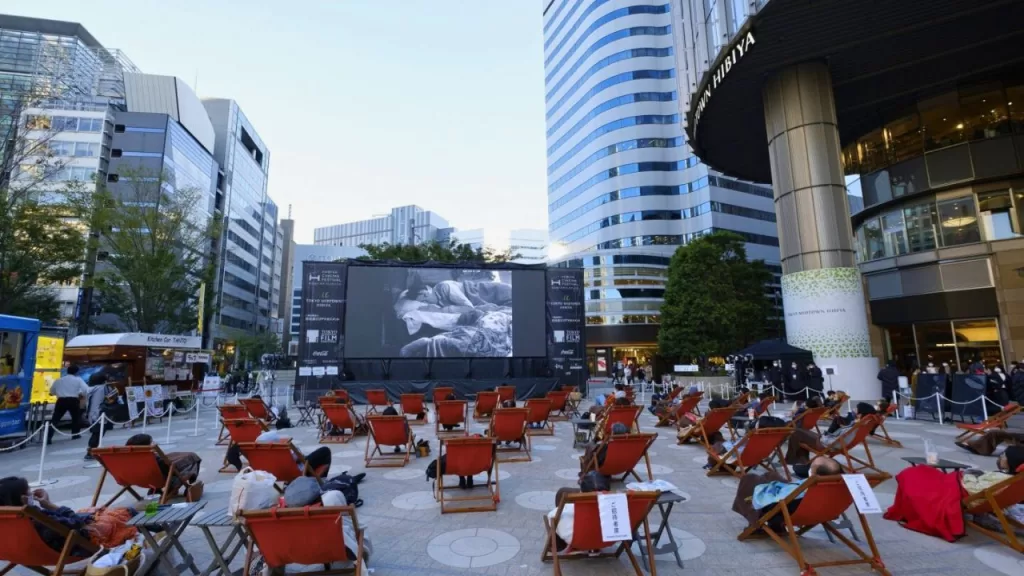 This year's lineup includes kids' favorites such as "The Goonies," "Minions," "Charlie and the Chocolate Factory," and screened in an open-air park setting. Additionally, fans of musical films can expect names like'Mamma Mia!' (2008), 'La La Land' (2016), 'Les Misérables' (2012), and 'Jersey Boys (2014) on the list.
In parallel, the Toronto Japanese Film Festival will showcase various Japanese films—screened with English subtitles—that were also featured at a Canadian event earlier this year.
For those interested in short movies, each weekday afternoon (12noon-3 pm or 12noon-2 pm on October 14) and between noon and 1 pm over the weekend, we will have a series of films presented in collaboration with the Short Shorts Film Festival and Asia.
Details about the schedule are available on the Hibiya Cinema Festival official website.
Transportation and Parking
Traveling to Tokyo Midtown Hibiya is convenient with its direct linkage to Hibiya Station. It serves multiple lines, including Tokyo Metro's Chiyoda Line and Hibiya Line, and the Toei Subway's Mita Line. Furthermore, it is within walking distance from Yurakucho Station (Tokyo Metro Yurakucho Line) or Ginza Station (Tokyo Metro Ginza, Hibiya, and Marunouchi Lines).
If traveling by car is preferred, parking facilities are provided for up to 200 vehicles. The cost is 300 yen for every half-hour duration. Any purchase made within the Midtown Hibiya complex contributes to partial or full parking validation, depending on the amounts spent.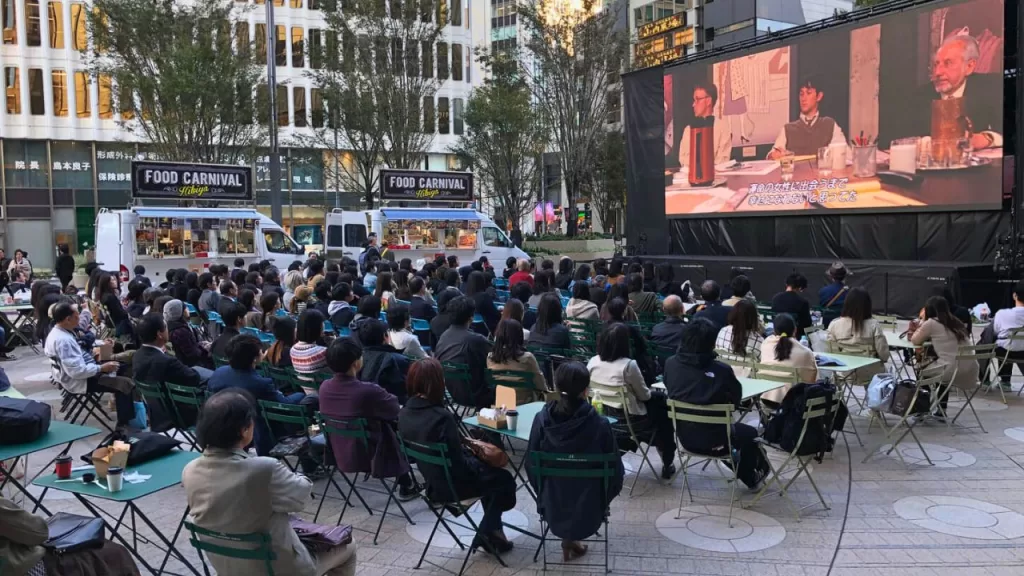 Outdoor Experience
Imitating Shinjuku's outdoor cinema style, the festival accommodates nighttime movie-watching under an open sky during ideal fall weather. The week-long event offers free public viewings at Tokyo Midtown Hibiya Step Square with a diverse range of films such as award-winning shorts, "La La Land," "Jersey Boys," etc.
During this period, fans can plan their visit to coincide with the 4th Toronto Japanese Film Festival (October 15 to October 21). This festival will also feature Japanese films with English subtitles in Step Square. All viewings are free, but reservations are needed for certain "relaxing zone" spots.
Additional information and movie schedules can be explored through their official website.
Highlighted Shows
Japanese cinema fans should note the seven films featured in the Toronto Japanese Film Festival 2022 section. These include the 2021 drama 'Ribbon,' due for screening on October 16, which narrates how COVID-19 impacted a young art student's life.
Another must-watch is Academy Award-nominated Shoplifters', which will be shown on October 19. This critically acclaimed film by director Hirokazu Kore-eda details a makeshift family surviving through shoplifting whose relations unravel as hidden secrets come to light.
All these screenings will commence daily from October 15 till October 21, starting at 7 pm, preceded by a half-hour long talk session helmed by respective directors starting from 6:30 pm.
Experience a delightful fusion of cultural flavors and cinematic wonders at the Hibiya Cinema Festival, where captivating films from around the world transport you to different realms of imagination while the vibrant traditions and mouthwatering delights of Nihombashi Ebisu-ko Bettara-Ichi add an extra layer of cultural richness to this extraordinary Tokyo event in October, creating an enchanting celebration of both cinema and local heritage.