Yomiuriland Jewellumination
Experience the mesmerizing Yomiuriland Jewellumination, one of the dazzling Tokyo events in January, where millions of sparkling lights illuminate the night sky, creating a magical winter spectacle for all.
Entry and COVID-19 Measures
Yomiuri Land has scheduled the return of its yearly spectacular, Jewellumination, from late October 2023 to early April 2024. The amusement park was affected by the COVID-19 pandemic but implemented extensive measures. Outdoor attractions were opened initially, followed by indoor attractions, which were reopened on July 3rd, 2020, except for some exceptions. All precautions have been taken into consideration to ensure safety amidst these times.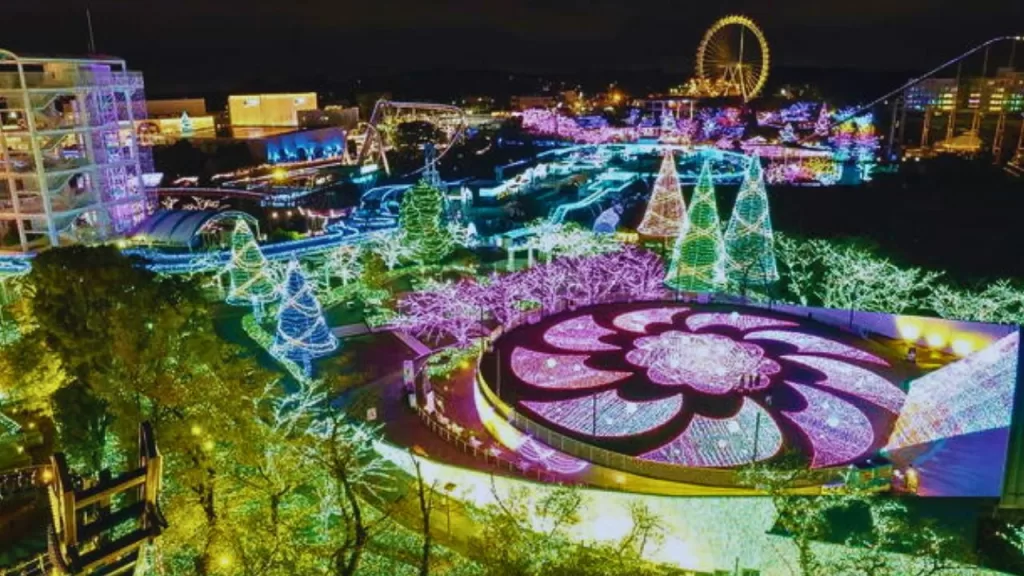 Illuminate Your Evening with Jewels At Yomiuri Land
Jewellumination combines the beauty of jewels and illumination in this unique event conceived by famous illumination designer Motoko Ishii. This grand spectacle lights the park using four million LEDs, reflecting seven jewelry colors Diamond, Ruby, Amber, Topaz, Emerald, Sapphire, and Amethyst.
Transformed Park Areas
The park allows visitors to journey through its five uniquely decorated sections, each bearing different colors and themes: "Amusement Park," "Aqua," "Lovely Stream," "Cute," and "Forest" areas. Adding to the glitz is a dance show choreographed in sync with the festive lights and music.
Unforgettable Experience from a Bird's Eye View
Guests can see the park's brilliant light displays from thrilling vantage points by purchasing an unlimited ride pass. Enjoy the illuminations and fabulous Tokyo night views from the peak of a roller coaster or Ferris wheel. An evening ride pass inclusive of an entrance ticket and unlimited rides costs ¥1,800, open from 4:00 P.M. till closing time.
A Mesmerizing Visit to Yomiuri Land's Winter Light Show
Spectrum of Colors
Yomiuri's annual winter light show focuses on dazzling visitors by evoking images of sparkling gems through millions of colorful LEDs across the vast theme park. It includes rainbow-lit areas like the 180-meter-long Fortune Promenade and Crossing Sapphire Passage and a large-scale illuminated horseshoe surrounded by jewel motifs.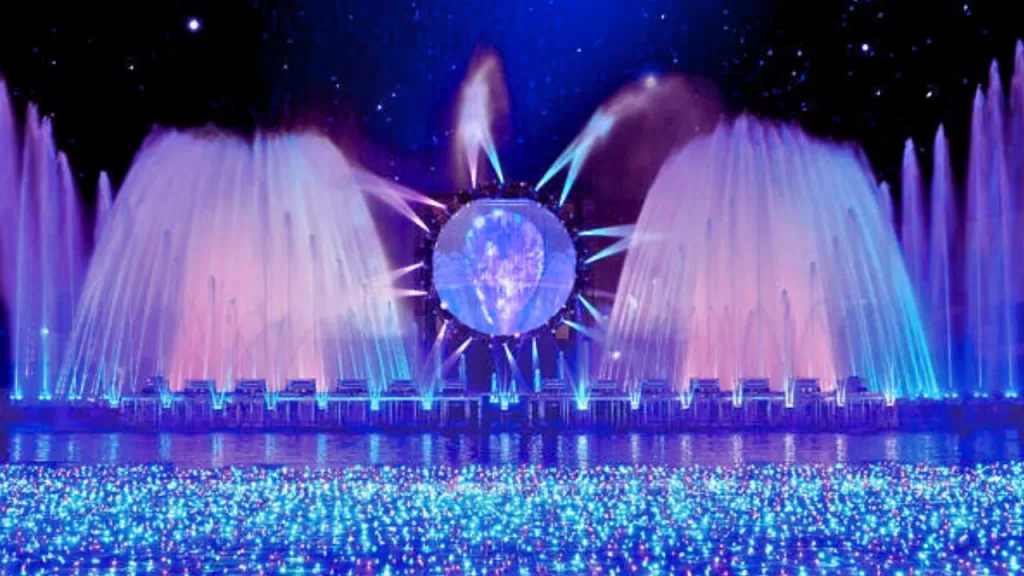 Water Fountain Show – A Major Highlight
One spectacle not to miss is the water fountain show featuring illuminated sprays of water in various colors soaring high into the air forming beautiful shapes. Watch out for synchronized flames and lasers blending in tune with the music.
Mastermind Behind The Illuminations
Motoko Ishii launched this project with her innovative vision mixing her contemporary style with classic elements like warm orange lights resembling sunlight – aligning them with this year's theme, 'Light is Happiness.'
Unveiling The Jewel Illumination At Yomuriland
Yomuriland's largest-scale illumination stands out as one of Tokyo's most popular winter events – also renowned as the world's first sparkling illumination using LEDs inspired by jewel colors.
A Sneak Peek Into The Illuminations
This innovation houses nighttime shows, including adventures around nighttime tunnels enhanced with dynamic colors, Japan's most significant fountain shows alongside roller coasters shooting through the night sky, replicating falling stars, and Ferris wheels offering panoramic views of the city's glittery night landscape.
Expanding On The "Jewel Olympus" Theme
The theme features Yomiuriland adorned with an astounding count of 6.5 million bulbs across twelve fantastical areas, including "Melody Road," filled with colorful lights modeling piano keys and "Jewelry Horseshoe" decorated in the motif of a horseshoe: a symbol of happiness. Watch out for the majestic fountain show held in the Wave Pool Area featuring a giant 12-meter-high ring of water screen images, lasers, flames, and a total of 185 fountains that create an enchanting spectacle.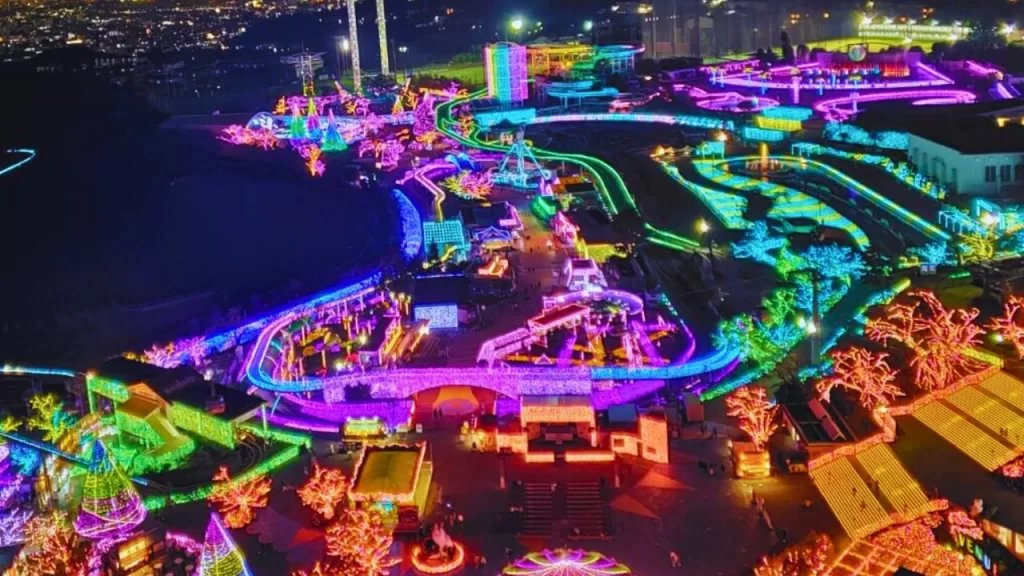 Revisiting Yomiuri Land
Established in the 60s, this amusement park draws inspiration from tradition, evident in its charming aesthetic. Once winter descends and darkness falls, this seemingly ordinary park adorns its new avatar, transforming into a world of dazzling luminescence designed by Motoko Ishii.
Tickets and Travel Information
Tickets can be acquired online, and visitors can reach Yomiuri Land via Odakyu Line or Keio Line from Shinjuku Station. The park is situated in Inagi, Tokyo, just 35 minutes west of Shinjuku, and provides gondola rides to guests going to and from the amusement park.
An Exhilarating Night at Yomiuri Land
Visitors at night find themselves meandering on a well-lit path through the park which brims with life thanks to Jewellumination's brilliant displays.
Sections and Attractions At Yomiuri Land
The amusement park divides into eight main areas, each housing its unique attractions, such as cherry blossoms, Pool WAI, and Jewellumination, which are seasonally offered. Areas include Bandit Area, Family Area, Lan Lan Area, Plaza Stage of the Sun, Goodjoba!! Area, Flag Street, Aqua Area, and Gondola boarding Area (outside the park).
Highlights Of Jewellumination
Starry Desserts And Colorful Towns
Each one of Jewellumination's displays offers unique viewpoints, from gliding through brightly colored settings offered by the Bandit roller coaster or from atop the giant Ferris wheel that provides breathtaking views across extravagant setups. Not forgetting, Colorful Jewelry Town features interactive games for all ages amidst the beautiful light ensemble.
Passage Of Diamonds And Dancing Fountains
Crossing Diamond Passage is another strongly recommended area where the lights keep evolving shapes and shades, offering the perfect spot for a unique selfie with every click. In stark contrast, however, is the equally appealing Fountain Show that runs every fifteen minutes that adds an anticipated thrill presenting an amalgamation of synchronized lights added with a rhythm that fits perfectly with the orchestra-like performance followed by sprinkles of fire bursts along the way.
Panoramic Views From The Happy Grand Object
Among other attractions provided by Yomiuri Land's Jewellumination is a delightful thirteen-minute ride aboard their giant Ferris wheel – aptly named Happy Grand Object – that sends one skyward towards beautifully lit clouds. The panoramic scene from here expands over endless views of flickering cityscape combined with dominating twinkling lights spread neatly across Yomiuri Land, presenting you with an opportunity to behold everything enveloped in the grandeur it truly deserves.
Every visit to Yomiuri Land leaves an indelible impression, but exploring it during nightfall promises a fulfilling experience wrapped with colors warming your senses, making every autumn and winter trip fulfilled beyond any expectations. The question remains – which part of this jeweled paradise strikes your curiosity first?
Immerse yourself in the shimmering splendor of Yomiuriland Jewellumination and the enchanting Yebisu Garden Place Christmas Illumination, two captivating Tokyo events in January that will ignite your holiday spirit.