The Significance of Hydrangeas in Japanese Culture
Hydrangeas (アジサイ, ajisai) are not only a popular flower in Japan but also a symbol of the rainy season. Boasting over 100 varieties, these vibrant flowers bloom in various colors depending on the pH level of the soil they are planted in. Native hydrangea varieties can be traced back to Japanese records from the 8th century, while European varieties were introduced in the early 20th century.
The hydrangea season is one of the most awaited Kyoto events in July. It generally lasts from June to July, often seen lining city streets, gardens, and temple grounds during this time. Some temples, like Sanzenin Temple (Kyoto) and Tanshu Kannonji Temple (Kyoto), are particularly famous for their hydrangea gardens and attract tourists who desire picturesque views.
During Ajisai Matsuri, various cultural events, musical performances, rituals, and sports demonstrations are offered on different days. These may include tea offerings, taiko drum performances, kemari ball games, poetry readings, and traditional instrumentals and dances – all as a tribute to the gods.
Temples and Shrines: Seasonal Blooms Amid Serene Settings
Several temples and shrines in Kyoto Prefecture hold special openings and events during the peak hydrangea season. Among them are notable locations like Yoshiminedera Temple, Mimurotoji Temple, Sanzenin Temple, Umenomiya Taisha, and Tanshu Kannonji Temple.
Yoshiminedera Temple: The Mountain Temple Oasis
Located on the outskirts west of central Kyoto, thousands of hydrangeas in vibrant hues line the slopes of Yoshiminedera Temple's garden at the northern end. Peak ajisai season typically occurs from mid-June to early July, drawing visitors to appreciate the floral scenery.
Mimurotoji Temple: The Garden for All Seasons
Mimurotoji Temple is situated in Uji City and is known for its seasonal flora like azaleas and over 20,000 blooming hydrangeas containing 100 different species. The hydrangea season generally spans early June to July, and the garden is illuminated in the evenings during weekday events in June.
Sanzenin Temple: Lush Tranquility in Ohara Village
Nestled amidst abundant natural surroundings in the picturesque village of Ohara, north of Kyoto City, Sanzenin Temple boasts over 1,000 hydrangea plants that bloom from mid-June until mid-July. The temple's enchanting Yusei-en Garden and serene ornamental pond garden, Shuheki-en Garden, add to the overall sense of tranquility experienced by visitors.
Umenomiya Taisha: Hydrangea Paradise in Western Kyoto
Umenomiya Taisha is a quiet shrine located in western Kyoto, surrounded by a paid garden filled with seasonal flowers. With around 60 varieties of hydrangeas found throughout the area, visitors can enjoy an extended viewing season from late May to July.
Tanshu Kannonji Temple: The Oldest Hydrangea Temple in Kansai Region
Located in Fukuchiyama City, Tanshu Kannonji Temple is renowned as the oldest hydrangea temple in the Kansai region. Its grounds are adorned with approximately 100 varieties and 10,000 blooming hydrangea flowers, creating a flower paradise for visitors between early June to early July. The shrine also holds an annual hydrangea festival on the fourth Saturday of June.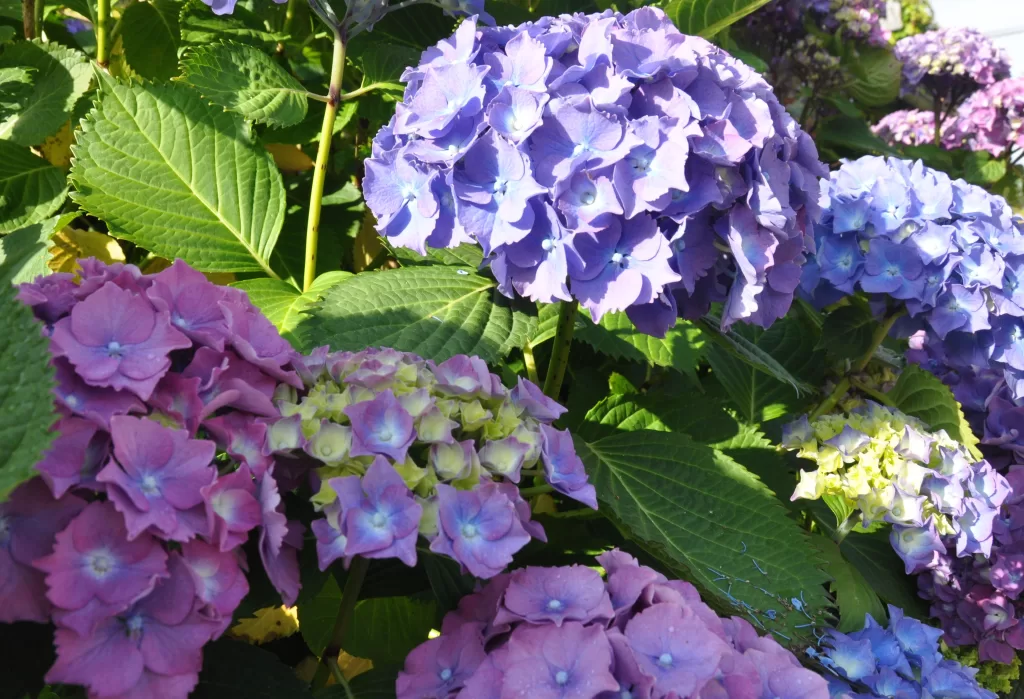 A Uniquely Japanese Experience
The Ajisai Matsuri provides a unique opportunity for locals and tourists alike to embrace both natural beauty and cultural immersion. Delighting the senses with vibrant colors and tantalizing scents, these serene settings offer an unforgettable experience under Japan's summer skies.
From traditional performances serving as offerings to the gods to leisurely strolls through gardens adorned with captivating hydrangeas – all set within the peaceful atmospheres of Kyoto's temples and shrines – the Ajisai Matsuri promises an unforgettable journey through Japanese culture and natural splendor.
When to Visit Ajisai Matsuri and Other Hydrangea Gardens
You might also want to stop by the above temples to check out the hydrangea gardens if you're planning on visiting Kyoto for Gion Matsuri.
The ideal time to visit these enchanting gardens is generally during the months of June and July. The most impressive displays can be seen in temples like Sanzenin Temple, Mimurotoji Temple (Kyoto), Tanshu Kannonji Temple (Kyoto), and other hydrangea-focused festivals such as Ajisai Matsuri at Fujinomori Shrine.
Don't miss out on this unique opportunity to witness nature's vivid watercolor display and immerse yourself in authentic Japanese artistry at the Ajisai Matsuri – a captivating and mesmerizing celebration like no other.