Kyoto, a city in Japan known for its historical significance and cultural treasures, hosts many captivating events in July. These events provide an opportunity to celebrate and appreciate the traditions passed down through generations. From vibrant festivals to traditional performances, visitors can engage with the cultural fabric of Kyoto meaningfully.
| Date | Event | Category |
| --- | --- | --- |
| Whole month of July 2023 | Gion Matsuri | Festival |
| July 12-17, 2023 | Saki Matsuri | Festival |
| July 20-24, 2023 | Ato Matsuri | Festival |
| July 7, 2023 | Kōdai-ji Tanabata Star Festival | Festival |
| Mid-July to late August 2023 | Miyagawacho Beer Garden | Cultural Event |
| June 30-July 2, 2023 | Kyoto Grand Antique Fair | Fair |
| Early July, 2023 | Ajisai Matsuri | Festival |
| July 7, 2023 | Mizu Matsuri (Water Festival) | Festival |
Gion Matsuri
Dates: Whole month of July, Saki Matsuri-July 12-17, Ato Matsuri-July 20-24
A Month-long Celebration of History, Art, and Music
Kyoto's Gion Matsuri, one of the Three Great Festivals of Japan, is a month-long event showcasing the country's rich history, art, and music. Held annually in July around the famous Yasaka Shrine, Gion Matsuri features the awe-inspiring Yamaboko-junkō parade.
Yoi-yama Pre-festivities and Festive Atmosphere
In addition to its main events—the Saki-matsuri on July 17th and Ato-matsuri on July 24th—Gion Matsuri also offers visitors an electrifying pre-festival experience called "Yoi-yama." Throughout July, Kyoto transforms into an enchanting celebration hub that attracts locals and tourists alike.
A Display of Stunning Yamaboko Floats: "Moving Museums"
The centerpiece of Gion Matsuri is its "moving museums"—33 beautifully decorated Yamaboko floats that parade along Kyoto's streets. The intricate details and ornate designs have earned them recognition as Important Tangible Cultural Properties. Many are adorned with imported Gobelin weaves and Nishijin weaves, making for an unforgettable visual spectacle.
A Showcase Of Traditional Music And Performances
Yamaboko floats are accompanied by traditional music from Gion Hayashi musicians filling the skies. The lively sounds of "kon-chinki", taiko drums, Japanese flutes, and the Japanese gong called "shou" create an unforgettable atmosphere at Gion Matsuri.
Getting Involved in the Festival
Visitors to Gion Matsuri can participate in various activities, including purchasing Chimaki amulets to ward off bad luck and joining in on Yamaboko float rides. In addition, the pre-parade event known as Yamaboko Hikihajime is also held to ensure the floats' parade-worthiness, allowing revelers a chance to witness their movement up close.
Exploring Yoi-yama Street Fairs
Yoi-yama for Saki-matsuri and Ato-matsuri offer distinct street fair experiences. During the Saki-matsuri on July 15th and 16th, expect lively street vendors and shops lining Shijo-dōri. The Ato-matsuri from July 21st to July 23rd provides a more relaxed environment for participants to enjoy.
Kyoto Gion Matsuri – A UNESCO Intangible Cultural Heritage
The main highlight of Gion Matsuri—the Yamaboko-junkō parade—features 23 floats during Saki-matsuri and 10 floats during Ato-matsuri. This wonderful procession has earned it a designation as a UNESCO Intangible Cultural Heritage.
---
Kōdai-ji Tanabata Star Festival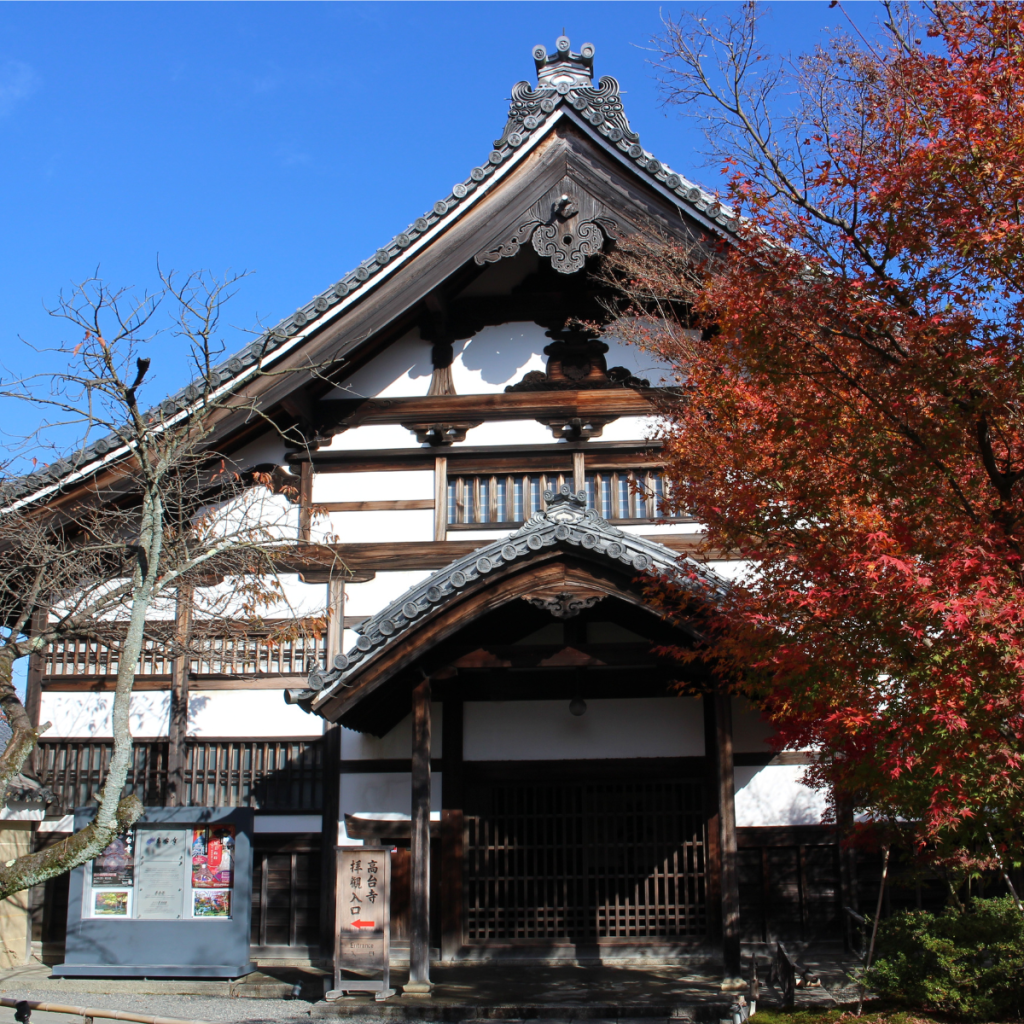 Date: July 7th
The Celebration of Heavenly Love
Kōdai-ji Temple in Kyoto, Japan, is hosting a special night of illumination on two nights in early July to celebrate the Tanabata Star Festival. The event showcases a captivating light display that highlights the temple's exquisite gardens and allows visitors to make their heartfelt wishes.
A Garden Illuminated for Love and Dreams
The centerpiece of the Kōdai-ji Tanabata Star Festival is undoubtedly its breathtaking evening light-up display. As darkness falls over the temple grounds, a mesmerizing arrangement of lights fills the night with a magical, otherworldly glow.
---
Miyagawacho Beer Garden in Kyoto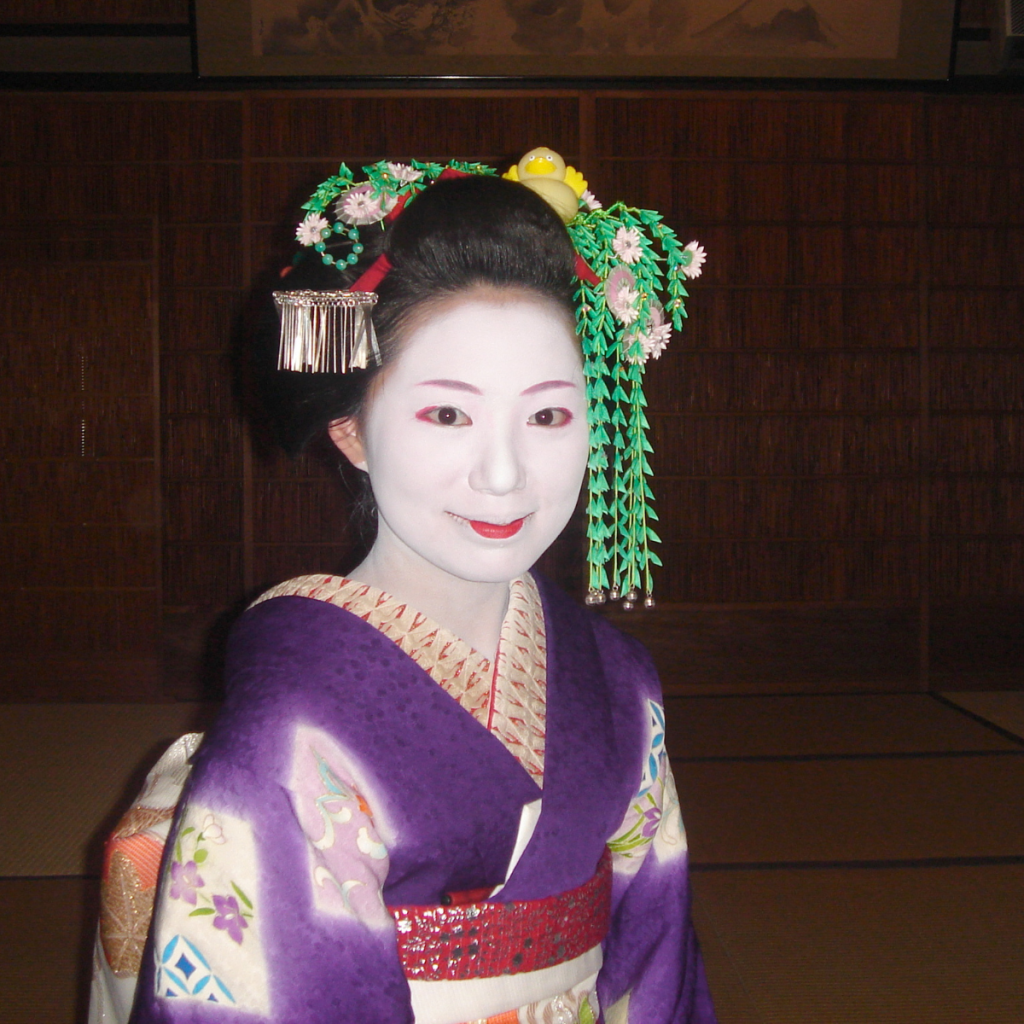 Dates: Mid-July to late August 2023
A One-of-a-Kind Cultural Experience in Kyoto's Hanamachi District
This summer, visitors to Kyoto are in for an unforgettable cultural experience as the renowned Miyagawacho Beer Garden offers a unique blend of traditional Japanese entertainment and delightful beverages in the heart of Kyoto's historic hanamachi district.
Held from mid-July to late August 2023, the event allows patrons to sip on their favorite beer, savor special delicacies prepared by neighboring restaurants, and indulge themselves in captivating performances by Maiko – apprentice geisha from Miyagawacho Kabukai.
Miyagawacho Kabukai: Home to Exquisite Geisha Artistry
Miyagawacho Kabukai holds a distinguished position among Japan's five famous groups of maiko and geiko (professional geisha) – Gion Kobu, Gion Higashi, Pontocho, and Kamishichiken. Situated next to the Kaburenjo theater, where geishas hone their artistic skills daily, the Miyagawacho Beer Garden serves as an extraordinary venue for experiencing authentic Japanese traditions.
The summer evenings are enlivened by traditional geisha performances that include dancing, singing, and playing musical instruments. These enchanting displays are held twice a day, from 18:00 to 19:30 and 20:00 to 21:30.
A Rare Opportunity for Conversations with Maiko
The event offers a rare opportunity to interact with Kyoto's talented maiko artists, who usually entertain diners by appointment only. During these delightful evening affairs, guests can converse with geishas dressed in elegant yukata (casual summer kimono) and receive small uchiwa-shaped stickers with their names on them.
---
Kyoto Grand Antique Fair
Dates: June 30-July 2, 2023
Antique enthusiasts will be delighted to know that the Kyoto Grand Antique Fair, one of the biggest antique fairs in western Japan, is held three times a year at the Kyoto Pulse Plaza convention center, just south of Kyoto Station. The fair runs in March, June, and October, with the upcoming 2023 dates being: March 24-26, June 30-July 2, and an unannounced weekend in October.
A Diverse Array of Antiques and Collectibles
The wide range of items available at the fair includes chinaware, swords, accessories, glass tableware, and more. There is truly something for everyone – from Japanese antiques like Imari bowls to Western antiques like golden folding screens. Visitors can expect to find genuine oriental antiques from countries such as Korea and China.
Rare Historical Artifacts
The Kyoto Grand Antique Fair also offers a rare opportunity to explore uncommon artifacts that hold significant historical value. For instance, visitors can marvel at old Japanese coins known as ooban and koban, some of which were cast and circulated 200-300 years ago, during the Tokugawa shogunate era. Imagine holding a piece of history previously touched by renowned historical figures!
Take a Break and Refuel at the Cafeteria
This antique fair is not only about shopping; it also caters to visitors' needs for relaxation and refreshments. A cafeteria, conveniently located in the center of the hall, offers light meals, drinks, as well as coffee and tea – making it an ideal spot to take a break from treasure hunting and recharge before venturing back into the world of antiques.
---
Ajisai Matsuri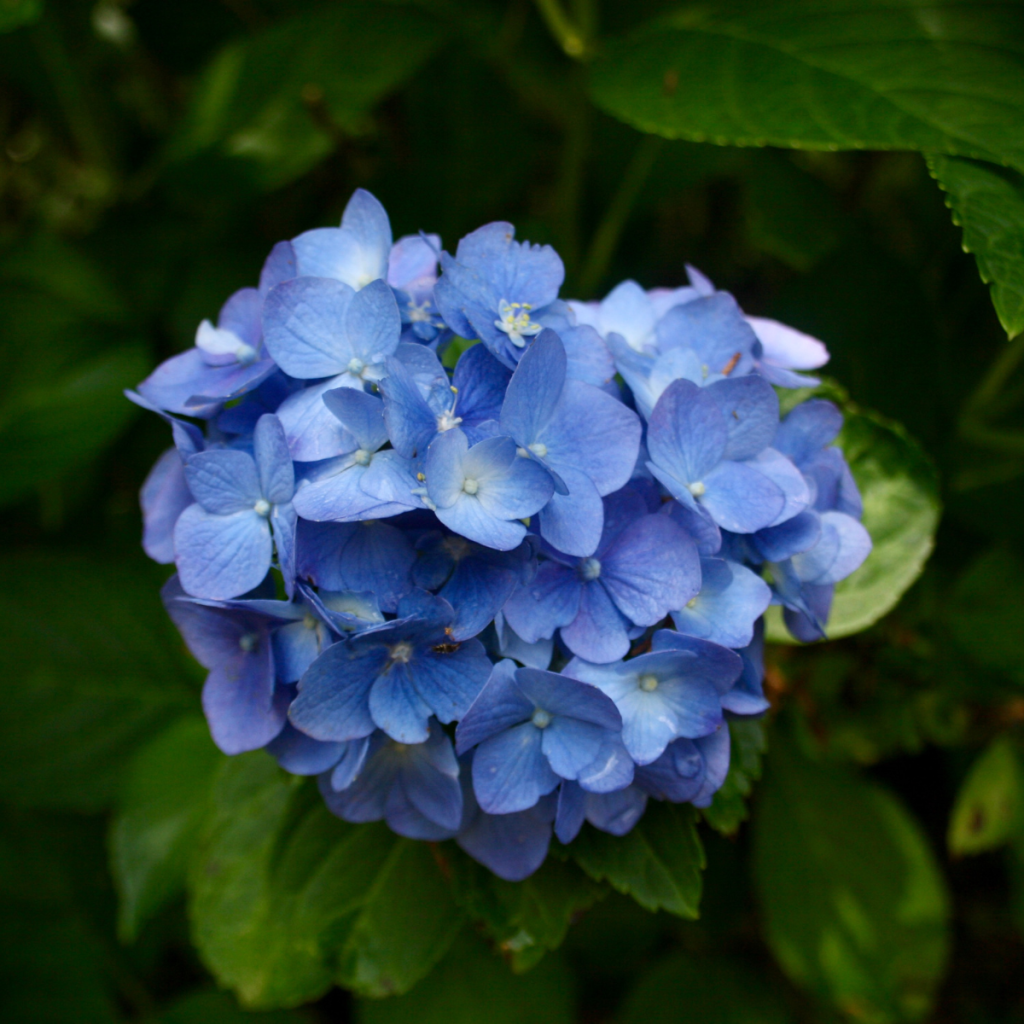 Date: Early July
A Symbol of Japanese Summer
The Ajisai Matsuri, or Hydrangea Festival, is an annual event held during Japan's rainy season in June and July. The festival celebrates the captivating hydrangeas (紫陽花, アジサイ, ajisai) that have long been associated with the beauty of Japanese summers. Native to Japan, hydrangeas have been mentioned in written records dating back to the 8th century, with over 100 varieties currently found across the country.
During this season, a wide range of cultural events take place alongside breathtaking hydrangea gardens at various temples and shrines throughout Kyoto Prefecture. From ritual tea offerings and traditional taiko drum performances to poetry readings and ancient court-style dances, these events merge natural splendor with rich cultural experiences.
---
Mizu Matsuri (Water Festival)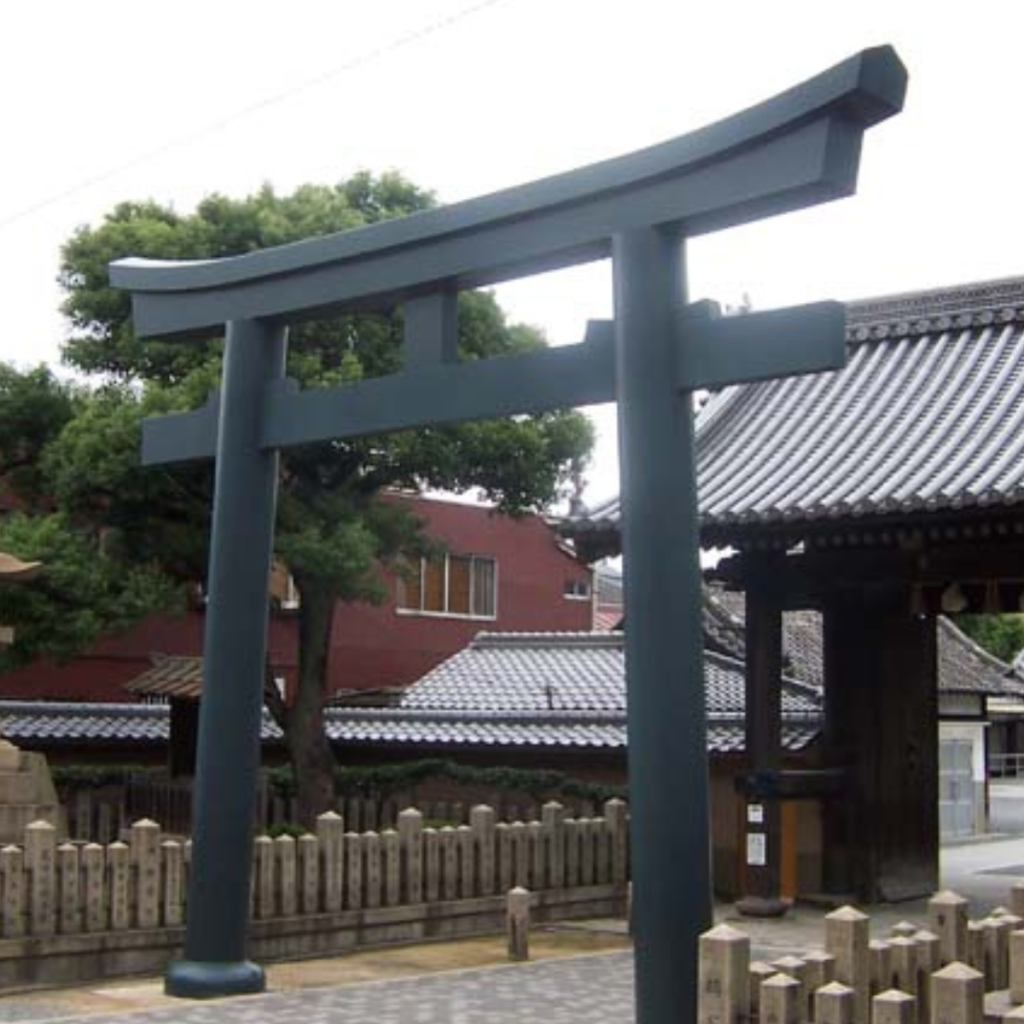 Date: July 7th, 2023
Traditional Ceremonies and Performances Commemorate the Star Festival
The Kifune Shrine, dedicated to the water deity, is preparing to host the annual Mizu Matsuri or Water Festival. This celebration of life's vital element is held to thank the water deity and offer prayers for favorable weather throughout the year. The festival has its roots in ancient Shinto rituals praying for rain during times of drought. This event takes place from July 1st to August 15th and coincides with Tanabata Matsuri, or the Star Festival.
Tea Ceremony: Purifying Mind, Body, and Universe
At 10:00 am, a tea offering called "Kencha-shiki" opens the event. The tea ceremony purifies participants' minds and bodies while integrating them into the universe as they listen to the sound of water. Holy water from a well within the Kifune Shrine's precinct is used in preparing both Koi-cha (a strong infusion of powdered tea) and Usu-cha (a weak infusion of powdered tea), which are then offered before the altar. The person brewing tea takes great care not to touch it directly, wearing a mask to prevent breath contact with the sacred offering.
Bugaku Performance: Court Dance and Music Offering
Following the tea ceremony, Bugaku (court dance and music offering) will be presented by Gakushinkai. The selected dance varies each year but usually stems from classic performances with strong ties to mainland Asia. Participants can expect an elaborate display from dancers dressed in colorful masks and orange robes.
Shikibouchou-no-gi: Kitchen Knife Ceremony Showcases Chef's Mastery
One of the highlights of Mizu Matsuri is Shikibouchou-no-gi, also known as the Kitchen Knife Ceremony. A specialized chef, dressed in traditional noble Heian Era attire, demonstrates their skill by filleting a fish using only a knife and chopsticks, never touching the fish with their hands. The chef's incredible dexterity showcases "Yusoku Cuisine," an ancient banquet style of cooking from the Heian Era.
---
Yoimiya Festival and Motomiya Festival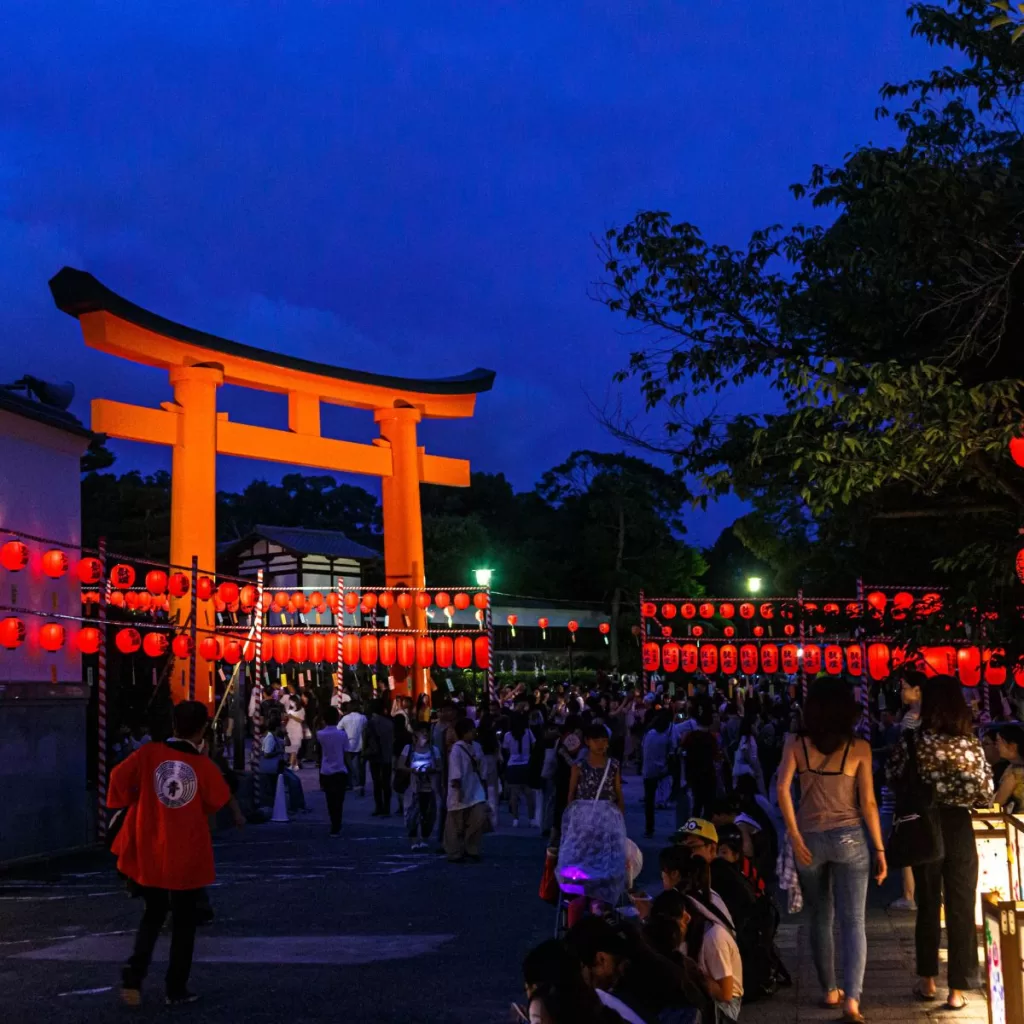 Dates: Yoimiya Festival- July 22nd, 2023, Motomiya Festival- July 23rd, 2023
A Two-Day Celebration of Gratitude and Worship
The annual Motomiya Festival is a highly anticipated event at the renowned Fushimi Inari Taisha shrine in Kyoto, Japan. The two-day festivities, known as Yomiya-sai and Motomiya-sai, occur in mid-summer and draw worshippers from across Japan who visit the main Inari Shrine to express gratitude for daily blessings and protection. The celebrations also serve to entertain visitors with various performances and traditional dances.
Lanterns Illuminate the Shrine Grounds
On the evening of the Yoimiya Festival (first day), thousands of vibrant paper and stone lanterns will be lit throughout the shrine precincts starting from 18:00. Laypeople who contribute lanterns are encouraged to hang them on the shrine paths during this lantern-based celebration.
In addition to these lanterns, traditional artists will come together to donate beautifully painted square paper lanterns that illuminate the main shrine area at the base of Mt. Inari. Approximately 400 andonga lantern paintings will be displayed around the outer hall of worship during both days of the festival.
Traditional Performances Pay Tribute to Deities
Throughout the Yoimiya Festival, visitors can enjoy a variety of performances aimed at entertaining those who come to pray. These include captivating taiko drum concerts and exhilarating dance exhibitions.
The second day of the festival, known as Motomiya-sai, sees worshippers from Inari shrines all over Japan convening at Fushimi Inari Taisha to pay their respects to deities. During this time, visitors can witness the traditional Motomiya-odori dance performed in the evenings.
In addition to these dances, kagura dances are dedicated to the deity and presented during both days of the festivities.
A Unique Experience Amidst the Spiritual Reverence
For those looking to plan a visit to Kyoto's Fushimi Inari Taisha shrine, attending the Yoimiya and Motomiya Festivals provides an unforgettable experience filled with gratitude, worship, and captivating performances unique to Japanese culture.
---
Tenjin-san Market: A Monthly Cultural Experience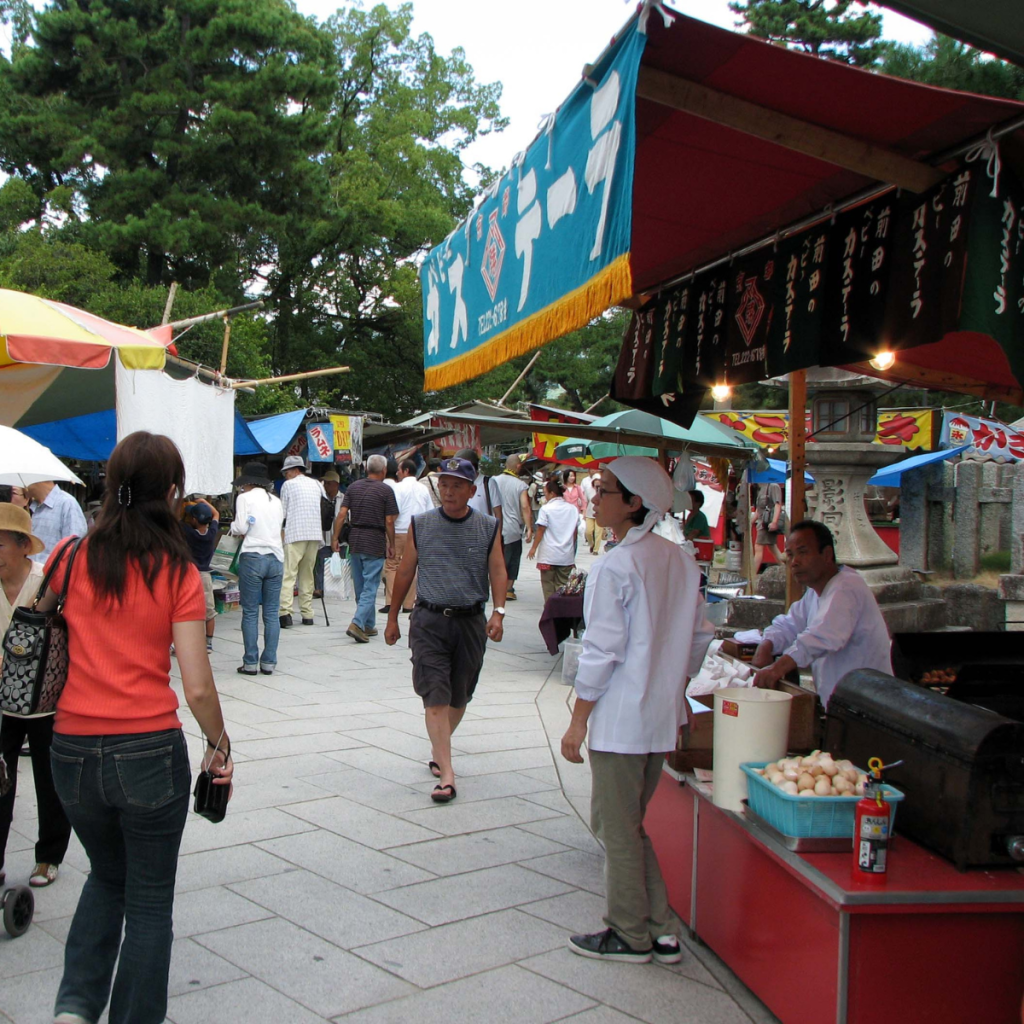 Date: July 25th, 2023 (Every 25th of the month)
The Kitano Tenmangu Shrine in Kyoto is renowned for its monthly flea market, Tenjin-san. Held on the 25th of every month, this tradition celebrates Sugawara no Michizane, a 9th-century poet and scholar who is revered as the patron saint of academic pursuits in Japan. The market commemorates his birthday and the date of his death, both of which fall on the same day.
The Tenjin-san Market kicks off at around 6 a.m. and concludes at approximately 6 p.m. Visitors can experience various sights and atmospheres depending on the time they arrive. While mornings offer peaceful browsing and potential bargains, evenings showcase an illuminated Kitano Tenmangu Shrine surrounded by more than 350 stone lanterns and 250 paper lanterns.
Tenjin-san is particularly famous for its diverse antique stalls. Between the myriad of old Japanese pottery, second-hand clothes, jewelry, and other items, visitors are sure to find something unique as they delve into history. The Ennichi Market provides a welcoming atmosphere for travelers as they engage with local stall owners and practice their bargaining skills.
Exploring Kimono Stalls
A distinctive aspect of Tenjin-san is the kimono stalls selling antique or repaired kimonos. Prices and sizes vary significantly, so it's essential for interested buyers to inquire about these details with stall owners.
Exciting Activities for All Ages
The market also offers a shooting gallery as an enjoyable pastime for locals and tourists alike. Skilled participants may even win exciting toys or interesting snacks as prizes.
Sampling Street Food at Tenjin-san
After exploring the stalls at Tenjin-san, visitors can indulge in Japanese soul food offered by food booths and carts around the shrine. Iconic dishes such as takoyaki, yaki soba noodles, karaage fried chicken, and oden are served in small portions, making them easy to savor while continuing to explore the market.
A regular Tenjin-san Market sees between 50,000 and 60,000 visitors. However, January (the first market of the year), February (peak plum blossom season), June (Sugawara no Michizane's birthday), and December (the last market of the year) attract even larger crowds, with approximately 150,000 people attending.
A Must-Visit Flea Market in Kyoto
With its festive atmosphere and abundant cultural experiences, the Tenjin-san flea market at Kitano Tenmangu Shrine is an unmissable event for anyone visiting Kyoto on the 25th of any given month. Locals and tourists alike are captivated by the beautiful blossoms surrounding the shrine, particularly during spring when plum trees boast their exquisite flowers.
---
Arashiyama ukai (Cormorant fishing)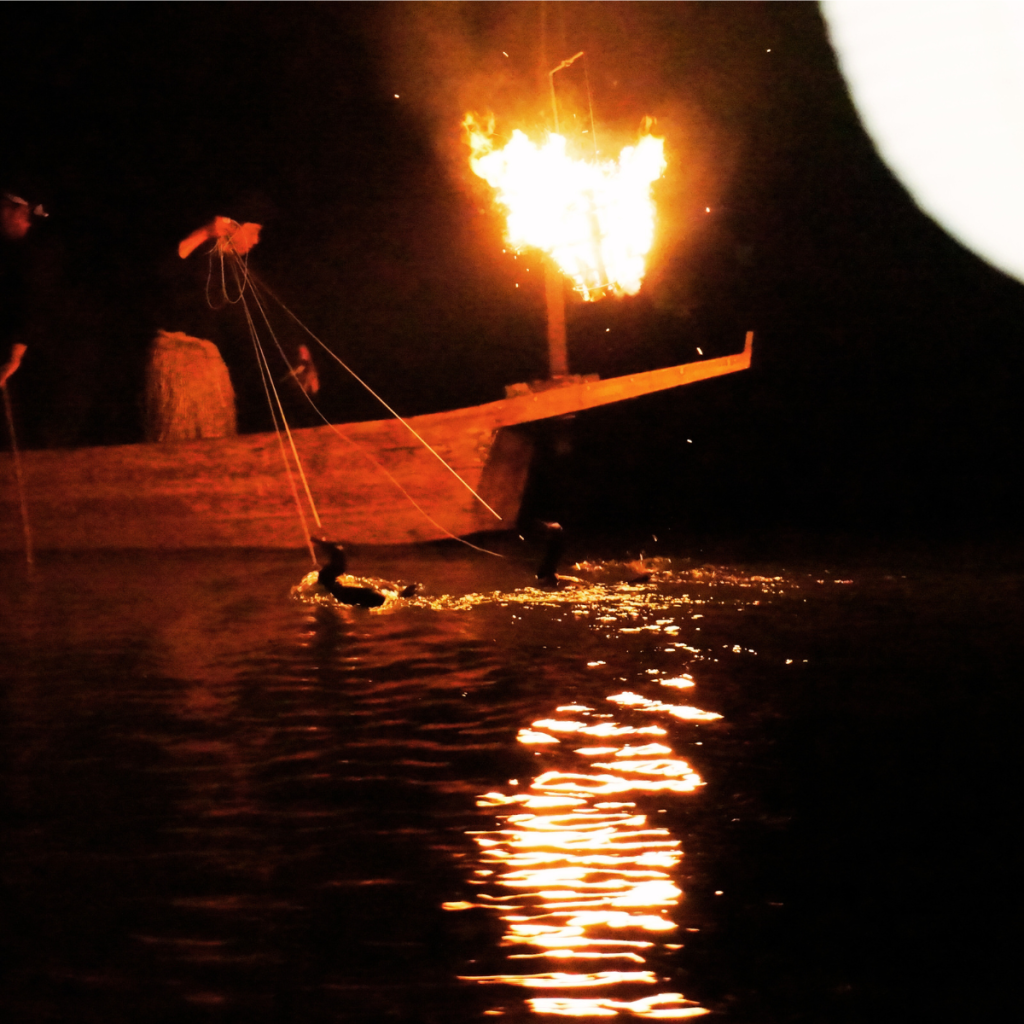 Dates: Whole month of July until September 23, 2023
Ukai, a traditional Japanese fishing method, dates back to the Heian period over 1300 years ago. Also known as cormorant fishing, this ancient practice relies on trained birds called Umiu to catch river fish such as sweetfish (ayu). Ukai has prevailed mainly due to its cultural significance and its status as a popular tourist attraction today.
Cormorant Fishing in Arashiyama
Arashiyama is a picturesque tourist destination in Kyoto Prefecture known for its serene bamboo forest, majestic river running through the area, traditional Japanese restaurants, shrines, temples, and hiking trails. This captivating region witnesses the practice of ukai on Katsura River between mid-June and mid-September.
The Art of Ukai Fishing
Master fishermen expertly guide Umiu birds from long wooden boats whilst navigating leashes attached to each cormorant. As the birds dive underwater to catch fish by swallowing them whole, they store their bounty in a special pouch situated within their throat. To ensure that the birds don't swallow the fish accidentally, a snare is placed around their necks. Each boat carries a large fire at its bow to illuminate the way for fishermen and enable cormorants to fish efficiently.
Ukai Cruises: A Glimpse into the Past
Ukai cruises, an enduring tradition from the Heian period, offer tourists an up-close and personal view of this unique fishing technique. These cruises are maintained in a traditional style and allow guests to witness the dynamic performance between fishermen and cormorants from close range—almost like reliving the splendor of aristocracy during the Heian period.
Typically lasting an hour, sightseeing cruises shadow ukai boats and cost between 2000 to 3500 yen per person. It's essential to note that these cruises do not operate during periods of high river water levels.
Savoring Dinner on a Ukai Cruise
Arashiyama Ukai offers exclusive dinner cruises for those eager to experience ukai while enjoying a meal. With five different dinner sets, including bento or sukiyaki, guests can also bring their favorite drinks aboard the chartered boat. Each vessel accommodates a maximum of 20 people and necessitates reservations made at least five days in advance with a minimum of ten attendees. This allows visitors to cherish ukai and their meal amidst a private atmosphere.
For those who prefer watching from the riverbank's comfort, several locations provide free viewing opportunities of this age-old tradition in action.
A Mysterious Atmosphere Under Torchlight
The torches illuminating the boats and reflecting off cormorant fishermen create an enchanting ambiance under the Kyoto evening sky. As gentle river breezes soothe attendees, they get to witness cormorant fishing—a magical experience that is impossible to forget.
With limited locations practicing this ancient fishing method today, experiencing Arashiyama Ukai is certainly a rare cultural treasure for both locals and tourists alike.
---
Umekoji Park Handicrafts Market
Date: July 1st, 2023 (First Saturday of every month except January and May)
An Exclusive Monthly Event to Experience Traditional Craftsmanship
Umekoji Park, a lush green oasis just 10 minutes by bus from Kyoto Station, transforms into a vibrant marketplace on the first Saturday of every month, excluding January and May. The Umekoji Park Handicrafts Market attracts around 3,000 visitors each time it is held and showcases roughly 300 stalls offering handcrafted items made by skilled artisans.
The market has become popular among locals and tourists alike, thanks to its spacious layout, making it a perfect family-friendly event. As the participating stalls are chosen by ballot each time, attendees get an ever-changing experience with fresh offerings during every visit.
Unique and cute handmade accessories, Kiyomizu-yaki pottery, interior and kitchen utensils, bread and sweets made with high-quality ingredients are just some examples of what awaits visitors at the market.
Handmade Accessories: Added Personal Touch For Your Style
The handicraft market features numerous stalls specializing in handcrafted accessories such as earrings and rings. With intricate designs that embody both modernity and tradition, these unique pieces make ideal gifts or personal mementos. The individual attention paid to creating each piece ensures that no two items are alike, highlighting how each accessory has its own story behind it.
Pottery: Kyoto's Kiyomizu-yaki Brings Beauty to Everyday Life
Kyoto is renowned for its exquisite Kiyomizu-yaki pottery. At Umekoji Handicrafts Market, visitors can find various handmade ceramic items ranging from cups and bowls to plates and clay pots. Alongside traditional designs, the market also offers pottery with unconventional color schemes that add an element of surprise to any dining room table.
With many unique pieces available at reasonable prices, there's no better place for art enthusiasts to pick up beautiful yet functional mementos of their time in Kyoto.
Bread and Sweets: Taste Authentic Japanese Flavors
The market is not only about shopping for unique items. It also features a great selection of bread, sweets, and jams, most notably those made with additive-free and high-quality ingredients. Grabbing a treat can turn into a special picnic amidst the park's picturesque green lawns and is the perfect way to immerse oneself in the beauty of Kyoto's environment.
Interior and Kitchen Utensils: Functional Craftsmanship Meets Aesthetic Flair
Offerings at the Umekoji Handicrafts Market extend beyond art pieces and accessories as it also includes functional items for the home. Stalls selling natural chopping boards reflect the meticulous attention paid to each detail by local craftsmen. Visitors can find an assortment of other lifestyle goods inspired by nature, designed to enhance any living space.
A Market Experience Like No Other in Kyoto
Taking only place seven times a year, this exclusive market event should not be missed by anyone visiting Kyoto on the first Saturday of June through December. Aside from browsing various stalls filled with unique handcrafted items, visitors can engage with local artists and witness their passion firsthand.
For families looking to keep their children entertained during their visit, Umekoji Park houses other popular attractions, including the Kyoto Aquarium and Kyoto Railway Museum.
With its convenient location, diverse range of products showcasing local talent, and serene atmosphere provided by Umekoji Park's beautiful surroundings, the Umekoji Handicrafts Market truly offers an unforgettable experience that everyone should treasure while in Kyoto.
---
Hyakumanben tedukuri ichi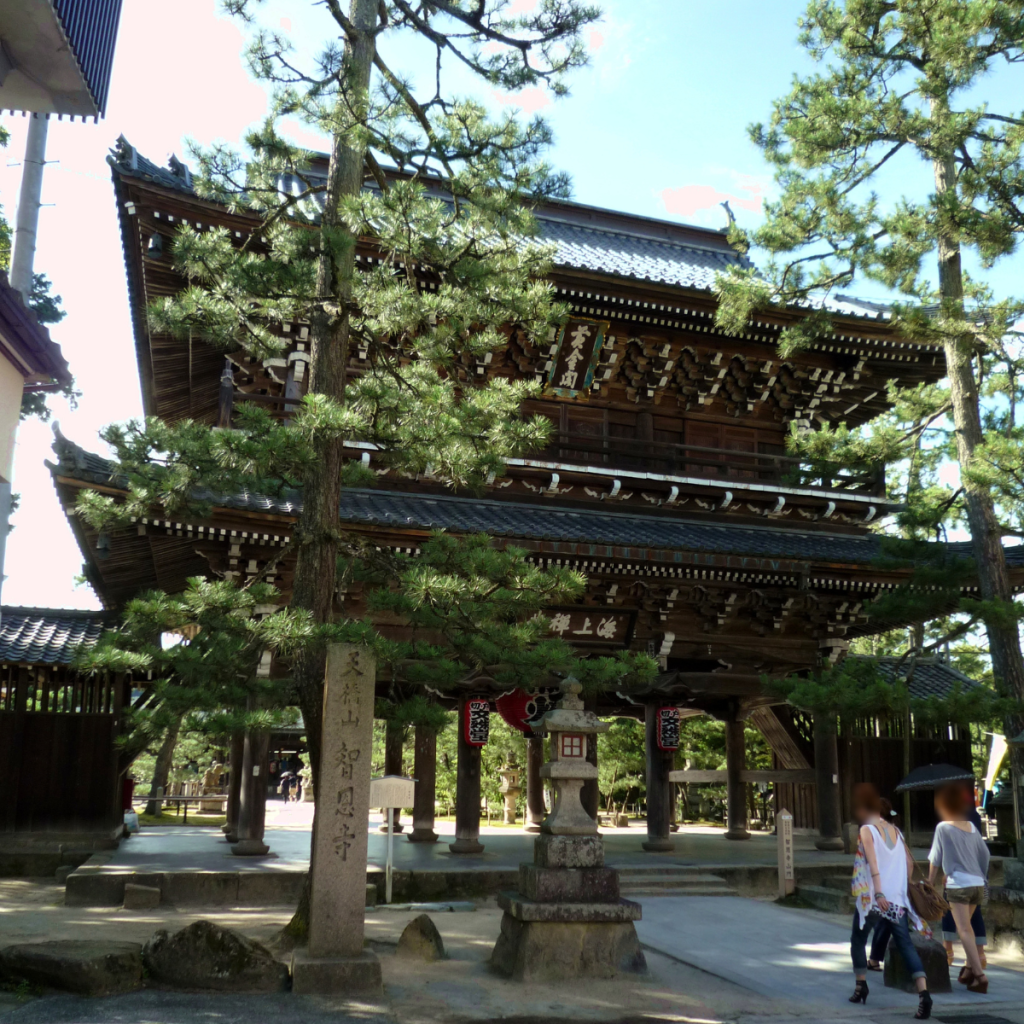 Date: July 15th, 2023 (15th of every month)
A Tradition of Creativity and Community
Since its inception on April 15th, 1987, the Hyakumanben Handmade Market has been a monthly event adored by locals and visitors alike. Held on the 15th of every month in the Main-hall of Chionji Temple, the market was founded as an opportunity for amateur craft workers to showcase their unique creations. Over the years, it has become a central hub for creativity in Sakyo Ward, Kyoto City. With more than 450 participating stalls and an estimated attendance of 10,000 people each month, it's evident that the market is fulfilling its founder's vision of creating a community where people can share their works with one another.
Bakeries: A Treat for the Senses
Attracting long lines and eager customers, delicious bread and pastries have become one of the most popular attractions at the Hyakumanben Handmade Market. It seems almost impossible to resist buying more than you can eat. Many popular bakeries tend to sell out before noon, indicating just how much visitors love these freshly baked delights.
Unique Handmade accessories
The market is also home to a wide variety of shops selling handmade accessories. Each shop offers something unique – some showcase professional-looking jewelry that could easily be mistaken for store-bought items, while others provide quirkier pieces reflecting their creators' personalities. Some sellers maintain physical shops in addition to their stalls, while others partake in this activity purely for fun.
Sweet Temptations: Caramels, Cookies & Jams
Handmade confectioneries are another delectable staple at the Hyakumanben Handmade Market, with several shops presenting various types of sweet treats. Cookies, caramels, jams, and Japanese sweets are just a few examples of what visitors can find during their market stroll. These items not only offer a warmth that can only come from handmade products but also serve as cost-effective souvenirs for yourself or your friends.
Pottery and Crafts: Artistry on Display
Though Tenjin-san and Kobo-san markets are more famous for their pottery offerings, Hyakumanben also features stalls selling pottery and other crafts. The market showcases pieces ranging from artistic to affordable – if you find a piece that resonates with you, it's recommended to grab it before it's gone.
Stalls at the market are chosen by lottery each month, so the assortment is ever-changing, providing visitors with exciting new encounters month after month. The Hyakumanben Handmade Market has truly established itself as an unmissable event that showcases Japan's flourishing artisanal community and offers memorable experiences for its patrons.
---
Toji Flea Market
Date: July 21st, 2023 (21st of every month)
Ancient Tradition Attracts Thousands of Visitors
The famous Toji Temple Market, also known as Kobo Market or Mieku, is held on the 21st of every month at Toji Temple, a UNESCO World Heritage Site in Kyoto. The market has been an integral part of Kyoto's cultural and social life for over 700 years, attracting more than 100,000 visitors each time. Taking place near the Kintetsu railway's Toji Station at this historic location, the market is home to around 1,000 textile, antique, ceramics, and food stalls that create an unforgettable atmosphere.
Exploring Antiques and Textiles
Visitors to the Toji Kobo Market can find various expertly crafted ceramics, tea cups, vases, and other decorative items. With prices starting as low as ¥500, there is a high probability of discovering hidden treasures among these antiques. However, be prepared for potential language barriers when communicating with stall owners since not all of them may speak English fluently.
Diverse Offerings and Unique Finds
The market showcases an eclectic collection of items ranging from footwear and watches to chopsticks and Buddha statues. Shoppers can enjoy discovering toys and old records from bygone Japanese eras that are perfect souvenirs from their trip to Kyoto.
Delicious Food Stalls Provide Refreshment
After browsing through countless stalls, visitors can relax by enjoying delicious Japanese cuisine at numerous food stalls throughout the market. Options include classic dishes like yakisoba or oden and ice-cold beverages such as beer.
Bargain Hunting and Haggling at Toji Temple Market
The Toji Temple Market is a rare marketplace in Japan where vendors expect bargaining and negotiating. It is the perfect opportunity to hone those haggling skills and score unique items at great prices.
Tasting Japanese Street Food
Toji Temple Market's food stalls serve fan-favorite Japanese snacks like Kakigori, takoyaki, and taiyaki. This offers an authentic Japanese culinary experience amidst an atmosphere showcasing local life.
---
Mitarashi Festival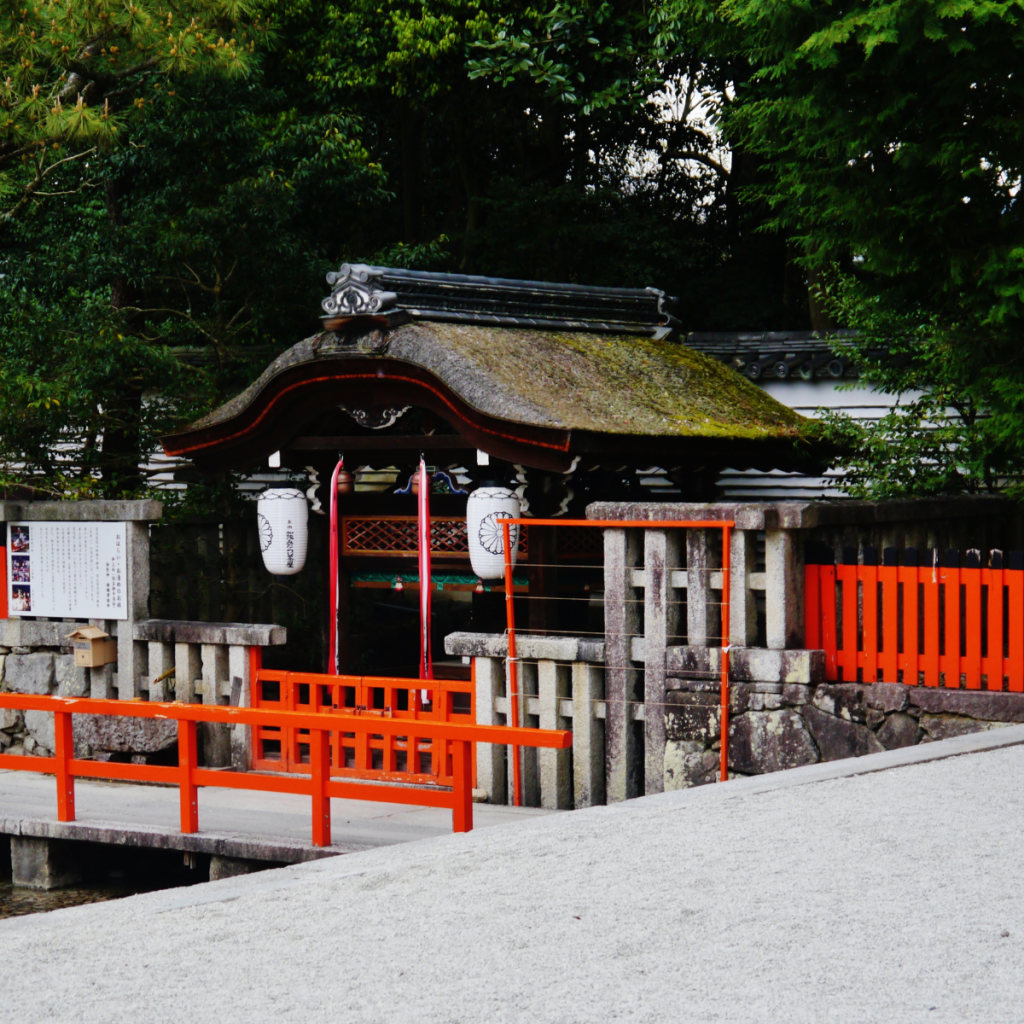 Date: Late July
A Unique Festival For Health and Longevity
The Mitarashi Festival, an annual event held at the Shimogamo shrine in Kyoto, has become increasingly popular among locals and tourists. This special ritual, known as Ashitsuke, involves participants soaking their feet in the pond of Mitarashi-ike to cleanse their sins and impurities. Doing so, they pray for good health, long life, easy delivery, and protection against illnesses like beriberi.
Kyoto's ancient Shimogamo shrine is located in the north area of the city and is surrounded by a large forest. As a UNESCO World Heritage site, it has preserved Heian period nature and culture for future generations. In addition to the Mitarashi Festival, the shrine is renowned for its Aoi Festival dating back to the Heian period—one of Kyoto's three major festivals—alongside several other seasonal events aimed at promoting well-being.
---
Hiwatari Matsuri Festival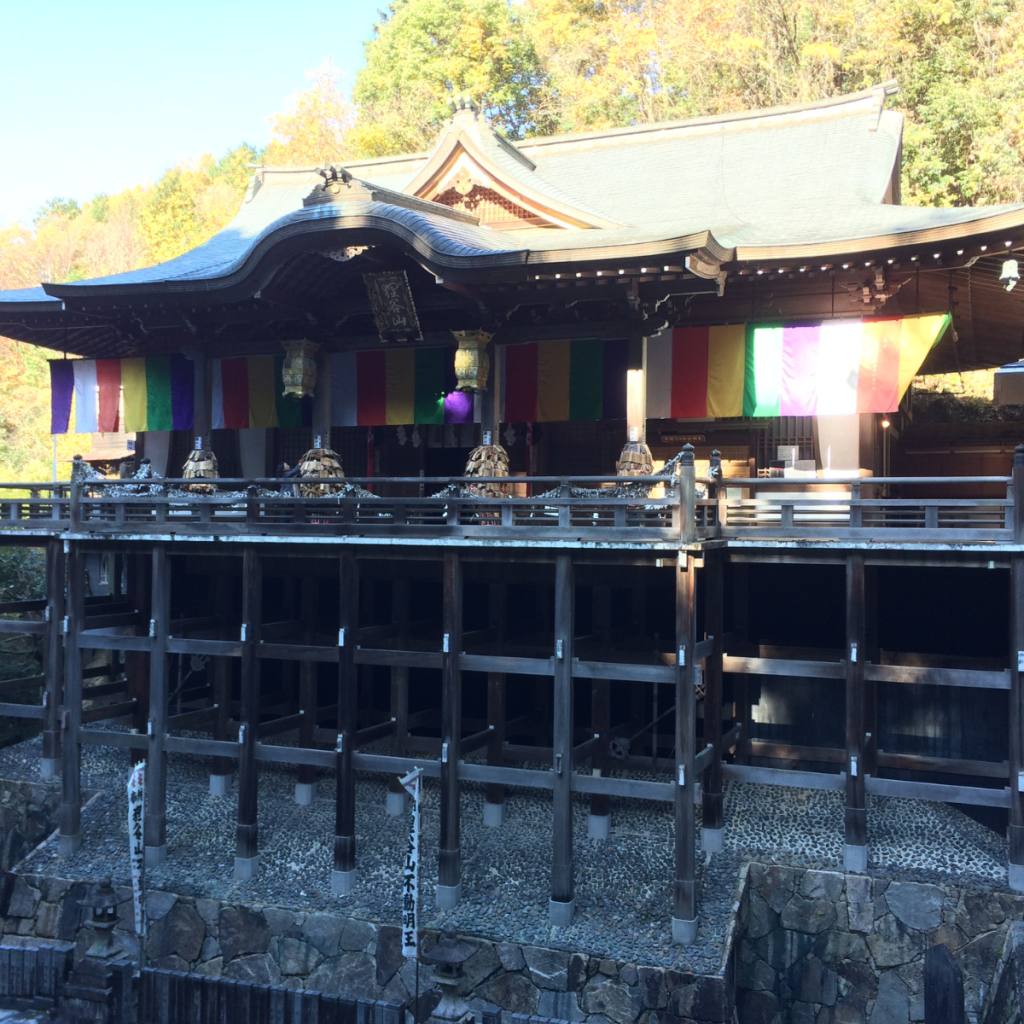 Date: July 28th
Fire Walking Ritual: Hiwatari Matsuri
The Hiwatari Matsuri at Tanukidani-san Fudō-in, also known as the Fire Walking Festival, is an integral part of this temple's religious rituals. Associated with both Shugendō and Fudō Myō'ō worship, Hiwatari Matsuri is held annually within the temple grounds.
During this festival, goma (wooden prayer sticks) are collected together to create a pyre for ritualistic burning. As the flames turn to ash and embers, they are then raked into a flat layer for participants to walk across.
Shugenja Leading the Way
As part of the tradition, Shugenja (Shugendō followers) are the first to walk barefoot across the heated ground. They lead by example before assisting members of the public in joining them on their journey over the fire's remnants.
Through experiencing this challenge and conquering their fears, both Shugenja and participating individuals demonstrate their dedication to spiritual growth and discipline.