Kagurazaka Matsuri
The Kagurazaka Matsuri, the biggest summer festival in the trendy Kagurazaka neighborhood of Tokyo, is set to occur between July 26th and July 29th. This traditional event combines a lively blend of Japanese culture, dance, food, and performances throughout the four days.
Indulge in the rich traditions and festive spirit of Kagurazaka Matsuri, one of the captivating Tokyo Events in July that will leave you mesmerized.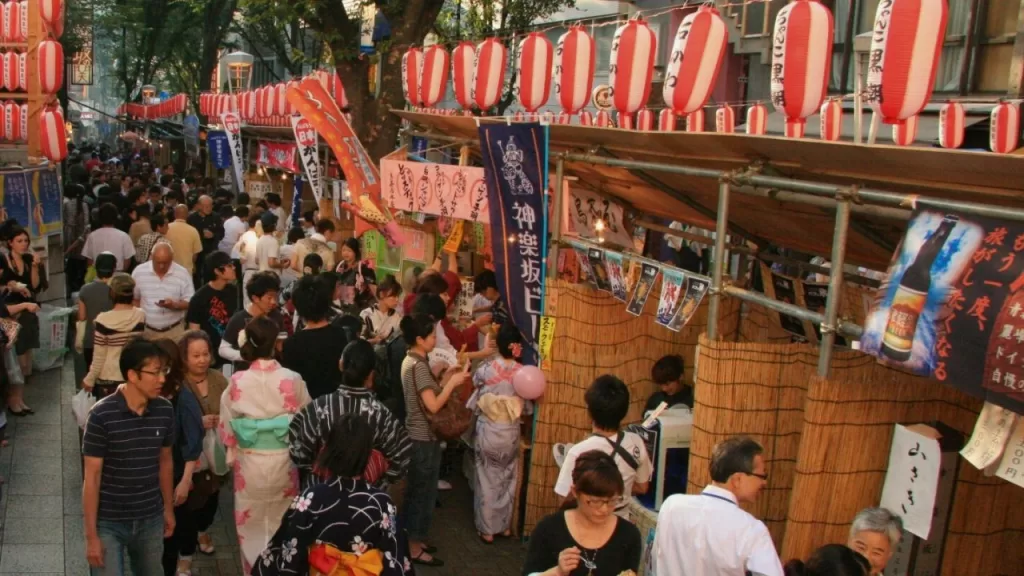 Hozugi Market: A Tribute to Tradition
During the first two days of the festival, visitors can experience the Hozugi Market, where winter cherry seeds are sold for ceremonial purposes. This sale is tied to the Japanese Obon season when houzuki (ground cherries) were traditionally believed to prevent chronic illness. The Hozuki Market features approximately 50 food and drink stands, performances on a small stage, activities for children, and introductions to Kagurazaka organized by the community. The market typically runs from 5:30 pm to 10:00 pm on Wednesday and Thursday.
Awa Odori Taikai: Celebrating Dance and Music
On Friday and Saturday evenings from 7:00 pm – 9:00 pm, the festival's focus shifts to the Awa Odori Taikai segment. This part of Kagurazaka Matsuri highlights the graceful Awa-odori Dance, which originated from Tokushima Prefecture. The dance is performed by around 20 groups with a total of over 1,200 members. On Saturday from 6 pm until 7 pm, there will also be a special dance for children to enjoy. During these two days of Awa Odori Taikai, no food stalls will be present.
Exploring Kagurazaka Dori Street
The Kagurazaka Matsuri takes place along Kagurazaka Dori — the main shopping street in this charming Tokyo neighborhood known for its chic cafés, restaurants, and historical landmarks such as the Akagi Shrine and Edo period geisha houses. The festival's location is easily accessible by JR Chuo Line through Iidabashi Station or the Oedo Subway Line via Ushigome-Kagurazaka Station.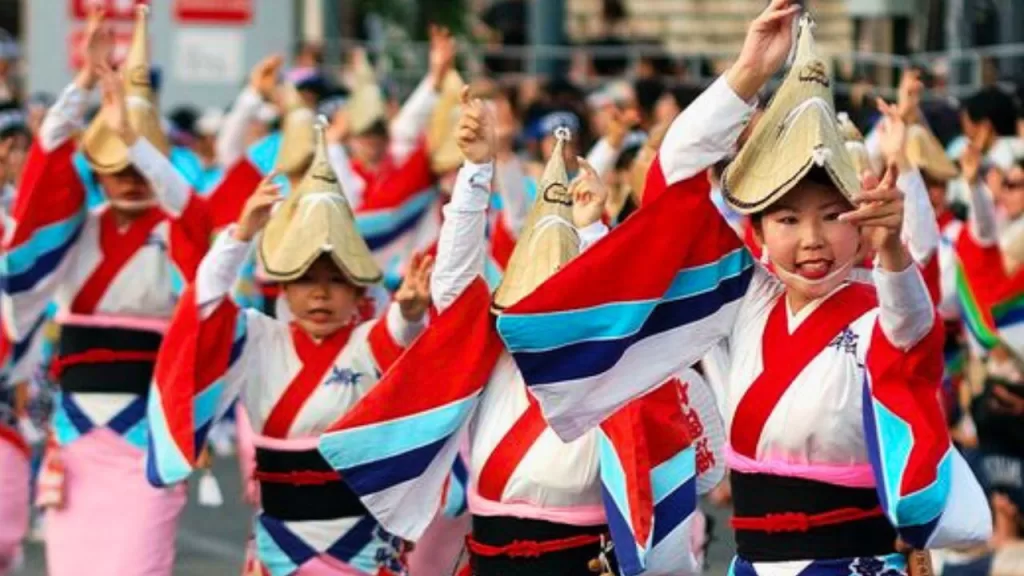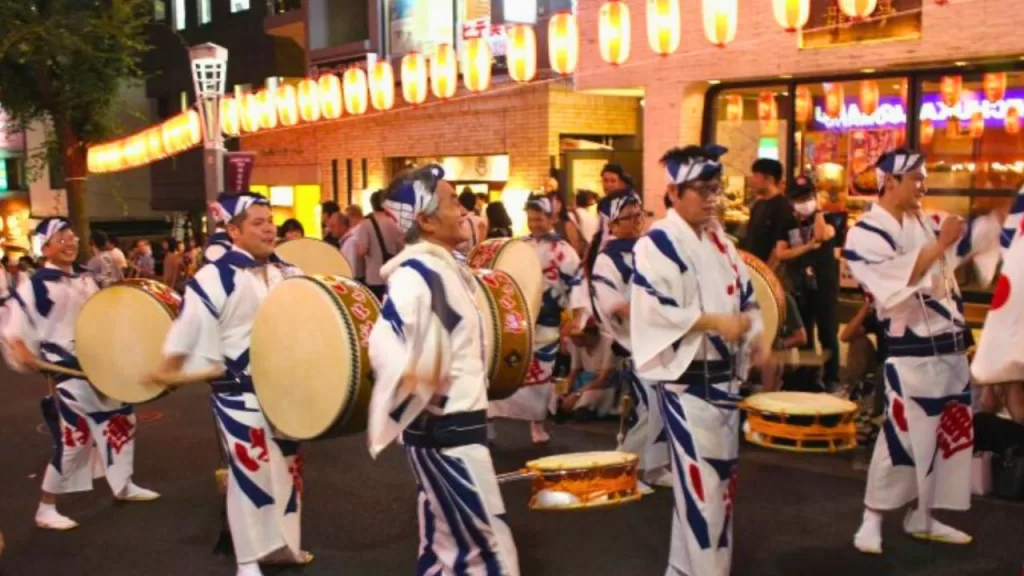 Experience Local Cuisine and Culture
Throughout the four days of Kagurazaka Matsuri, visitors can indulge in various local dishes from yatai (outdoor festival food stalls) as well as cafés and restaurants that set up shop during the event. These culinary offerings add to the traditional Japanese summer party atmosphere, attracting both locals and tourists alike.
Near the Bishamonten Zenkokuji Temple, a market selling hozuki (Japanese lantern plants) adds to the ambiance of old Tokyo. The back streets of Kagurazaka come alive with festivities, creating a memorable summer experience for all who attend.
A Feast for All Senses
Kagurazaka Matsuri is a perfect opportunity to immerse oneself in Japanese culture and participate in local celebrations. During this time of year, matsuri festivals are held across Japan to honor various deities through dances, shows, parades, and processions. Each matsuri may have its unique religious significance tied to shintōism; however, many events are now enjoyed simply for their lively atmosphere and sense of community togetherness.
Whether you're attending Kagurazaka Matsuri for its cultural significance or just looking for an unforgettable summer evening out in Tokyo, this four-day event promises fun-filled experiences set in the heart of historic Japan.
Join the excitement of Kagurazaka Matsuri, a vibrant celebration of Japanese culture and tradition, where the streets come alive with colorful festivities, complemented by a spectacular display of fireworks during the renowned Sumidagawa Fireworks Festival.