Tokyo Skytree Dream Christmas
As Tokyo descends into the winter months, the city lights up in a grand gala of illumination. This year, Skytree Town, part of the formidable Tokyo Skytree structure and mall, is set to celebrate its 10th anniversary in true festive style with the reimagined Skytree Town Dream Christmas event hosted from November 10 to December 25, 2022.
Indulge in the magical Tokyo Skytree Dream Christmas, one of the most anticipated Tokyo events in December.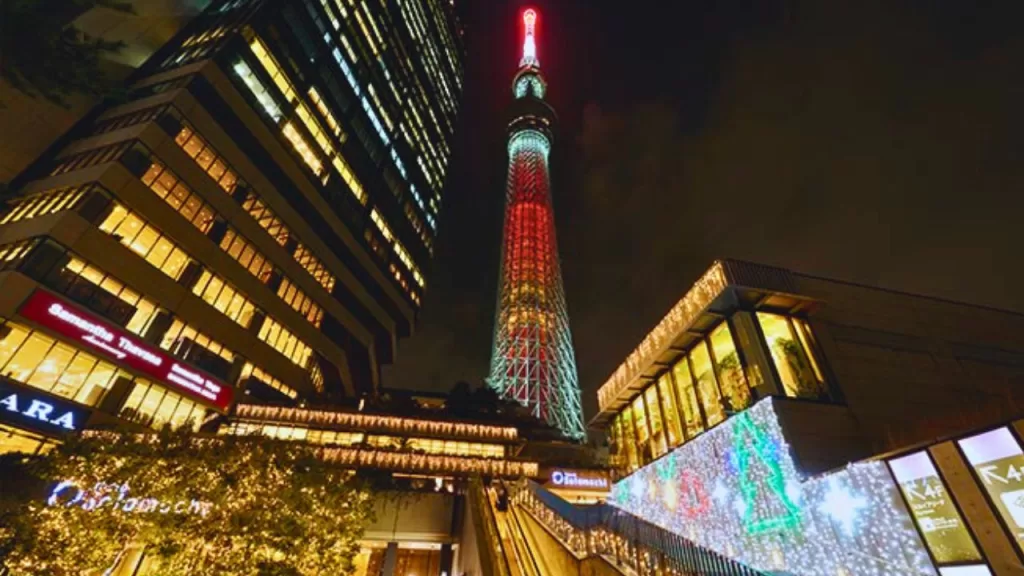 Japanese Winter Wonderland
The focal point of this illuminating celebration is the Sky Arena, immersed in a warm glow of golden lights as a commemoration of a decade since its opening. A spectacular eight-meter tall Christmas tree poised at the arena will twinkle against the backdrop of hundreds of thousands of LEDs decorating the various walkways linking the Sky Arena to Tokyo Skytree Station and Oshiage Station.
Adding to this are installations on Solamachi Hiroba Plaza's first floor, harnessing renewable energy through onsite electric vehicles for power. Three Christmas displays partially made from scrap automobile parts will be illuminated, marking an eco-friendly touch to this holiday gathering.
Special Illuminations: Enter "Champagnetree" and "Candletree."
The towering 634-meter-tall Tokyo Skytree reinvents itself during this holiday period by transforming into two vibrant images — a giant green and gold Christmas tree referred to as the 'Champagne tree' and a white and red lit candle, elegantly named 'Candle tree.' These synchronized lighting displays lend beautiful colors to Tokyo's winter skyline.
The interior spaces are included, too. The establishment has planned various indoor festivities that promise fun photo spots and unique viewing experiences, like the giant screen on the Tenbo Deck playing special Christmas programming.
Projection Mapping Show with Soraka-chan
The renewed celebration features an engaging projection mapping show scheduled daily from December 16 (5.30 pm onwards) at the Sky Arena. The venue's beloved mascot Soraka-chanwill be seen dancing gleefully with heartwarming music. This popular mapping show makes a comeback after four years marking it as one of the highlighted attractions this year.
Adding splendor to these performances is Sorakara-chan's greetings while she adorns a flamboyant Christmas costume reflecting festive cheer around every corner in Tokyo Skytree.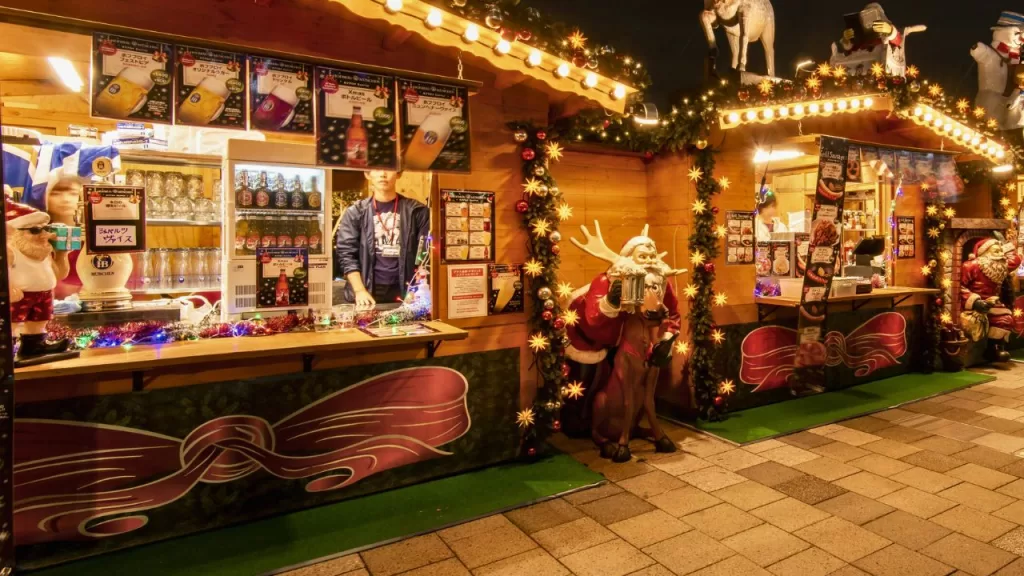 Tasty Delights from Kyoto Solamachi Christmas Market
The ensuing festivities deserve succulent accompaniments offered at Tokyo Solamachi Christmas Market. Starting November 18, you can relish some German beer or mulled wine while reveling amidst beautiful illuminations. Visitors can savor gourmet food, beer, and sweets juxtaposed against variegated illuminations.
Additional vibrance comes from blue and white illuminations adorning the Kitajukken River, flowing between Asakusa and Tokyo Skytree Town. Ushijima Shrine and adjacent Sumida Park illuminate bamboo lights adding an oriental charm (until February 15).
Furthermore, resounding murmurs about Tokyo Sky Tree masquerading as a giant Christmas tree add fervent enthusiasm among children making it their favorite winter attraction.
Essential Information for Visitors
Participating in these visual feasts doesn't require any entry fee; however, most would argue that access to indoor events calls for buying tickets beforehand- a perfect Christmas gift.
A quick walk from Tokyo Skytree Station or Oshiage Station suffices for those wishing to visit this winter spectacle. Alternatively, they can avail themselves of shuttle services offered by Skytree Loop Bus, which provides pickup points across several locations in Tokyo.
This novel extravaganza marks an exciting chapter for Japan's tallest building – making it a must-visit spot this holiday season.
Get into the festive spirit at the Tokyo Skytree Dream Christmas while participating in the Great Santa Run Tokyo.