Roppongi, Tokyo, is an exciting destination with a diverse range of activities and experiences that cater to various interests. As you explore this vibrant district, you'll discover attractions ranging from art galleries and cultural landmarks to shopping and nightlife.
Your visit to Roppongi wouldn't be complete without exploring its renowned art scene. The Roppongi Art Triangle is home to the Suntory Museum of Art, the National Art Center, and the Mori Art Museum. To get the most out of your experience, consider investing in a Grutt Pass to access discounted entry rates to these popular venues, among many others in and around Tokyo.
Venture beyond the galleries and immerse yourself in the unique atmosphere of Roppongi's entertainment scene. From international DJs and swanky nightclubs to kimono shopping and traditional temples, you're sure to find experiences that captivate and inspire you in this multifaceted district.
Top Attractions in Roppongi
Tokyo Tower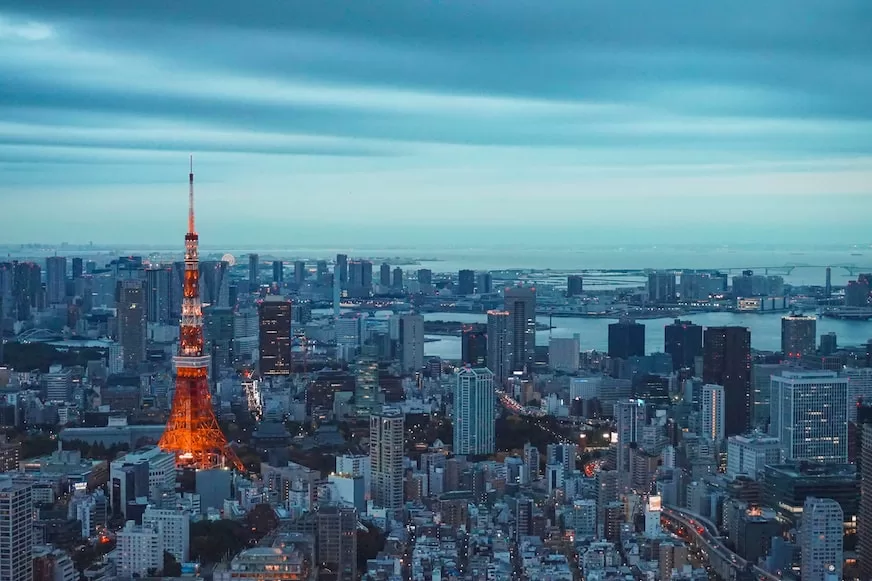 Tokyo Tower is a must-see landmark in Roppongi. This iconic structure stands 333 meters tall and offers spectacular views of the city. You can visit the main observation deck at 150 meters or take a trip to the top deck at 250 meters. Take in the panoramic views of Tokyo, making for great photo opportunities and memories of your trip.
Roppongi Hills
Roppongi Hills is a vibrant entertainment complex designed to provide you with everything you need in one place. You'll find shopping, dining, art, and leisure activities all within this modern urban development. Take a leisurely stroll around the various shops and cafes, or head to the top of Mori Tower for stunning views of Tokyo.
Mori Art Museum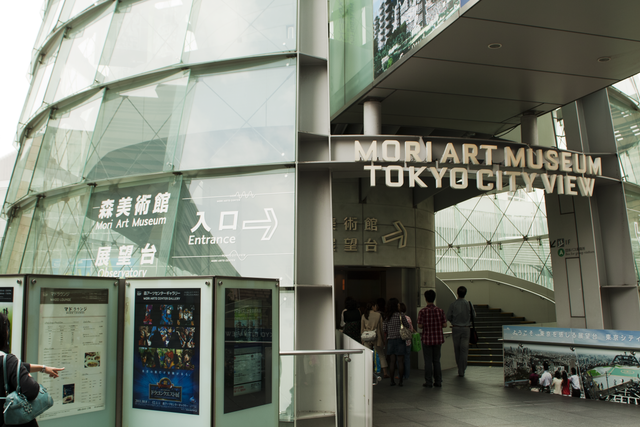 Art enthusiasts should not miss the Mori Art Museum, located on the 53rd floor of Mori Tower in Roppongi Hills. This museum focuses on contemporary art from Japan and around the world. The rotating exhibitions and its superb location overlooking the city make for an unforgettable cultural experience during your visit to Roppongi.
National Art Center Tokyo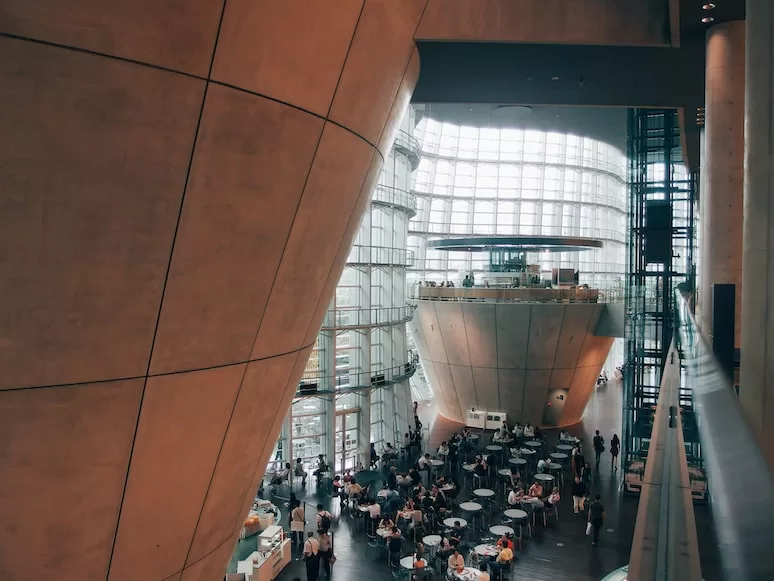 The National Art Center Tokyo is another must-visit destination for art lovers. This unique museum does not have a permanent collection but instead hosts a variety of temporary exhibitions. With its striking architecture and ever-changing line-up of exhibits curated by Japanese and international artists, it offers a fresh and engaging experience each time you visit.
Nightlife and Entertainment
Bars and Clubs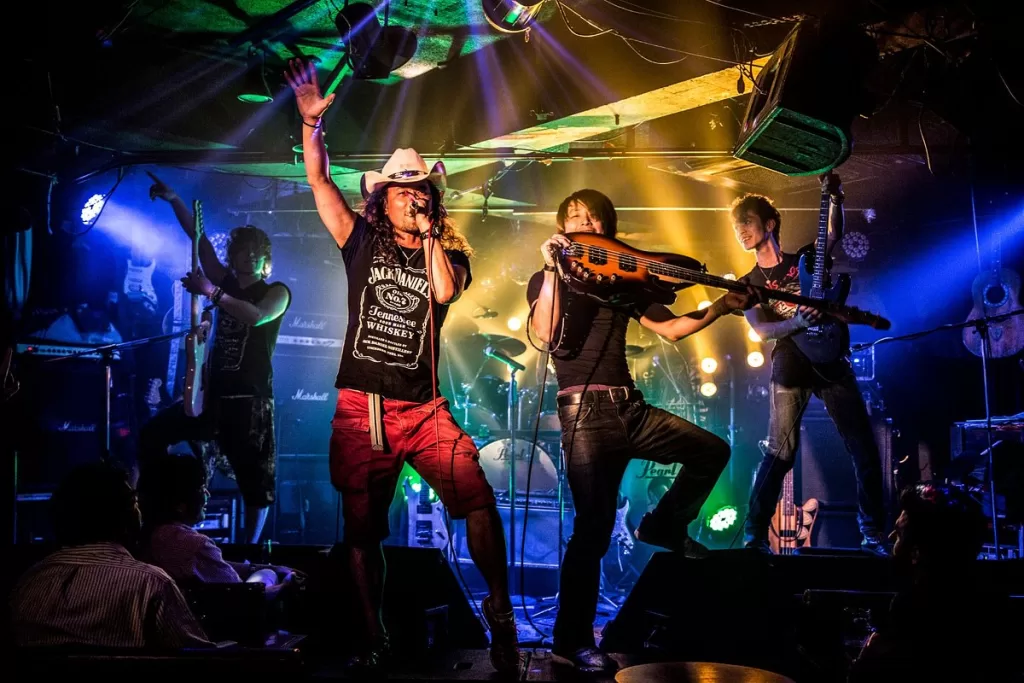 Roppongi is known for its vibrant nightlife scene, offering a wide variety of bars and clubs to suit your preferences. While exploring this neighborhood, you can visit Bauhaus Roppongi, a popular spot to enjoy live performances of classic rock music. Another great option to consider is The New Matrix Bar, a dance club featuring diverse music genres and an energetic atmosphere.
If you're interested in local pubs, consider joining a pub crawl to fully immerse yourself in Roppongi's lively bar scene. This way, you'll get to visit several watering holes and possibly make new friends along the way.
Restaurants and Dining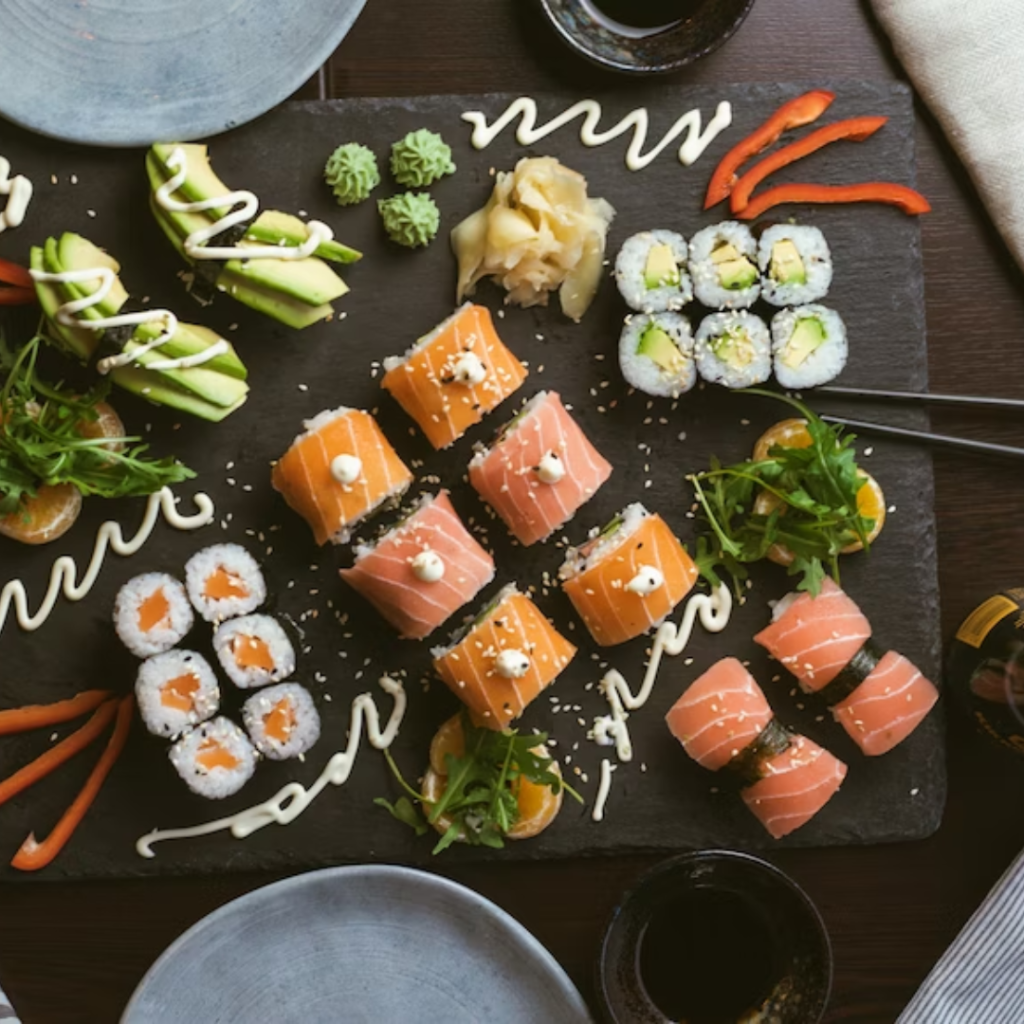 The dining options in Roppongi are endless, serving a mix of international cuisine and traditional Japanese dishes. Throughout your stay, you can satisfy your taste buds with local delicacies or explore the modern side of Tokyo's food culture by trying fusion dishes at trendy eateries.
Whether you're in the mood for a quick bite or want to indulge in a full-course meal, the vast selection of restaurants in the area caters to all types of dining experiences. Be sure to venture beyond the main streets, as there are hidden gems waiting to be discovered in the smaller alleys.
Night Views and Observation Decks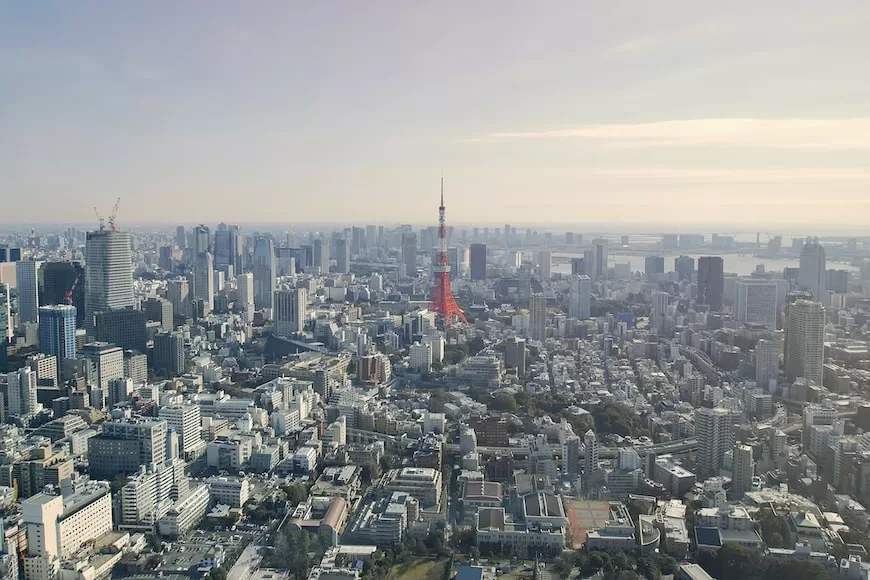 For breathtaking night views of the Tokyo skyline, make your way to an observation deck. The iconic Roppongi Hills houses the Mori Art Museum, perched on the 54th floor, offering an expansive view of the city. Moreover, you can't miss visiting Tokyo Tower to admire the illuminated structure along with panoramic views of the surrounding area.
Another vantage point to consider is the Ritz-Carlton Tokyo, where you can take in the dazzling cityscape from one of their luxurious rooms or lounges on the upper floors.
As you explore Roppongi's nightlife and entertainment options, be sure to keep an open mind and embrace the unique experiences the neighborhood has to offer. From trendy bars to impressive city views, there's something for everyone to enjoy in this bustling district.
Cultural Experiences and Art Galleries
Roppongi is a bustling district in Tokyo known for its vibrant nightlife, shopping centers, and restaurants. It also offers a rich cultural scene for art enthusiasts with its unique selection of museums and art galleries.
Roppongi Art Triangle
The Roppongi Art Triangle is a must-visit for art lovers. This area is home to three major art museums: the Mori Art Museum, the Suntory Museum of Art, and the National Art Center Tokyo. You can immerse yourself in contemporary art exhibitions at the Mori Art Museum located in the Mori Tower or explore traditional Japanese art at the Suntory Museum of Art in Tokyo Midtown. At the National Art Center Tokyo, you'll find a vast array of rotating exhibitions showcasing both local and international artists. This area is perfect for a day of gallery hopping and soaking up the rich artistic culture of Roppongi.
Gallery Side 2
Head to Gallery Side 2, located in the Azabu area, for more intimate art-viewing experiences. This contemporary art gallery represents a diverse array of emerging and established artists. With a mission to create an environment where contemporary art can truly thrive, Gallery Side 2 offers a variety of captivating exhibitions and events throughout the year.
Fujifilm Square
Fujifilm Square is a unique space where you can indulge in both photography and fine art exhibitions. This cultural complex showcases an impressive collection of photographs and photographic equipment. Be sure to check their calendar for special events and workshops as well.
Backstreet Art
Take some time to explore the hidden gems and backstreet art around Roppongi. For example, you can discover the mesmerizing sculpture of Louise Bourgeois' Maman at the base of Mori Tower. In addition, stroll through the tranquil Mohri Garden to enjoy the serene atmosphere and surrounding art installations.
While you're in Roppongi, don't forget to also visit historical sites such as Zojoji Temple and Atago Shrine to get a glimpse of traditional Japanese culture. With skyscrapers like Skytree and Odaiba nearby, you're bound to have a memorable time exploring art and cultural experiences in Roppongi.
Shopping and Sweets
Tokyo Midtown
When you're in Roppongi, make sure to visit Tokyo Midtown, a complex offering a wide array of shopping and dining options. Here, you can find popular Japanese brands, as well as international favorites. As you stroll through the shopping center, indulge in delicious sweets and dessert spots. Don't miss the chance to taste sake-enhanced food and skincare products derived from sake at Fukumitsuya, a Kanazawa-based brewery shop.
Keyakizaka Dori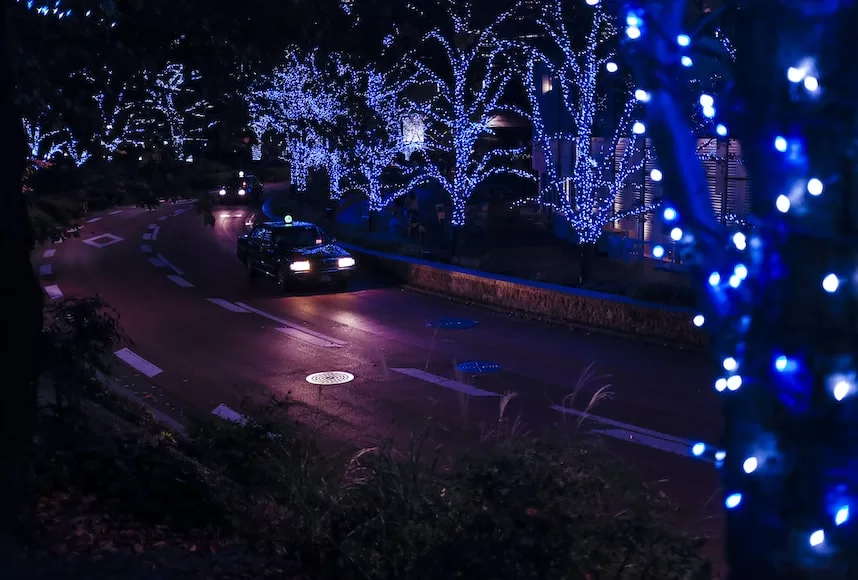 Next, explore Keyakizaka Dori, a beautiful shopping street known for its cherry blossoms, with Mount Fuji visible on clear days. This picturesque location makes for perfect photo opportunities. With foreign restaurants, coffee shops, and stylish boutiques, Keyakizaka Dori offers an enjoyable shopping experience. In spring, cherry blossom-lined streets provide a mesmerizing ambiance.
Japanese Boutiques
Roppongi is home to several unique Japanese boutiques where you can find extraordinary items. Keep an eye out for intricate ceramics, traditional textiles, and artisan crafts. Many of these stores showcase one-of-a-kind pieces, making them perfect places to shop for souvenirs or special gifts. As you visit these boutiques, don't forget to treat yourself to some Japanese sweets and ice cream from nearby shops.
While in Roppongi, also consider visiting art galleries, catching a movie at a local cinema, or sampling sushi from some exquisite restaurants. This vibrant neighborhood has something for everyone, ensuring a satisfying and memorable experience.
Outdoor Spaces and Nature
Hinokicho Park
Hinokicho Park is a hidden gem in Roppongi, offering a serene escape from bustling city life. As you wander through this beautifully landscaped park, you can admire the diverse foliage and greenery, which change with the seasons. The park is also home to a Japanese garden with a pond and quaint pathways, making it a perfect spot to relax and enjoy the picturesque surroundings.
Mohri Garden
At Mohri Garden, you can immerse yourself in an authentic Japanese atmosphere, as this garden is designed in the traditional Japanese style. The garden features a serene pond, several bridges, and a variety of mature trees and plants. It's an ideal place to take a leisurely stroll and soak in the tranquil ambiance. During winter illumination, the garden is beautifully lit up, which creates a magical atmosphere that's truly enchanting.
Cherry Blossom Viewing Spots
Roppongi is a great location for cherry blossom viewing during the Sakura season. One of the best spots in the area is Roppongi Keyakizaka Dori, where you can enjoy an amazing view of the blossoming cherry trees. Accented by the contrast of modern buildings and the natural beauty of the blossoms, this spot offers a unique experience like no other.
Another notable spot for cherry blossom viewing is around the temples and shrines in the area, such as the Atago Shrine. Here, you can appreciate the delicate beauty of the cherry blossoms while exploring the historical and cultural significance of these sacred places.
Remember, you're never too far from nature in Roppongi, and a visit to these outdoor spaces is a great way to break free from bustling city life and recharge your batteries.
Historical and Religious Sites
Nogi Shrine
Nogi Shrine, located close to Roppongi, is a tranquil spot in the busy city. Dedicated to General Nogi Maresuke, a prominent figure in Japanese history, the shrine offers both spiritual and historical significance. As you stroll through the lush green surroundings, you'll find a solemn respite from the urban hustle. Keep an eye out for seasonal events and cherry blossoms, which add a touch of vibrancy to the shrine's serene atmosphere.
Toyokawa Inari Tokyo Betsuin
Further explore Roppongi's rich history by visiting Toyokawa Inari Tokyo Betsuin, nestled between the bustling streets. This revered site, dedicated to the Shinto deity Inari, is a remarkable blend of Shinto and Buddhist elements. You'll notice intricate details on stone lanterns and fox statues commonly associated with Inari shrines. Take time to participate in a traditional blessing ritual, where you can make offerings and prayers for good fortune and success.
Zojoji Temple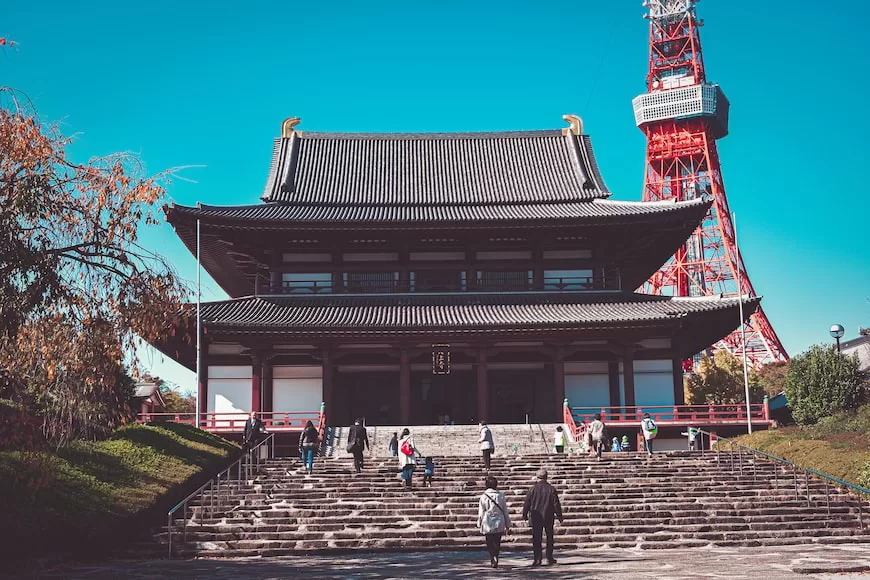 Finally, immerse yourself in the ancient world of Buddhism at the magnificent Zojoji Temple. A short distance from Roppongi, this historic site is the main temple of the Jodo sect of Japanese Buddhism. As you explore the temple grounds, look for the massive black gate called "Sangedatsumon," a designated Important Cultural Property.
While you're there, don't miss the opportunity to view Tokyo Tower, which stands impressively in the background, a symbol of the harmonious blend of old and new that characterizes Roppongi's charm.
In between visiting these spiritual sites, you can explore nearby landmarks such as Tokyo Midtown, the Suntory Museum of Art, and the Radeul complex, which offer a delightful mix of modern culture, art, and shopping experiences.
Hotels and Accommodations
Roppongi offers a variety of hotels and accommodations to suit your needs and preferences. One recommended option is the Roppongi Plaza Hotel. Conveniently located near the Asahi Shrine, Izumo Shrine Tokyo Bunshi, and the Roppongi subway station, this hotel has received positive reviews for its spacious rooms and affordable rates, starting from $54 per night.
Another excellent choice is the Mitsui Garden Hotel Roppongi Tokyo Premier. This hotel prides itself on contemporary design and comfort, with a focus on high-quality bedding that includes custom-designed pillows and mattresses. Its central location in Roppongi makes it an ideal choice for both business and leisure travelers.
If you're looking for luxury accommodations, consider the New Otani Tokyo. This renowned hotel boasts an impressive selection of spacious rooms and suites, world-class dining options, and excellent guest services. Besides its luxurious facilities, the hotel is also well-regarded for its beautiful Japanese gardens, offering guests a serene and tranquil environment to unwind after a long day of exploring Roppongi.
Here are a few more noteworthy hotels in Roppongi:
Remm Roppongi: A chic and minimalist hotel with a focus on innovative designs and efficiency, ideal for business travelers.
Candeo Hotels Tokyo Roppongi: A popular mid-range hotel that offers comfortable rooms and an on-site spa where you can relax after a busy day.
To ensure you find a hotel that best fits your needs, consider comparing amenities, location, and customer reviews among these options. Enjoy your stay in Roppongi and make the most of your visit to this vibrant Tokyo district!